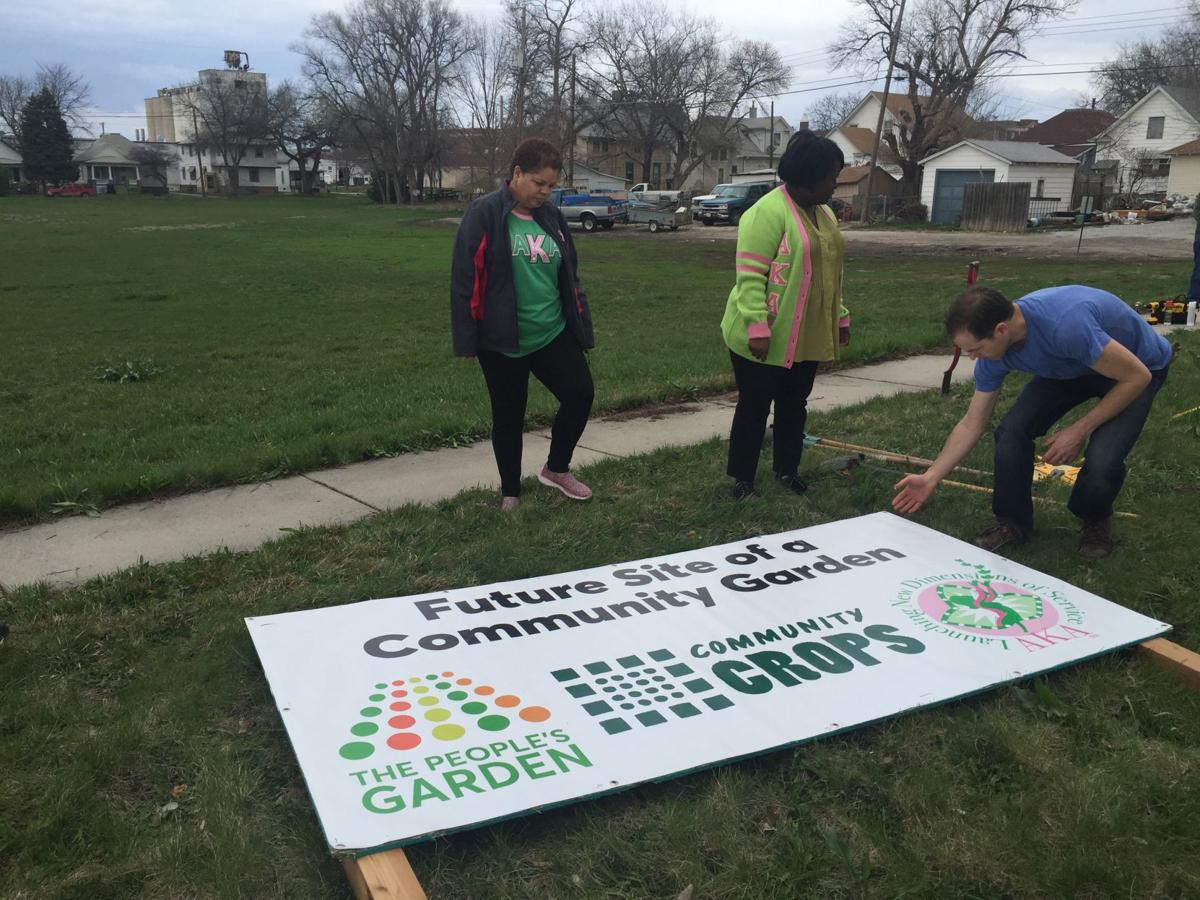 The beginnings of Lincoln's newest community garden -- on a large, open lot just west of Cooper Park in the South Salt Creek neighborhood not far from downtown -- began to take shape Tuesday afternoon.
The sign that would be mounted on wooden posts and pounded into the ground hinted at what was to come: a garden for a neighborhood with no nearby grocery store and a 15 percent rate of car ownership and a place for students at nearby Park Middle School to learn to grow produce.
The garden is a joint project between Community Crops and Alpha Kappa Alpha, an African-American sorority whose members in Lincoln are college graduates and professionals.
The sorority, which has been involved in a number of projects to promote environmental stewardship, got a three-year, $10,000 grant from the U.S. Department of Agriculture to start a community garden.
Candiss Williams, the project coordinator for the grant, said she knew Community Crops had a long history of developing community gardens in Lincoln and the sorority wanted to create something that would last well after the grant money ran out.
Ben McShane Jewell, executive director of Communty Crops, had been hoping to develop the lot near 5th and D streets for some time, and the sorority's grant seemed like a perfect opportunity.
You have free articles remaining.
His organization, which manages 12 community gardens farmed by 300 families each year, has an after-school gardening club at Park's Community Learning Center.
The after-school program is run by the Boys and Girls Club and the club helps students tend two raised beds in the school courtyard. But they'd wanted more room.
Property owners William and Myrna Wood, who live in the neighborhood, had contacted Community Crops thinking a garden would be a good use of their land.
The garden will start with eight to 10 raised beds tended by students. Community Crops will continue classes to familiarize kids with fresh produce and ways to use it in meals and recipes, McShane Jewell said.
Community Crops has similar clubs in seven other schools.
Students who tend the garden will take home the produce, and by 2018, the project coordinators hope to have the rest of the garden ready for the neighborhood residents to participate.
McShane Jewell said the garden will help address issues of food insecurity in the neighborhood as well as help students make healthy nutritional choices.
"It's a really good opportunity for us, a confluence of a lot of good projects," he said. "It's in a historical part of Lincoln with a history of agricultural workers settling in the area. We're excited to see what we can do."