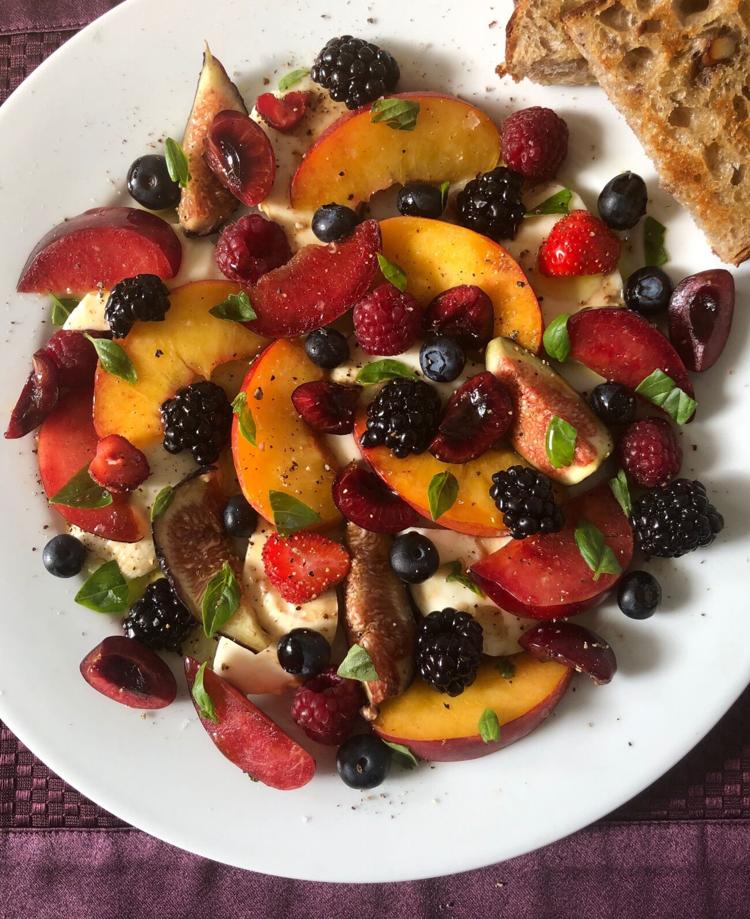 Most of us are familiar with the celebrated tomato, basil and mozzarella salad named caprese. Some people think this salad was created as a symbol of the Italian flag, because the red, the green and the white components are artfully layered on the plate. I've made many versions of this Italian classic when tomatoes and basil are at their best.
Recently, I was scrolling through a food website when I happened upon this clever take on the tomato salad by Mollie Katzen. She is an award-winning cookbook author and artist who wrote "Moosewood Cookbook," among many others. If you are not familiar with her, check out her body of work at http://www.molliekatzen.com. She posted the photograph you see here that thrilled me with its smart reinterpretation using summer fruits instead of tomatoes. It is a stunning and colorful plate that will probably entice the pickiest eater in your family.
There isn't a recipe, per se, but more of an idea. The ingredient amounts depend on the number and appetites of the eaters. You can make this for breakfast, brunch or lunch. It's very quick; the only thing you need to do ahead of time is make sure to first heat a grill pan (for the bread) over low or medium-low heat.
Then brush thick slices of whatever artisan bread you have on hand with olive oil. The bread goes on the preheated pan while you assemble the caprese. Keep an eye on the bread; turn over to grill the second side when the first is slightly crusty and golden.
Serve the bread slices on the side, cut into large croutes, if desired, and mop as you go. You can add a handful of toasted walnuts to the bread plate if you want. This loose recipe/idea requires simply layering the ingredients on a large platter or on individual plates; separate plates might be a good idea due to the pandemic.
Fruit Caprese Salad
Serving size and ingredient amounts vary
First layer: sliced fresh mozzarella in a single layer.
Second layer: slices and pieces of peaches, nectarines, pluots, whole red or blue berries, halved pitted cherries, and figs.
Third layer: a generous drizzle of olive oil.
Fourth layer: random drops of excellent (real Italian) balsamic.
Fifth layer: torn basil leaves.
1. Once you have layered all the ingredients on individual plates, top with salt and pepper. No mixing or tossing necessary!
2. Serve the toasted bread on the side and enjoy.
(Diane Rossen Worthington is an authority on new American cooking. She is the author of 18 cookbooks, including "Seriously Simple Parties," and a James Beard Award-winning radio show host. You can contact her at www.seriouslysimple.com.)
Satisfy your cravings
With our weekly newsletter packed with the latest in everything food.