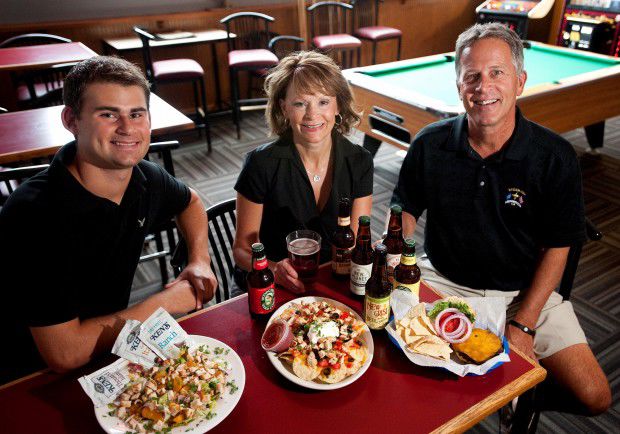 In June, Beckee Moreland's friends threw her an anniversary party.
Twenty years ago, a doctor diagnosed her with celiac disease, an autoimmune disorder triggered by eating gluten, which is found in wheat, barley and rye.
"To be honest, that was when my life got better," the 54-year-old Lincoln woman said. "For most people, when they get diagnosed with something, it's not a positive thing. This was really positive because it changed my life."
Two weeks after giving birth to her son, Cole, in June 1992, Moreland was sick. She had extreme diarrhea, stomach cramps and experienced weight loss.
She couldn't concentrate, had trouble getting up and down stairs and was prone to emotional outbreaks.
She was so weak, she couldn't turn the handles in her shower.
"I just was not really understanding what was going on," she said.
Her family told her she suffered from postpartum depression. Moreland met with her ob-gyn, who didn't think so. He referred her to a gastroenterologist.
"He told me, 'How do you think you're going to last doing this?'" she recalled. "He told me, 'I want you to find somebody to take care of your baby, and I want you to get to the hospital today.'"
Her condition worsened at the hospital. Her weight plummeted from 145 to 110 pounds. She grew weaker. So much so, her husband, Dave, was afraid he was going to lose her.
Her doctor tested her for celiac disease -- taking a biopsy of her small intestine -- even though she had been tested for it three years earlier.
She had known even back then that something was wrong. The headaches. The fatigue. The unexplained flu symptoms.
"Pepto-Bismol was my friend," she said.
Moreland was misdiagnosed the first time, but not this time.
When a person with celiac eats gluten, the protein interferes with the absorption of nutrients from food by damaging the villi along the lining of the small intestine. Damaged villi -- also called villa -- make it nearly impossible for the body to absorb nutrients, leading to malnourishment and other problems.
"My villa were completely gone or flat," she said. "I was not absorbing anything. I was malnourished. That's why things started to go bad."
She immediately cut gluten from her diet. Within a week, she began to feel better. A year later, she was healthy.
"I didn't have to take a nap every day," she said. "I could concentrate better. No more stomach problems. My skin got better. All kinds of things changed. My attitude. My demeanor ...."
Today, Moreland is a crusader, helping to lead a revolution to aid other celiacs and those sensitive to gluten. One out of every 133 Americans has celiac disease, or just under 1 percent of the U.S. population.
Moreland is a recognized gluten-free market expert with the National Foundation for Celiac Awareness (NFCA) and has worked as a gluten-free consultant for companies in the food industry since 2008.
"There's been a lot of press about (gluten-free eating)," she said. "Some of it's trend. Some of it's not. Some of it's medical necessity. That's what I do. That's what I advocate for -- for people who need to eat a gluten-free diet for (medically) restrictive reasons."
As director of gluten-free industry initiatives, Moreland manages NFCA's gluten-free resource education and awareness training foodservice programs. She will help lead a seminar on Sept. 23 for Omaha restaurants interested in catering to gluten-free diners.
"One of the problems we have in the restaurant industry is that they think it's a trend," Moreland said.
Indeed, gluten-free is the new buzzword in eating.
The No. 1 book on The New York Times' hardcover advice list is William Davis' "Wheat Belly," which examines wheat in modern diets and argues for its elimination.
Pop star Lady Gaga announced this month she is going gluten-free in order to lose 10 pounds, according to press reports, even though there is no scientific evidence linking gluten-free diets to weight loss.
An estimated 1.6 million Americans eating gluten-free have adopted the diet without having a celiac disease diagnosis, according to a new study from the Mayo Clinic.
The research confirms food industry reports that have found more people are buying gluten-free food for a variety of health reasons. But researchers caution against going gluten-free without first undergoing proper testing.
"There are a lot of people on a gluten-free diet, and it's not clear what the medical need for that is," said Dr. Joseph Murray of the Mayo Clinic and co-author of the study and a member of NFCA's Scientific/Medical Advisory Council. "It is important if someone thinks they might have celiac disease that they be tested first before they go on the diet."
Celiacs, however, require the diet. That's why, Moreland said, it's so important for restaurants not to look at gluten-free eating as a trend.
"(Restaurants) say 'We've done the low sodium. We've done the heart healthy,'" Moreland said. "What they need to understand is that this isn't going to go away. Some people need to eat gluten-free in order to survive. It's not a choice for them."
The list of restaurants and grocery stores offering gluten-free fare is growing, especially in Lincoln. Twenty years ago, not one restaurant had a gluten-free menu, and gluten-free products were rare at the supermarket.
"The foods were hard to find," said Steve Taylor, co-founder and director of the Food Allergy Research and Resource Program at the University of Nebraska-Lincoln. "You had to have sympathy for those who needed to follow the diet. They relied on mail-order foods because there was not much at the local grocery store."
Today, several groceries feature gluten-free foods, and even sections of it in some cases.
Lincoln now boasts more than 20 restaurants with gluten-free menus, including Sportscasters Bar & Grill run by Moreland's husband, who added the menu in response to his wife's illness.
The Food and Drug Administration is close to finalizing a standard defining which foods are gluten-free and how they will be labeled.
"There's a demand out there," Taylor said. "When there is a demand in the market, somebody is going to fill it."
Travis Green is one of those people. The owner and executive chef at Dish Restaurant in downtown Lincoln worked with Moreland to make his eatery gluten-free friendly. His staff is trained -- vegetables and pasta never mix in preparation -- and his menu features several gluten-free entrees denoted by an asterisk.
"There was enough of a demand," he said. "It just made sense."
Rhiannon Brown is taking the cause a step further. She and her boyfriend, Juston Levi Wendt, will open Eazy Eatz Bakery in September at 56th and Holdrege streets. All her foods will be gluten-free.
"Eating gluten-free is a medical necessity for so many people right now," she said.
Brown, 34, is sensitive to gluten, learning three years ago that the protein made her ill.
"I had been sick all my life," she said. "I wasn't a productive citizen. I felt horrible all of the time. It affected me mentally."
After eliminating wheat from her diet, she began to "see things more clearly."
"I was able to think in a straight line instead of jumping from subject to subject," Brown said.
She and Wendt decided to open Eazy Eatz because she wanted those in need of gluten-free foods to have "somewhere safe to go." They and their foods have been well received this summer at local farmers' markets.
"I get hugs, and every time I'm reduced to tears," she said. "I'm certain that will continue."
As for Moreland, her work is ongoing, noting college campuses and senior living centers as target areas for gluten-free education.
"We're at the tipping point in this gluten-free culinary revolution," she said.