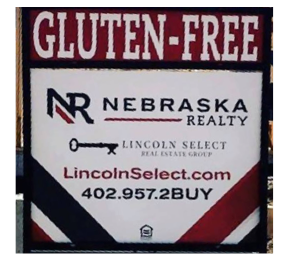 Dear Food Doc: I've had a lot to stress about lately, and it's not just the pandemic. Last month I heard about a salmonella recall of onions, right after I had just eaten some on my salad. Just the other day, it was peaches, and I've eaten plenty of those. Now, here it is September, and there is no Husker football.
Then, a couple of weeks ago, I was riding my bike on Old Cheney Road Trail and saw a home-for-sale sign that said it was gluten-free. I was never too worried about gluten, but maybe I should be?
Answer: About 1% of the U.S. population suffers from an immune disorder called celiac disease. For these individuals, exposure to gluten sets off a cascade of events that results in damage to the small intestine.
The only treatment to the disease is to avoid gluten entirely. Gluten is found in wheat flour, barley and rye. To be gluten-free means no bread, no pasta, no cookies, no beer.
Some celiac patients are so sensitive that even a very small amount can trigger symptoms. In theory, if someone was making bread or tossing pizza dough, there could even be enough gluten floating in the air to cause a problem. This scenario, however, would be very rare.
A thorough cleaning of the cupboard and countertops should be sufficient to remove gluten from a home. Nonetheless, there are probably some home buyers who are super-sensitive. They may be especially motivated to avoid even trace amounts of gluten.
But for most of the population, gluten is one food ingredient you do not need to worry about in 2020.
Dear Food Doc: I drink a can or two of soda pop — the sweetened kind — just about every day. I am trying to cut back for health reasons, but I find it quenches my thirst like nothing else.
Recently, I was at a health food store, and they had all natural, even organic versions. Are these any better healthwise?
Answer: The main ingredients in soda pop are water, sweeteners, acidulants and flavors. Many also contain caffeine.
What distinguishes well-known products like Coke and Pepsi from the natural brands are the specific sources of those ingredients.
For example, instead of high fructose corn syrup, natural brands contain sugar. They also contain natural flavors and colors and are free of preservatives.
But as far as your endocrine system and internal calorie counter are concerned, there is little difference between these products. True, you may prefer one over the other for flavor or aesthetics, but pop is pop.
If you are concerned about your health, consider switching to sugar-free products. Or better yet, you may want to try one of the many flavored carbonated, non-caloric waters. Not only are they trendy, they are even making a serious dent in the market share of iconic soda brands.
Bob Hutkins is the Food Doc. He is a professor at the University of Nebraska-Lincoln, where he teaches and conducts research in food science and food microbiology. Send your questions on any topic related to food, food safety, food ingredients and food processing to the Food Doc at features@journalstar.com.
Satisfy your cravings
With our weekly newsletter packed with the latest in everything food.