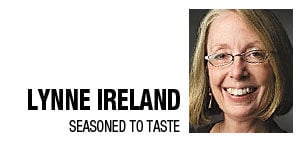 To every thing there used to be a season. Now, through the wonders of worldwide shipping, many of us are lucky enough to have access to all produce all the time. Maybe not peak produce, but if you want a melon in February, you can get it.
This plethora of produce, and many other formerly exotic ingredients, makes variety one of the spices of our lives. But still, ain't nothin' like the real thing.
So we welcome melons locally grown and look forward to apples on the way. Each of these fruits, in season, perfectly ripe, are a delight simply on their own. But we're grateful for intriguing salad recipes that combine fruits with greens, nuts, and cheese in summery salads.
The folks at Milk Street made "a mashup of sorts" of classic Greek karpouzi salata (watermelon salad) and an arugula salad with Palestinian roots. They combine watermelon, cucumber, pistachios and goat cheese and with the greens. The kicker is the bright citrus notes of ground sumac, a frequent Middle Eastern ingredient that gives the dressing a tart, tasty surprise. (Find ground sumac in larger supermarkets, Middle Eastern groceries or online.)
Our "Eating Through the Pandemic Facebook" friends shared super salads at the recent potluck, but we particularly admired the kale and apple combo our friend Deb tossed together. Honeycrisp apples add sweet crunch and dates, almonds, and shredded pecorino cheese help deliver crispy-creamy-bitter-sweet in every bite.
We'll be toting these to picnics and savoring them for summer suppers at home. Grateful, as always, to be here to experience this season.
Melon Salad with Arugula, Pistachios and Goat Cheese
4 cups cubed watermelon (1-inch cubes), chilled
1 English cucumber, cut lengthwise into quarters, then crosswise into ½-inch chunks
Kosher salt and ground black pepper
¼ cup extra-virgin olive oil
2 tablespoons ground sumac
¼ teaspoon cayenne pepper
½ small red onion, thinly sliced
5-ounce container baby arugula
½ cup roasted pistachios, roughly chopped
2 ounces fresh goat cheese (chèvre), crumbled (½ cup)
In a colander set in a large bowl, toss the melon and cucumber with ½ teaspoon salt; set aside. In a large serving bowl, whisk together the oil, lemon juice, sumac, cayenne and ¼ teaspoon each salt and black pepper. Stir in the onion and let stand 5 minutes.
To the large bowl add the melon mixture, arugula, and pistachios. Gently toss, then taste and season with salt and black pepper. Top with cheese.
Tip: Don't skip the step of salting the melon and cucumber. The salt draws out some of the water and helps prevent the dressing from becoming watery and dilute.
Kale and Apple Salad
3 tablespoons fresh lemon juice
2 tablespoons extra-virgin olive oil
1 bunch kale, ribs removed, leaves very thinly slides
¼ cup slivered almonds, toasted
1 ounce pecorino, finely grated (1/4 cup)
Freshly ground black pepper
Whisk together the lemon juice, olive oil and ¼ teaspoon salt in a large bowl. Add the kale, toss to coat, and let stand 10 minutes. While the kale stands, cut the dates into thin slivers and the apple into thin matchsticks. Add dates, apples, almonds and cheese to kale. Season with salt and pepper and toss well.
Source: Deb Arends (adapted from Food Network Kitchens)
Lynne Ireland lives to eat and welcomes comments and questions from others who do (or don't). Contact her at citydesk@journalstar. com
Lynne Ireland lives to eat and welcomes comments and questions from others who do (or don't). Contact her at citydesk@journalstar.com