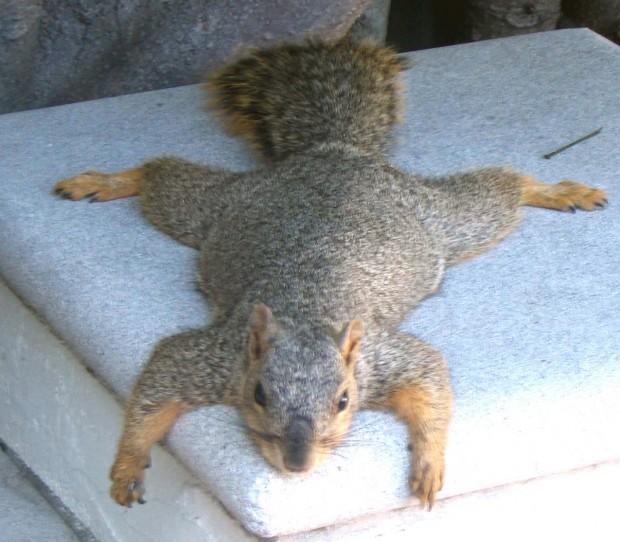 Nearly every day is a holiday. In fact, sometimes a day has more than a handful of things to celebrate from tin cans to beer cans, from bubble wrap to camcorders, from cats to squirrels, and from women in blue jeans to folks talking like a grizzled prospector -- and that's just in January!
Sheila Cicchi (a.k.a. "Brownielocks") is one of many who keep a website (www.brownielocks.com) of wacky, weird, funky and funny, serious and salacious "holidays" designated by equally unique people and groups. She started collecting holidays in 1998 as a way of keeping her website fresh and updated -- as long as she could validate the holidays as real observances.
Chase, the professional publishing division of McGraw Hill, annually publishes a "Calendar of Events" book -- with a corresponding CD-Rom. Updates are a must, as holidays come and go about as frequently as teens text.
But according to Cicchi, these days, her listing is more current than Chase's -- thanks to an ever-increasing and contributory fan base.
So what does Cicchi think about all these days of celebration? She likes it.
"I think having these observances makes people more aware of what's going on in the outside world," she said via email. "It also gives people a chance to find some daily joy beyond what is going on and to take that time to 'smell the ??? (whatever).'"
So here it is, the middle of January. If you're thinking the next holiday is Jan. 21 -- Martin Luther King Day -- you are sorely missing out on things to celebrate and occasions to mark.
Here's a peek at what's worth celebrating the rest of this month:
It's Judgement Day, among other designated holidays. It also marks the first of a two-day Women in Blue Jeans celebration/convention which gets underway in Mitchell, S.D. this year. Women in Blue Jeans Days celebrates women in rural America. This year's convention includes a tropical party, an inspirational keynote speaker and cupcake contest.
It's Pooh Day -- as in "Winnie-the-Pooh," and Thesaurus Day. It's also National Sanctity of Human Life Day and International Fetish Day (I am not making this up).
National Popcorn Day -- and the Nebraska History Museum, 15th and P streets, will host a free family event from 2 to 4 p.m., complete with popcorn arts and crafts sprinkled with kernels of info on popcorn raising in Nebraska.
Although it is also Tin Can Day, we are unaware of any local festivities -- so create your own. Just remember to recycle that can when you're done.
It is Camcorder Day -- does anyone still have one?
Traditionally, Jan. 20 is Inauguration Day, however, because it falls on a Sunday this year, the actual inauguration of President Barack Obama will be held Jan. 21 (which is Martin Luther King Day and a host of other less auspicious holidays including National Hugging Day, AFRMA Fancy Rat & Mouse Day and Squirrel Appreciation Day.)
This is the 40th anniversary of Roe v. Wade and also Celebration of Life Day.
But Jan. 22 is also Answer Your Cat's Questions Day, and Rid the World of Fad Diets and Gimmicks Day -- eat tuna and satisfy both.
Three holidays mark this day: National Handwriting Day (go write a letter); National Pie Day (take care not to get crumbs on your letter); and Snowplow Mailbox Hockey Day -- which certainly doesn't bode well for mailing that handwritten letter.
So very many things to celebrate on this day. First, its Women's Healthy Weight Day, but it's also National Peanut Butter Day (go figure). It is also National Compliment Day Belly Laugh Day, Beer Can Day and Talk Like a Grizzled Prospector Day, which according to the website commemorates the 1848 discovery of gold in California.
Put a star on your calendar. It is Fun At Work Day -- so go have some fun while doing your job. It's also Macintosh Computer Day, commemorating the day in 1985 when Steve Jobs introduced the first Macintosh computer. It is also National Pre-School Fitness Day.
Yay -- it's National Peanut Brittle Day. It's also Lotus 1-2-3 Day. On this day in 1983, Lotus began selling its spreadsheet application for Microsoft DOS. Also celebrate  National Seed Swap Day, when gardeners gather and swap seeds, and Toad Hollow Day of Encouragement, a day to connect with others and share words of encouragement.
This day marks the anniversary of the liberation of Auschwitz. It is also Holocaust Memorial Day, International Day of Commemoration in Memory of the Victims of the Holocaust and Vietnam Peace Day.
The day celebrates Thomas Paine, a freethinker whose writings about reason over faith and rejecting arbitrary authority were instrumental in the American and French revolutions. Jan. 29 is also called Freethinking Day.
In addition, Jan. 29 is Seeing Eye Dog Day and Curmudgeons Day.
You're gonna love this celebration: Inane Answering Message Day -- go ahead and record yourself being inane.
And as January comes to a close, we mark two occasions: Appreciate Your Social Security Check Day and Inspire Your Heart with Art Day.
The latter is fitting, as we embark on a new month, with new holidays -- many inspired by and for the heart. See you in February.