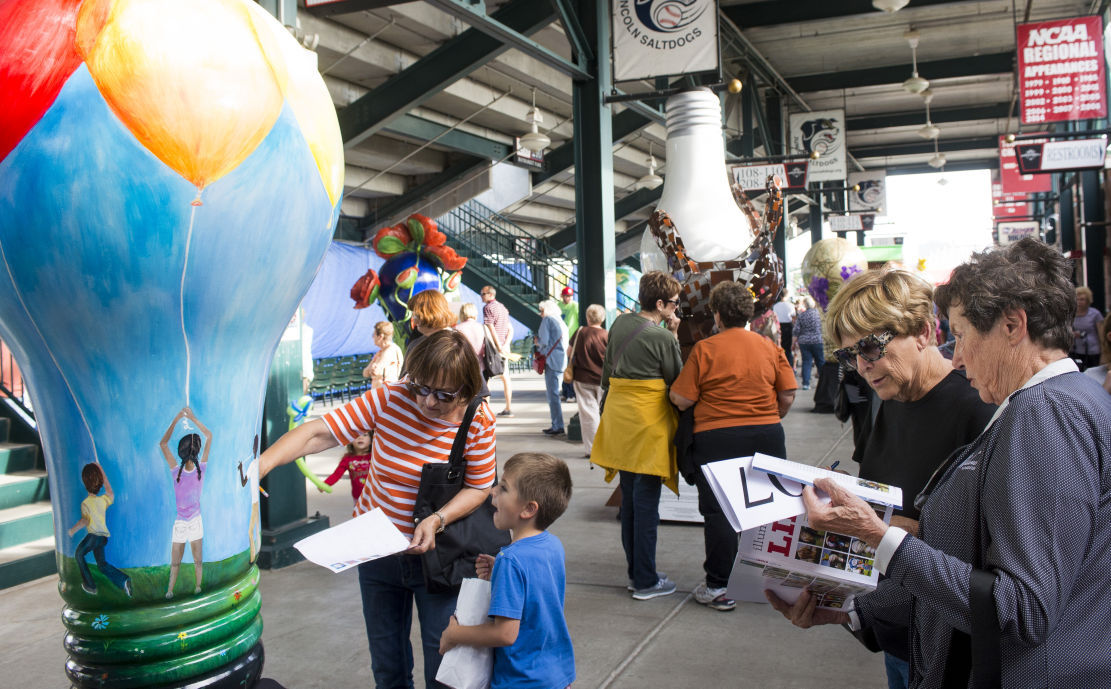 Illuminating Lincoln: Lighthouse, the public art project commemorating 25 years of Lincoln's Lighthouse after-school programming, raised more than $250,000 at auction in October.
Of the 51 giant lightbulbs sold, 35 will ultimately remain on permanent public display.
The top-selling lightbulb sold for $16,000. At the request of the buyer, the identity will not be made public. The minimum bid was $1,000.
The auction raised nearly $250,000, of which two-thirds will go to Lighthouse after-school programming and one-third to the participating artists who created the lightbulbs. Totals do not include sales of the limited edition book ($20) and posters ($12), both of which are still available for purchase at From Nebraska Gift Shop in the Haymarket. Nor do the totals include proceeds from sales of items crafted by local makers in conjunction with the public art event. Local makers agreed to donate 25 percent of money raised through sales of Illuminating Lincoln: Lighthouse-inspired creations.
More than 4,500 people attended the auction and community celebration held Oct. 8-9 at Haymarket Park.
Illuminating Lincoln: Lighthouse lightbulbs are on permanent display at the following locations:
* Nebraska Press Association, 845 S St. -- "Light Through the Trees" by artist Janna Harsch.
* Centerpointe, 2633 P St. -- "Light Out of the Dark" by artist Janna Harsch.
* ILC, 6800 Normal Blvd. -- Two sculptures: "Evolinction" by artist Spencer Pacheco and "Legend Pottery" by artist Jeri Brainard.
* Belmont Elementary School, 3425 N. 14th St. --" Comic Book Heroes" by artist Linda Bushnell.
* CHI Health St. Elizabeth, 555 S. 70th St. -- "Flowers" by artist Howard Kaye.
* LES Service Center, 2620 Fairfield St. -- "House of Alternating Current" by artist Eric Saxon.
* Eastmont Towers, 6315 O St. -- "Duchampian Water Tower" by artist Eric Saxon.
* Custom Countertops, 4705 N. 56th St. -- "Positive Light" by artist Judy Stanczyk.
* Wells Fargo, 13th and P streets -- "Plug In" by artist David Alles. The sculpture eventually will be moved into Lincoln's Telegraph District.
* Randolph Elementary School, 1024 S. 37th St. -- "Little Wonders" by artist David Alles.
* Fletcher Prairie, South 76th Street -- "Night Light" by Greg Holdren.
* Keating Law Firm, 530 S. 13th St. -- "Lute Bulb" by artist Greg Holdren.
* Zeman Elementary School, 4900 S. 52nd St. -- "Lighthouse: Where Learning Comes Alive" by artist Shelley Creeger Stoltenberg.
* Nebraska Heart Institute, 7500 S. 91st St.-- "From the Inside Out" by artists Christine Schleich and Erin Orduna.
* Illuminations, 1901 West O St. -- "The Great Big Blue" by artist Nolan Tredway.
* Culver's, 1500 Old Cheney Road -- "Broader Horizons" by artist Nolan Tredway.
* Lincoln Christian School, 5801 S. 84th St. -- "This Little Light of Mine" by artist Lynn Wilson.
* Farmers Mutual Insurance, 501 S.13th St. -- "Incandescent Flight" by artist Gina Egenberger.
* Corner of Eighth and R streets -- "Stories of Value" by artist Ann Williams.
* Maxey Elementary School, 5200 S. 75th St. -- "Together" by artist Ann Williams.
* Complete Children's Health, 8201 Northwoods Drive -- "Better Together" by artist Sue Kalicki.
* Humann Elementary School, 6720 Rockwood Lane -- "Illuminate" by artist Sue Kalicki.
* Tabitha, 4720 Randolph St. -- "Flowering Minds" by artist Paula Yoachim.
* Prairie Lake Plaza, 87th Street and Nebraska Highway 2 -- "Soaring Dreams" by artist Paula Yoachim.
* Lighthouse, 2601 N St. -- "Illuminating Values: Lighthouse" by artist Michael Montag.
* Stockwell Pharmacy, 3811 S. 27th St. -- "Grow Light II" by artist Liz Shea-McCoy.
* Hill Elementary School, 5230 Tipperary Trail -- "The Journey Begins" by artist Roberta Barnes.
* Calvert Elementary School, 3709 S. 46th St. -- "One World" by artist Roberta Barnes.
* Morley Elementary School, 6800 Monterey Drive -- "The Meadow Lark's Tree" by artist Wendy Jane Bantam.
* Hartley Elementary School, 730 N. 33rd St. -- "The Lowly Pencil Elevated in the Hands of a Child" by artist Gale Warren.
* Rousseau Elementary School, 3701 S. 33rd St. -- "Use Your Imagination" by artists Becky and Joe Morine.
In the future, Lux Middle School will become the permanent site for "Fusion," a piece by Linda and Dan Arnold. At this time, the light bulb is in storage. Mark Kuzara's sculpture "The Hand" is currently in a private location, but will ultimately be on display in the Telegraph District.
Roberta Barnes' sculpture "Spreading the Light" is currently in a private location, but eventually will be installed at Weingart Co. Inc, 122 N.11th St.
In addition, Evelyn Render-Katz's sculpture "Recovering Light: Revealing the Light Within" is located in a home, but is visible from the Rock Island Trail south of Calvert Street.