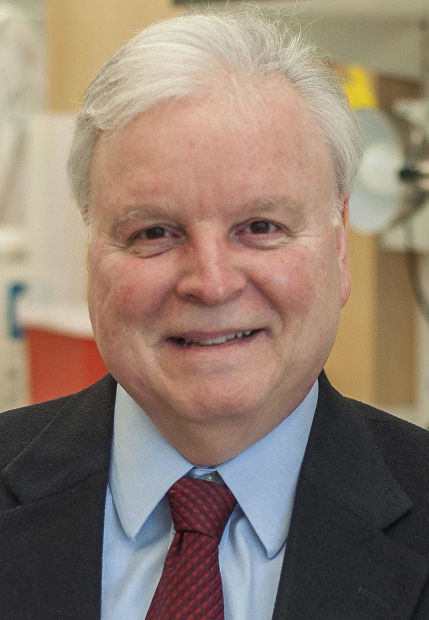 The names look like someone threw the alphabet in the air:
Sjorgren-Larsson syndrome.
Smith-Lemli-Optiz syndrome.
Hyperimmunoglobulinemia D.
Peroxisome biogenesis disorder.
These are diseases so rare, that maybe only one or two kids per state have it. Most doctors never see it. But for those afflicted, the effects are lifelong and devastating. Few -- if any -- treatments exist.
These are among the 10 diseases Dr. William Rizzo of the University of Nebraska Medical Center will study -- and hopefully find answers to -- thanks to a $3.3 million five-year grant from the National Institutes of Health.
The grant was among $29 million awarded this week by the National Institutes of Health to expand its Rare Diseases Clinical Research Network.
Rizzo and a consortium of 22 researchers from around the world will collect data, monitor patients and share information with one another in the hope that individual patient histories and experiences will illuminate a path to cures or, at the very least, treatments.
Rizzo's field of study focuses on diseases created by a flaw in the body's biochemical pathway, affecting its ability to synthesize or metabolize cholesterol.
These are diseases with a seemingly unrelated vast array of symptoms ranging from recurring rashes and fevers to blindness, deafness, intellectual disabilities and organ failure.
"These are diseases that have been ignored over time, because their are so few patients," said Rizzo, professor of pediatrics and chair of UNMC's division of inherited metabolic diseases in Omaha.
"These diseases have very unusual symptoms and are difficult to diagnose, because they are so unusual and rare."
Rizzo is the principal investigator for the project. Researchers with the consortium -- Sterol and Isoprenoid Research Consortium (STAIR), will work with 98 patient advocacy groups.
With a consortium of medical centers spanning from Portland, Oregon, to Pittsburgh, Pennsylvania, and beyond international borders, doctors can pool their research and "collect more patients than they could see at any single center," Rizzo said. It is estimated that 5,000 to 10,000 children worldwide are affected by the 10 diseases under study by Rizzo and STAIR.
As an example, Rizzo's field of study is Sjogren-Larsson syndrome, a disorder with which only two children in Nebraska have been diagnosed. There are other Sjogren-Larsson patients scattered across the country.
You have free articles remaining.
"We don't know much more than what we know," Rizzo said. But with the grant, doctors can conduct extensive tests, eye exams, neurological exams, as well as MRIs and EEGs.
"And within a short time, we can put together a very large cohort of very rare disease patients. We can see the variations in clinical symptoms, how it progresses over time, what happens as they (patients) age -- along with gathering natural history studies."
"New therapies require knowing the natural progression of the disease," Rizzo said.
"By investigating rare diseases we get to learn more about them."
A fact that is vital to parents and patients.
Shannon Butalla, a Lincoln mom, knows the frustration and heartbreak of having a child afflicted with a rare or even undiagnosed disease.
Her 12-year-old son, Sam, has a form of peroxisome biogenesis disorder -- a rare, inherited condition affecting the body's major systems.
Sam was healthy at birth. But within the first few months of life, he developed odd neurological problems -- developmental delay, deafness, vision issues, seizures, liver, kidney and bone formation difficulties and feeding issues.
Sam was frequently misdiagnosed until he was 4½ months old, Butalla said. Doctors told her Sam probably would not live to see his toddler years.
Although Sam has defied the odds, the disease continues to rob his health. It is distressing, Butalla said. Few physicians then -- and now -- are familiar with the disease and how to manage it.
"I'm super excited Dr. Rizzo got this grant," said Butalla, who began taking Sam to him shortly after the doctor's arrival at UNMC in 2003. "We need something that's going to stop deterioration caused by this disease. The fact that we have this passionate group of people who are using every method to serve this underserved population is just phenomenal."
In addition to Sam's rare disorder, Rizzo has two other young patients with hyperimmunoglobulinemia D or Hyper IgD syndrome. The patients are siblings, and while testing and research provides valuable insight, it is not enough to give a full picture of the disorder.
"Each of these families is living with a different kind of scenario," Rizzo said of the disease's symptoms. "But they are very different symptoms caused by problems along a common pathway.
"And that pathway is a very important part of medicine," he said, noting how it was a patient with a rare disorder that led researchers to learn more about cholesterol metabolism -- forming the basis for statin drugs, such as Lipitor, which are used by millions of people to reduce cholesterol production and lessen the risk of heart attack or stroke.
"This pathway has a long history of being studied. Although the diseases are so rare that many doctors will never see a patient with it -- the study of those patients can lead to all these sights," Rizzo said.
Members of the consortia include Children's Hospital, Omaha; Vanderbilt University, Nashville, Tennessee; Baylor College of Medicine, Houston, Texas; University of Miami, Miami, Florida; University of California, San Francisco, California; Fred Hutchinson Cancer Research Center, Seattle, Washington; Emory University, Atlanta, Georgia; Mayo Clinic, Rochester, Minnesota; and Columbia University Health Sciences, New York, New York.
According to the National Institutes of Health there are several thousand rare diseases, of which only a few hundred have any treatments available. Combined, rare diseases affect an estimated 25 million Americans, NIH said.