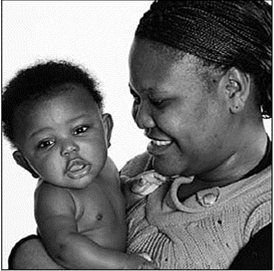 Breastfed babies and their mothers have fewer lifelong health issues than those who do not breastfeed -- including lower incidence of obesity, diabetes, and, for the moms, ovarian and breast cancers.
Yet, despite the benefits and efforts to encourage women to breastfeed their babies for the first 12 months of their lives -- fewer than half of Nebraska moms breastfeed for as long as six months and fewer than 20 percent of them continue for the recommended first year.
They start with good intentions, said Dr. Bob Rauner of the Partnership with a Healthy Lincoln. In fact, 90 percent of moms checking in to deliver say they intend to breastfeed.
"However, there is a dramatic drop in the first couple of weeks -- especially among low-income and cultural minority mothers," he said.
Frequently cited reasons are difficulty nursing, employment conflicts and cultural and social issues.
But the numbers are improving thanks to the Lincoln Community Breastfeeding Initiative and its Community Breastfeeding Educators.
The program employs a culturally diverse group of breastfeeding women to provide peer-to-peer support to immigrant and minority women, helping them overcome the fear, stigma and challenges of breastfeeding.
Piloted in 2015 with seven trained educators representing Asian, Sudanese, Latin America, African American and Hispanic communities, the program recently graduated a second class of Lincoln educators. In addition, it is beginning a new program in North Omaha, where the infant mortality rate is nearly twice the national average.
The program's success is earning national attention.
Recently, initiative coordinator Tami Frank and a community breastfeeding educator spoke at the International Lactation Association meeting in Chicago. And in August, she and Sara Brown, a registered nurse and assistant professor at the University of Nebraska Medical Center, will present the program at the U.S. Breastfeeding Committee conference in Washington, D.C.
Funded by the Community Health Endowment of Lincoln, the Lincoln Community Foundation, the Nebraska Department of Health and Human Services and Arbor Health, the program is a collaboration between Partnership for a Healthy Lincoln, MilkWorks nonprofit breastfeeding center and the Asian Community and Cultural Center.
Confusion over breastfeeding is compounded by mixed messages from health groups.
"If you are low income we give you free formula, but then say 'breastfeed your baby,'" MilkWorks founder Ann Seacrest said in an interview earlier this year.
Too often, women are told to breastfeed and expected to know what to do.
But breastfeeding can cause pain from producing too much breast milk, cracked nipples and babies who fail to latch on, Seacrest said.
"My first breastfeeding experience was really horrible," recalled Khamisa Abdalla, who immigrated to the U.S. from Sudan.
Women who don't have a mother, grandmother or mentor to teach them the tricks and techniques can be emotionally devastated by the challenge.
"It can consume your life. You are your child's food supply," she said.
And then there are the cultural issues.
Among the Chinese, breastfeeding is a private matter not to be openly discussed. To get around the taboo, community breastfeeding educators meet one-on-one with moms, said Rebecca (JueYeZi) Reinhardt.
In some cultures, myths prevail over science. For example, some believe a mother's milk will dry up if she gets hot from standing too close to the stove or ironing clothes.
In others, husbands or boyfriends don't approve.
Through the Lincoln program, breastfeeding educators remove the stigma: Hi, I'm Julie and I'm a nursing consultant. ... Do you nurse? … Here's my card.
They just put it out there.
If they are not afraid to talk about it, moms, dads, grandmas and others feel less uncomfortable, the educators say.
In addition to teaching breastfeeding techniques, they can help families address other needs including food, diapers or other assistance.
Because they share a culture, the educators address long-held myths.
Among immigrants, there is a belief that formula is better and "more American" than breastfeeding.
"A problem I see with young moms is that they feel in America it is cool to just give a bottle," Abdalla said. "We tell them the breast is the best choice."
Michelle Dediego, a lactation consultant and breastfeeding educator, addresses social obstacles -- from women believing they cannot breastfeed in public to not understanding that federal law guarantees them the time and the right to breastfeed or pump at work.
Sometimes patients are just told they need to do it but not why, Abdalla said.
They need to be taught how to hold the baby the right way and how that can help reduce nipple soreness and bleeding, educators say. And they need to know how they can stimulate milk production, thus assuring babies are adequately fed.
Breastfeeding takes patience, they said.
That goes for nurses and doctors as well. Too often, when new mothers struggle -- particularly when there are language and cultural barriers -- medical professionals encourage them to use formula, the educators said. They need encouragement to keep trying, not excuses to give up, said Dedeigo.
"They need someone to be there physically and emotionally," she said.
And to dispel the falsehoods.
"In China, it is not a natural thing for my generation," she said. "In cities, nobody hardly breastfeeds. … They feel they are educated moms and don't want to spend their time breastfeeding."
"Some people think breastfeeding is backward or culturally inappropriate. Or they are afraid of being judged more harshly," she said.
There is an attitude in the United States that formula is "modern" and therefore better for babies, Rauner said.
"But it's not," he said. "Every baby should be able to get human milk."