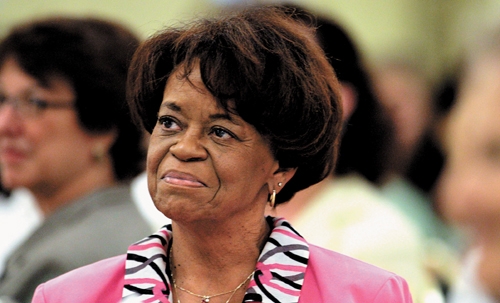 MELVILLE, N.Y. — Having a mother-in-law in the White House is fodder for jokes. Having a grandmother there — well, that's drawing accolades.
The news that Marian Robinson, 71, will join President Barack Obama and her daughter Michelle Obama in the White House to help care for granddaughters Malia and Sasha undoubtedly will amuse late-night hosts. It has prompted a handful of online snipes about whether taxpayers will foot the bill for her upkeep. (First families pay for their own family meals and personal expenses.)
But for the most part, Robinson and her grandmotherly service have won praise and plaudits from online commenters lauding grandma love and family values.
"The Obama children are going to be living in a very confusing, pressure-ridden environment, and to have (her) to call upon for that unconditional love … is a wonderful thing," said Paul Arfin, president of Intergenerational Strategies, a nonprofit that fosters intergenerational programs, including a new course at Dowling College in New York. "It's also a wonderful opportunity to demonstrate to the nation how a grandparent can play a role like this."
As of the 2000 census, he said, there were about 56,000 grandparent households with grandchildren, including 16,000 in which the grandparents were primary caregivers. And amid economic hardships, grandparents are providing more help. Brigitte Castellano, executive director of the National Committee of Grandparents for Children's Rights, said she's heard of growing numbers of families moving into grandparents' homes for financial reasons.
Lauren Mangino, a Hofstra University professor in the Health Professionals and Family Studies Department, bought a home in Massapequa, N.Y., five years ago with her mother and now feels she would be unable to afford the house without her — or manage care for her two preteen sons.
"If my mom wasn't around, I don't know what I'd do," Mangino said.
On the other hand, she said, the tensions created by sharing a property with her mother may have contributed to the breakup of her marriage.
Lisa Falls, 35, of Bellmore, N.Y., said having her mother, Vivian Muschio, 63, live in and care for daughter Amanda, 3, was the only way she could feel comfortable working full time. But it's not always easy, especially for her husband, Dennis, 36.
"It's good, but you know, it's close quarters, so being on top of somebody can be a little overbearing," Falls said.
Still, she said, "the positives outweigh the negatives. And we all appreciate all the things my mother does for us."