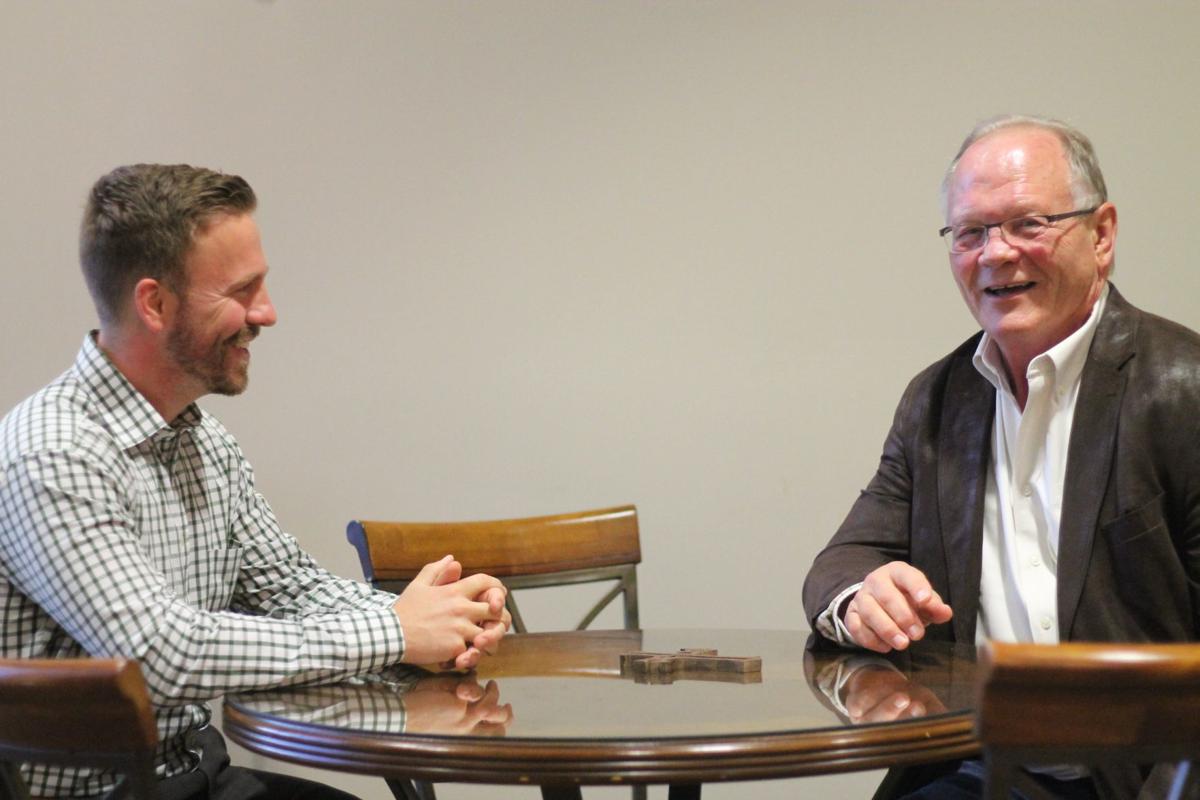 In the Word of Life Church office, a Lutheran church in the Highlands of Lincoln with a congregation of 100, Larry Oetting looks on as his successor, the Rev. David Edwards, speaks of his new role. There is admiration in both of their eyes. Edwards, the 28-year-old newest pastor of Word of Life, is in awe of his new position. Oetting, however, is in awe that his time as pastor has ended.
After starting Word of Life Church in 2007, and becoming ordained in 2009, Oetting felt the calling to move on. His family played a large role for him and his wife to come to the decision.
"My wife and I's focus is our family," he said.
He knew, of course, that he wanted to leave his congregation in good hands, and as Edwards puts it, "The good Lord saw fit that I serve this congregation."
Both Edwards and Oetting describe church ministry and the role of pastor as a gift. It's a journey Oetting was blessed to embark on in 2007 when the call of retirement was met with the call to build a church. But Edwards heard his calling into ministry earlier than most. The Canada native with roots in McKinney, Texas, recalls as a child being led to serve in whatever capacity was "the best way I could serve God's people."
With exactly a 50-year age difference between the two pastors, Oetting is humbled by the young ambition of someone new to the ministry while Edwards reveres in the guidance of an admired mentor. As they speak together the two personalities emerge: Edwards with both a novice enthusiasm and a hearty dose of reality, and Oetting with a quieter yet still strong presence — eager to give a supportive nod and smile to his successor.
Edwards, who gave his first sermon at Word at Life a few weeks ago, knows what he signed up for, and the prospect of serving thrills him. But the work of a pastor, the hard times and trying times, aren't lost on him. Nor is the weight and responsibility of leading a church. He's thankful for the opportunity Oetting has given him.
"I appreciate his willingness to trust his congregation to me," he said. "I want to be here as long as I can faithfully serve the congregation."
But for Oetting and Kitty, his wife of 57 years, their place will no longer be in the pews of Word of Life Church. The two decided together, out of respect for Edwards and the congregation, that the church should continue to grow and bond with Edwards, without their presence. They want to give Edwards a chance to lead without interference or past precedence, a decision that they feel was both necessary and difficult.
"We definitely grieved the loss of the relationships and being able to be a part of that specific role," Kitty says. As for Larry and his transition forward, she says, "It was neat to see but hard to watch him go through that."
Kitty saw first hand the relationship between Oetting and his congregation and what the church goers will miss.
"Larry is very relational," she said. "He moves towards people and people move towards him. He's very accepting of all people no matter what stage of life they're in. He's just very open. He's a strong but gentle leader."
You have free articles remaining.
For Oetting, who touts a background as Concordia football coach and college professor, the future looks wide open. But he also knows he's not done serving yet.
"Being a pastor has been a real joy," he said.
He will miss the people, he will miss the preaching. But he leaves his congregation at Word of Life with, "the desire that Christ is brought to people who are struggling with finding purpose."
He wants the church to be a safe haven for people who have been through hard times, anyone who has ever not felt at home during worship.
"His goal was really to have a culture where people felt safe," Kitty says.
And they both trust Edwards to continue that mission.
With their emptier schedules, Larry and Kitty have plans to make more time for family in this new phase of life. Together they have 3 children, 14 grandchildren, and 1 great grandchild.
Kitty says the retirement will free them up to visit grandchildren at college and reflects on the past with gratitude.
"What was interesting about being in ministry was that it didn't seem like work," she said. "It certainly was work for Larry, but it was part of a ministry together that was really exciting to be a part of. It was always exciting to be able to start a culture in a church that we felt very strongly about. So that was always a real passion together."
When Larry and Kitty first began the structuring and growth of Word of Life in 2007, their vision was described as "a church without walls." Now, together, they move forward to a future without many walls. Their future holds no specific plans, no barriers or expectations. They simply want to serve and enjoy. They're looking for ministry, a new calling to serve, a church to call home, but together they're open to any combination of possibilities they could be led to.
"I think finding a place where we can be a part of (is important)," Kitty said. "It's been a big transition to leave Word of Life because we love the people so much and Larry has all those connections. But I think just being really open, what's neat about that is we don't have a specific plan. We don't know where God may lead us."
Larry has thoughts of writing, children's Fiction perhaps, and he'll continue to work with his seed farm, Oetting's Detasseling. But the world, for now, is their oyster.
Meanwhile the torch of Word of Life Church has been officially passed to Edwards, as well as the church's other two ministers who serve in outreach areas around the community.
Edwards is all in to continue to lead the legacy that Larry and Kitty started. For him, "It's all about Jesus."