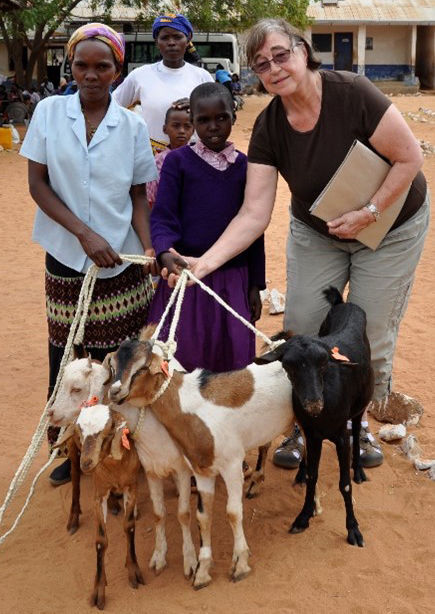 When it's Adult Forum time at 9:30 a.m. on Sunday morning in Lincoln, it's late afternoon in Kitui, Kenya, where Shadrack Matuku Musyoka lives.
More than 8,500 miles away from First Lutheran Church in Lincoln, Musyoka taps his keypad a few times to join the Adult Forum session. Connie Kisling, host for the church's Zoom gathering, smiles as she greets Shadrack, a familiar participant, by name. First Lutheran members Kay and Lee Rockwell had invited Musyoka to attend, certain that the subject would interest him.
Adult Forum sessions available by Zoom often offer information that the guest from Kenya finds directly applicable to his work in the governor's office. Recordings available on the church website give Musyoka the option of sharing ideas with family members or colleagues, who watch at their convenience.
Musyoka's relationship with First Lutheran began in 2011 when he met Kay Rockwell, then a volunteer for monitoring and evaluation in a U.S. Department of Agriculture Farmer-to-Farmer program focused on improving farming practices and supporting the health and well-being of persons affected by HIV-AIDS.
As the colleagues' professional work continued, close connections between their families grew. The pair worked together on a project in Voo, Kenya, which provided goats that enable families with children orphaned by HIV-AIDS to build sustainable futures for themselves. Their collaboration grew, as did the humanitarian projects at Voo and Chuluni. The Rockwell family's visits to Kenya continued.
Musyoka enlisted the Rockwells' help in scheduling appointments when he and other officials from the governor's office visited Lincoln a few years ago. Both families are eager for Musyoka's return to Lincoln to begin the PhD program, into which he has been accepted at the University of Nebraska-Lincoln, pending financial assistance.
Musyoka worships in person at First Lutheran when he is in Lincoln. When his home church in Kenya closed last fall due to COVID-19, the family joined First Lutheran members in worshiping online. Their relationship with the Rockwells and their experiences at First Lutheran have given Musyoka and his family chances to know practicing Christians in the U.S.
"Many people in Kenya believe that white people could not be Christian because they have money. 'Why would they worship? Why believe in God? They have everything they need,'" Musyoka explained. "Instead, I see people who are reading the Bible and are passionate about their faith."
As the Musyoka and Rockwell families demonstrate, time and distance need not be barriers to this welcome. In a world that longs for connections and good news, First Lutheran's members are finding exciting opportunities to grow "family."