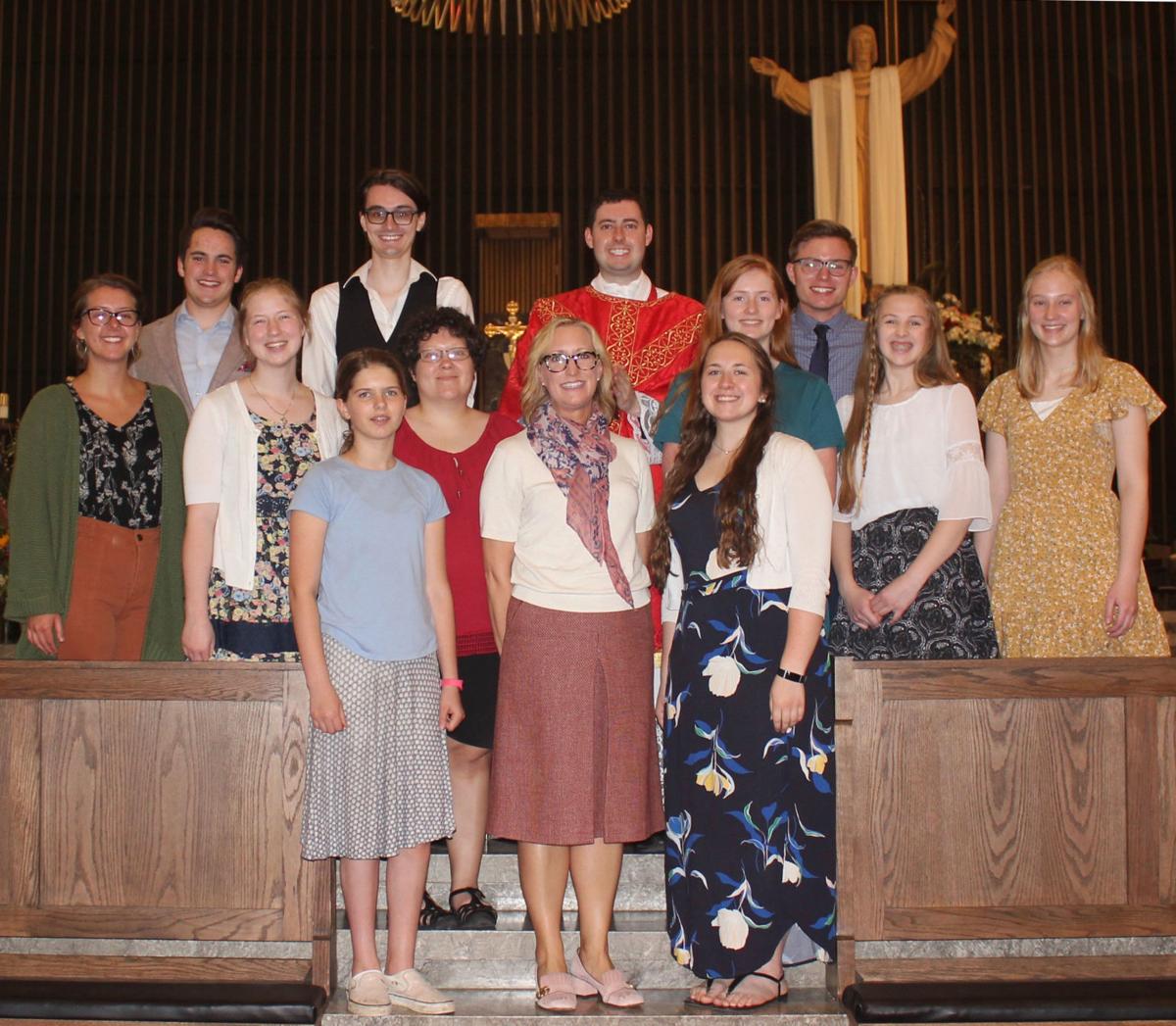 Cathedral of the Risen Christ, 3500 Sheridan Blvd., has begun a new young adult choir for musicians and seeks new members across the Diocese of Lincoln.
The choir meets for rehearsals on Thursdays from 6-7:15 p.m. in Benedictine Hall, located in the basement of the Cathedral church building. Food and fellowship immediately follow. The choir sings at the Sunday 6 p.m. Mass at the Cathedral, with vocal warm-ups and rehearsal before Mass in the choir loft at 5 p.m. every Sunday.
The choir, named "Sursum Corda," takes its name from the opening preface to the Eucharistic Prayer, "Lift up your hearts." The choir is directed by Daniel St. Hilaire and Katie Kruger.
Sursum Corda sang at its first Mass May 23 on Pentecost Sunday with Father Hile officiating and Nik Barger on the organ. Vicki Wenzl, Elise Friesen and Teresa Lee have also accompanied the choir on the organ.
Sursum Corda provided the music for the Legion of Mary Centenary Mass Sept. 7 at the John XXIII Diocesan Center Chapel celebrated by Bishop James D. Conley. The choir will also offer music for the Holy Hour with Bishop Athanasius Schneider October 19 at 7 p.m. at the Newman Center St. Thomas Aquinas Catholic Church, 320 N. 16th St.
Fr. Hile, parochial vicar at the Cathedral, conceived the idea of the choir after reading various documents promulgated by the Vatican to encourage active participation by the faithful in the Divine Liturgy.
"Sacred music is not an extra to the Holy Mass," Hile said. "Sacred music resides in and flows from the heart of the church's adoration of God. The church must ardently take up the challenge of numerous popes and the Second Vatican Council to strive for greatness and holiness in sacred music at Her Sacred Liturgies."
At its first Mass, the choir offered the "Panis Angelicus" (Lambillote), the Pentecost sequence, and the Heritage ordinaries. For Corpus Christi Sunday, the choir offered the four-part a cappella "O Sacrum Convivium" (text by St. Thomas Aquinas, setting by Rambione). Other pieces in their repertoire include the "Missa de Angelis" ordinary, Mozart's "Ave Verum," Palestrina's "Adoramus Te" and "Sicut Cervus," Kodaly's "Stabat Mater," Polleri's "Ecce Panis Angelorum" and Remondi's "O Sacrum Convivium."
Choristers include sopranos Meagan Gitchell, Rylee Herman, Mary Kroner, Mary Linscomb, Allison Mulka, Kerstin Mullen-Bagby, Natalie Oorlog, Sidney Ramaekers, Annie Roberts, Katelyn Schmid, Felicity Suelter, Stacy Thomlison, Sophie Timmerman and Jamie Wawers; altos Bella Arbie, Sienna Kunz, Meraiah Martinez, Vicky Sohl, Lizzie Sousek, Meredith Tarzian and Katie Timmer; tenors Nick Davis, Reese Herman, Andy Lane and Sam Roberts; and bass Nik Barger, Aidan Clarke, Henry Gengler and John Kastl.