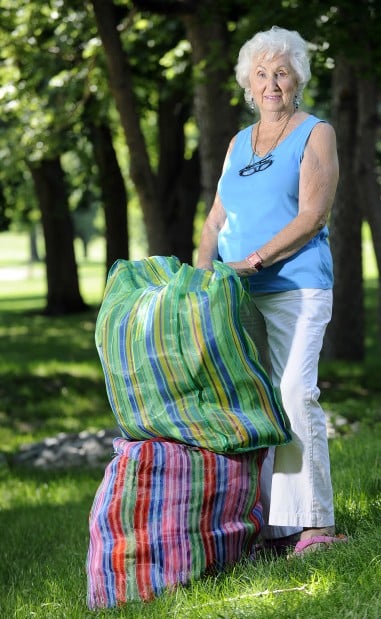 Sometimes it doesn't take a village; it takes just one woman, if that woman is Jan Brockley.
Brockley doesn't have much time to talk. She has supplies to sort and pack. Every minute she spends organizing now will save her hours when she arrives in Africa. This September, Brockley will lead her sixth mission trip to Meru, Kenya. She and her band of volunteers will distribute the supplies she has gathered, run a medical clinic and teach women how to raise goats and plant community gardens.
Eleven years ago, Brockley and her husband took a trip to Kenya. She saw coffee trees not being worked, land ready for planting but standing empty, and women with no power to improve their lives. She didn't wonder who would meet those needs. She was the one who saw the potential. She was the one who would act.
"It was so simple," Brockley said. "I saw so many people that needed things. It fell to me."
Brockley soon went on a mission trip but came back feeling that she could do more. She began to organize her own mission efforts working through United Methodist Churches here and in Kenya. Brockley, who is retired after teaching and owning Good Life Tours and Travel, began planning ways to build sustainable programs that would empower women in Kenya.
"It all began with one goat," she laughs.
Brockley works though AIDS groups and women's groups to give milk goats to women. Each woman who receives a goat must agree to give the goat's firstborn to the next woman on the list. The group owns a buck goat that services the does. More than 500 goats have been distributed.
"Women have nothing there," Brockley said. "Now, if a woman is in an abusive relationship, she has a goat or maybe a herd of goats, and she can support herself. She is empowered."
Brockley taught herself about raising goats, found a goat supplier and raised the money to fund the project. Brockley has also given away seeds and fruit trees, and built tilapia ponds. To meet the immediate health needs of women and their families, Brockley organized a medical clinic. This year, four doctors and three pharmacists will see more than 1,500 patients. The clinic costs between $1,500 to $1,800 a day and will be open for three days. Brockley wishes she could afford more.
"To show you how desperate they are to see a doctor, they brought one man to the clinic in a wheelbarrow," she said. "I don't know how word gets around, but people come. It's amazing."
Even as she sorts donations for this trip, Brockley is thinking about new opportunities. She is helping women start what they call a merry-go-round fund. This microlending initiative will support women entrepreneurs. Brockley and her team will help the women come up with ideas for sustainable businesses.
"They don't know what's possible," she said. "They have limited resources. They have never had this opportunity before."
To keep the projects sustainable here, Brockley works all year to share her vision, recruit volunteers and raise money. Her family has traveled with her, and next July she will take some of her grandchildren to work alongside her in Kenya.
Brockley holds an annual Christmas coffee to benefit the Gathering Place in Lincoln as well as her work in Kenya. In August, Trinity United Methodist Church hosted Rock the Village to support Lincoln's Community Crops and Brockley's projects. More than $10,000 in items were donated.
"People can donate to specific items they want to fund," Brockley said. "They can buy a flock of chickens or a school uniform. They can even buy a goat and name it, if they want to."
Where many see need and shake their heads, Brockley sees opportunity and goes to work. She is excited that Stop Hunger Now is opening a distribution center in Meru.
"I may have to run over sometime this winter and see how it's going," she said.