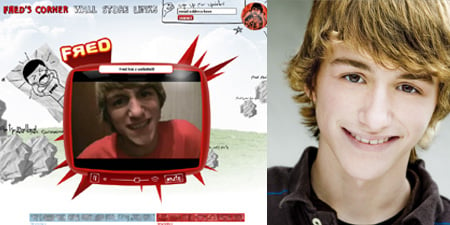 Fred Figglehorn is a 6-year-old with anger management issues who's not supposed to use his alcoholic mother's video camera to post videos of himself on YouTube.
Lucas Cruikshank is a 15-year-old from Columbus who created Fred two years ago as a last-minute idea for a Halloween-themed improvisational video.
Today, the squeaky-voiced, temper-tantrum-prone Fred is an Internet superstar, with the second-most subscribers of all time (554,000 and counting) to his YouTube series, "Fred."
"It's crazy!" said Cruikshank, who balances "Fred's" extraordinary success with his ordinary life as a teen in the mid-sized Nebraska town, a middle child of David and Molly Cruikshank's eight children.
How big has "Fred" become? This may give you an idea:
- Cruikshank receives 2,000 to 3,000 fan e-mails a day.
- His video, "Fred Loses His Meds," has had nearly 10 million hits.
- Because of his popularity, especially among tweens and teens, Fox and Walden Media have hired him to help promote their new movie, "City of Ember," which is due out  in theaters nationwide Friday.
- Cleveland R&B artist Kev Blaze will feature Fred on the video of his single "Watch How I Do This" from his debut release "Smoke N Blaze," which hits record stores today.
"Fred is this lovable outsider, who is innocent and has a desire for more," Cruikshank said, explaining Fred's appeal.
"Kids can relate," he added. "They find the videos easily quotable. They act them out with their friends and talk about them at school, so that helps spread the word. Plus, there really isn't a lot of comedy on TV anymore, so kids view 'Fred' as their own TV series, except that it's on the Internet." 
Cruikshank posted his first "Fred" video on Oct. 30, 2006. He produced it for JKL Productions, the three-person sketch comedy troupe he formed with his twin cousins, Jon and Katie Smet, from Minnesota. They use the first letters of their names for the company moniker.
Cruikshank planned to post a Halloween-themed solo effort to JKL's YouTube account. 
"I kept putting it off," he said. "It was the night before, and I still didn't have an idea as to what to do."
He had bought a new editing program that allowed him to play with the audio.
"I'd always thought that the way kids act around Fred's age was hilarious, so I came up with some issues and I sped up the voice, which always made me laugh," he said.
Since then, he's produced 26 videos, handling the directing, editing and acting himself. His performances are improvised.
"I'll know certain points, or lines that I want to get into an episode, and improv around that," he said. "If one of my little brothers does something I think is funny, there's a good chance of that ending up in a 'Fred' video."
It takes just 40 minutes to produce a "Fred" video because Cruikshank is doing everything himself.
"I decide when a scene is wrapped, not somebody else," he said. "That's what I really like about 'Fred.' I get to do it all without anyone telling me, 'Oh, that's too inappropriate' or 'Oh, that won't work.'"
"Fred's" audience is primarily teenagers, but he's seen kids as young as 2 and 3 "go wild" for his videos.
"I've gotten a lot of fan mail from offices and workplaces, too, so I think 'Fred' is a popular character with (older) people — once they get past the voice," he said.
Think Alvin of the Chipmunks, or better yet, fingernails on a chalkboard, and you get the idea.
"You either love Fred or you hate Fred," Cruikshank told CNN earlier this year. "It's one of the two; it's never in between."
His growing fan base is proving more and more people are liking him. 
Laura Kendall, an executive at the Lied Center for Performing Arts, is among his fans. She knew Cruikshank before "Fred," having directed him in "High School Musical" at Pinewood Bowl two years ago.
She didn't know about his videos until her sister, an acting coach in California, recently sent her a link to "Fred's" videos, asking Kendall if she knew him. Her sister's 7-year-old daughter had become a "Fred" fan.
"We had a super-large cast, but I remember Lucas as being funny, really funny," Kendall said. "He did a skit with some of the other kids and had all of us rolling. He was naturally funny. You could see that right away."
R&B singer Blaze also is big-time "Fred" supporter. Cruikshank was looking for music to enhance his videos when his manager turned him on to Blaze's single, "Watch How I Do This," which he first used in "Fred Loses His Meds."
"I thought it fit perfect with Fred because Fred is a 6-year-old who wants to be the center of everyone's attention," Cruikshank said. "I also loved the lyrics because it's kind of a rebellious song about going out and doing your thing, no matter what anyone else thinks or tells you."
Blaze released the single on iTunes in January, selling 1,500 copies of it in four months. Since Cruikshank's been using it, Blaze has sold more than 10,000 copies of it. Money from the sales of it allowed the artist to produce his debut album.
"By him coming along and giving us this kind of boost … I can't tell you how much I appreciate him," Blaze said. "I love the kid. I really, really do."