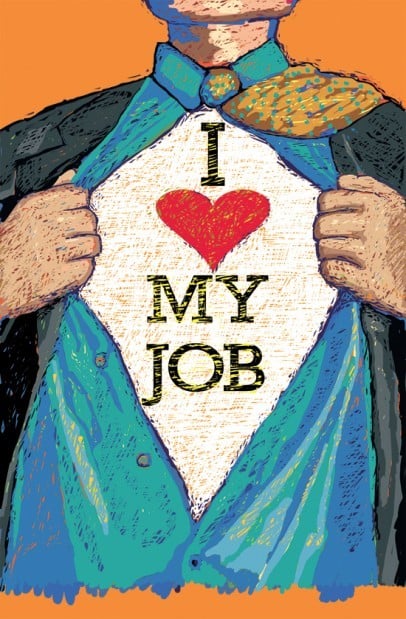 Regardless of whether you believe the recession is over yet, one thing is indisputable: The country's worst financial crisis since the Great Depression has fundamentally changed our jobs and the way we view them.
We are so grateful to still be employed that we are willing to work harder and for less -- at least for now.
We are wary. Careful not to call attention to ourselves, we keep our heads low, so when the next employment hammer drops, it will miss us.
We are practical, leaning more toward job stability rather than pursuit of passion.
And we are rethinking that whole American ethic of career-as-self-identity ideal.
So say many business and economic pundits, as well as career counselors and employment agencies.
As we've heard over and over, normal, as we once knew it, is dead.
So what's the new normal?
Well, that remains to be seen.
But Cindy Kaliff, owner of Career and Life Options, a life/career coaching company, sees changes in her clients.
"I have had a couple of people who had decided to change positions and go more into sales because they feel it puts them more in touch with the bottom line of the organization, and it may offer more protection for layoffs," she said.
She has other clients, those who have watched their employers cut benefits and require furloughs, decide to change careers "from the vulnerable to something that may look more stable."
And at least one woman who lost her long-time job at an area manufacturing plant is now realizing how much family life she missed out on in order to meet the demands of her employer.
She's decided on a new "full time" -- 32 hours a week. And she's more than willing to adjust the family budget to make it happen, Kaliff said.
This recession, like the ones before it, has irrevocably altered the workplace -- and the workforce, according to business bloggers.
The shift is as significant as the adoption of the eight-hour work day (June 19, 1912) or the invention of the vacation (1920s), wrote Beth Haiken, senior vice president for Ogilvy Public Relations.
Harvard's Tammy Erickson says just as the recession of 1981 taught us "jobs are no longer for life," and the recession of 1991 showed us "free agent" contract work was more dependable than full-time employment, this recession has ushered in the new business model of furlough as a means of saving jobs and cutting costs.
However, it comes at a price, Erickson said.
"The practice is further changing -- in irrevocable ways -- the relationship between employers and employees," she blogged. "The practice is reframing, perhaps even severing, the idea of 'full time' as many of us have understood it for years."
With that comes the struggle to define a new work-life balance and the psychological repercussions of knowing dedication and loyalty doesn't always pay.
Erickson argues that with furloughs and shorter work weeks, people will work just the required hours and use their new-found time to do other things, such as take on a second job, go back to school or pursue a hobby.
"In this shift, companies will lose far more than the number of hours they think they have cut back," she blogged. "Companies will lose that sense of total dedication -- the sense that what I produce on my own time is theirs, that I have a responsibility to answer (work-related) e-mails whenever they arrive, or participate in odd-hour phone calls."
"Unfortunately, the generation getting laid off is the generation that has traditionally had that job loyalty," said Christine Nieman, senior staffing manager at Lincoln's Advantage Personnel.
"You probably won't see that (degree of) loyalty after this."
Of course, Nebraska is different from most states. Its highly regarded Midwestern work ethic and that "we're all in this together" camaraderie between employers and employees may make this shift less noticeable here, Nieman said.
When Lincoln Industries laid off 63 people in March -- the company's first layoffs in 50 years of business -- managers made a commitment to not only help those let go, but to strengthen their relationship with the remaining 400 employees, said Dan Krick, vice president of people resources for the metal finishing company.
The company's management held and continues to hold -- regular conversations with employees.
"We were very transparent," Krick said. "We believe this is how people should be treated."
And, given the financial crisis, management considered whether it should end long-time perks, such as monthly catered meals and the company picnic.
Ultimately, they concluded those perks were important regardless of the economy, Krick said.
"In fact, they are more important when the economy is the way it is."
And so the events continue, albeit in scaled back form. Instead of a $10,000 affair at a special location, the company picnic was held on-site, with burgers and hot dogs and old-fashioned "homemade fun" for 25 percent of the cost.
How will all of this play out when the recession ends and we get back to normal?
Krick is confident that at least at Lincoln Industries the employer-employee team will be stronger.
"I believe in the sense of human spirit in the people we've got," Krick said.
"That they will look at this as: We went through a tough time and we did it together."
That said, the road ahead will still be rocky said Kris Brennan, executive director of Continuum Employee Assistance.
We have yet to discover the "new normal."
Most people and companies are still in recession survival mode, Brennan said. Employers are doing whatever it takes to keep people on the job rather than lay them off. And when layoffs and furloughs do occur, these same companies are doing everything they can to help riffed workers make it through, she said.
"But even when you do the best you can as a company, the fallout is there and people are hurting," Brennan said. "That doesn't just end."
Right now, people are focused on the practical -- just making it through the recession.
The emotional impact -- anger, frustration, the reality that things will never be the same -- is still to come.
"People are stretched in terms of their coping skills. They can do it short term. They can talk about getting through tough times and tough situations. But this is more than a situation," Brennan said.
And all indications are the economic recovery will be long and slow.
"It may take a long time before families see their salaries increase. They are not going to double up next year to make up for it," Brennan said.
"There is that possibility that people are going to feel anger and frustration: Gee, I thought this was over. Things should be better, I'm working harder than ever. How am I going to get rewarded more? How much long-term patience and gratitude should I have?"
And so, as the workforce braces for a new normal, the onus is on employers to make their workers feel valued and respected in ways other than salary.
"We need to enhance workplace relationships," Brennan said. "That is highly valued."