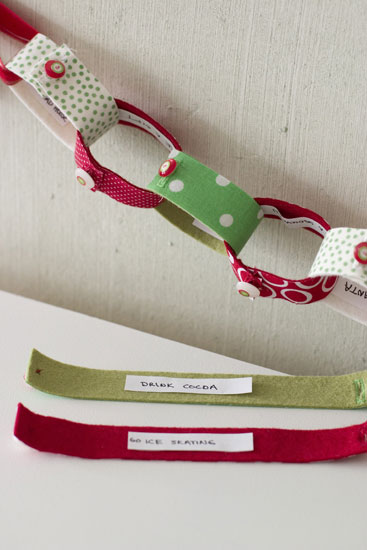 Advent calendars have come a long way since the 1800s when German families started marking chalk or paint lines on the floor as Christmas approached. Today, children can count down the days with help from Spider-Man or SpongeBob SquarePants, chocolate-filled calendars, or calendars that light up and talk.
But while most advent calendars are now produced commercially, the traditional, handmade versions have not been abandoned, says Gerry Bowler, author of "The World Encyclopedia of Christmas" (McClelland & Stewart).
"It actually started off as a craft project," he said. "Now, it's become a home industry to get back to making advent things again."
By about 1850, German families began making more elaborate calendars, with each day from Dec. 1 to 24 marked by a Bible verse, treat or drawing, said Bowler, a history instructor at the University of Manitoba. Along the same lines, a Lutheran pastor began using a wreath with candles to tell orphan children the Christmas story, lighting a new candle each night before Christmas.
The first printed advent calendar was produced in 1903, and by 1914 Germany was exporting many designs featuring winter landscapes, Christmas trees and town scenes with paper windows that open to reveal more detailed images.
This craft project brings advent calendars full circle - literally - to their craft roots. Modeled after a paper chain, it features sturdy fabric links that can be removed one by one as Christmas approaches and then saved and reused year after year. A scrap of paper taped inside each link provides a spot to add an activity for each day. Think of the traditions you already have, and mix in some new ones.
cotton fabric, enough to make 24 strips each 1 inch wide and 7 inches long. I used scraps of four fabrics left over from other projects.
wool/rayon blend felt in colors to match cotton fabric
fusible web, three 8 1/2-by-11-inch sheets
sewing machine for making buttonholes, or hook-and-loop tape
24 shank-style buttons (buttons with flat fronts and no holes)
needle and thread to match cotton fabric
white copy paper cut into 24 pieces each 1/2- inch by 3 inches
paint pen to decorate buttons
cardstock, hole punch, paintbrush and decoupage glue to decorate buttons
1. Cut rectangles of fabric about 2 inches wide and 8 inches long. There's no need to be precise because you will trim them to size later. Since I was using scraps, some were about 4 inches wide, some were less.
2. Cut a piece of fusible web and felt to the same dimensions of each cotton rectangle -- again, there's no need to be exact. For each piece of cotton fabric, you should have a piece of fusible web and felt cut to the same size.
3. Follow the directions on the fusible web to adhere the three layers together using the iron. This will give the thinner cotton fabric a firmer backing and will prevent the edges from fraying when cut.
4. Use a rotary cutter and mat to trim the fused fabric into 1-by-7-inch strips. If using four different fabrics, you'll need a total of 6 strips per fabric.
5. If your sewing machine has a buttonhole stitch, use it to make a button hole at the end of each strip. If not, sew pieces of hook and loop tape to both ends of each strip. Make sure to put the soft part of the tape on one side (either the fabric or felt) and the prickly part on the other side so the ends of the strips can be joined to make a link of the chain.
6. If desired, add the numbers 1 to 24 to the buttons using a paint pen or cut-outs. I printed the numbers on cardstock and used a standard hole punch to cut them out, then glued them on with decoupage glue.
7. Sew a button to the end of each strip on the fabric side, opposite the button hole.
8. Write a daily activity on each piece of paper. If you run out of ideas, search online for "advent calendar activities."
9. Tape one piece of paper to the felt side of each fabric strip.
10. Join strips together to form chain.