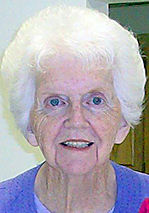 Irma F. Walter, of Lincoln, passed away on December 13, 2014 in Lincoln. Irma was born on May 8, 1932 in Litchfield, Neb. to Guy W. and Nora M. (Harmon) Stickney. She graduated from Waverly High School and attended Nebraska Wesleyan University. Member of St. Patrick's Catholic Church 85 Legion of Mary, Daughters of American Revolution-Deborah Avery Chapter, Lincoln Lancaster County Genealogy Society, Colonial Dames VII Century and Daughters of Founders and Patriots.
Irma is survived by her husband, Jack; children (spouses), Sharon K. (Kent) Halvorsen of Lincoln, John R. Walter of Lincoln, Mary A. (Paul) Kleinpeter of Montgomery, Texas, Ann L. (Roger) Krause of Lincoln; grandchildren (spouses), Ken C. (Elizabeth) Halvorsen, Jerrid R. (Courtney Potter) Halvorsen, John R. Walter II, Jack A. Walter, Kathy Thomas, Kim Christensen, Adam G. Krause, Katie N. (Cody) Schaaf, James A. Krause, Stacy C. Krause; great grandchildren (spouse), Jordan Satter, Kaitlyn Halvorsen, Harley & Hank Halvorsen, Gabriella & Victoria Thomas, Matthew (Meredith) Kleinpeter, Madeline, Melody, Nolan & Sarah Christensen, Arabella Krause, Caleb & Easton Schaaf; great, great grandchild, Savannah Kleinpeter; sisters-in-law (brother-in-law), Cloydett Stickney, Jeneanne Walter, Virginia (Robert) Shusta; and many nieces and nephews. She was preceded in death by her parents; parents-in-law, Fin & Wilma Walter; sister & brother-in-law, Norma and Kenneth Polenz; brother, Kenneth Stickney; sister-in-law and brother-in-law, Diana and Claude Hooper; brother-in-law and sister-in-law, Monte and Billie Walter; sisters-in-law, Doreen Primrose and Marilyn Schultz; and nephews, Dick Polenz, Dick Rieckman, Joe Schultz and Don Shusta.
Mass of Christian Burial: 10:30 am Wednesday at St. Patrick's Catholic Church, 6111 Morrill Ave, Lincoln. Viewing: Tuesday from 1-9 pm with a Rosary Service at 7 pm at Butherus, Maser & Love Funeral Home. Burial: Ashland Cemetery, Ashland, NE. Memorials are suggested to Waverly Fire and Rescue Department or to the family for future designation. Condolences may be left at www.bmlfh.com.