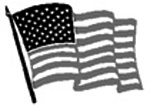 Robert "Bob" Linderholm, of Cambridge, formerly Lincoln, died on July 6, 2013. Bob was born 10/19/1933 to John and Hazel (Lederer) Linderholm in Seward. After graduating from Wesleyan University, Bob married Shirley Hilton on 6/11/56; they were married for 55 years. Bob joined the Army and was stationed in Germany from 1956-58 and upon returning worked for Goodyear in Lincoln until he retired in 1977 and they moved to Shirley's hometown of Cambridge.
Bob was involved with and enjoyed many activities as a boy, including stamp collecting, trapping mink, fishing and gun hunting. Later in life his interests also included astronomy, falconry, trapshooting, flying his para plane, archeology, designing and casting jewelry and traveling to many parts of North America and Europe.
Survived by son and daughter-in-law, Karl Linderholm and Lynne Brehm of Lincoln; brother and sister-in-law, Jim and Gail Linderholm of Lincoln; grandchildren, Jacob Linderholm of Lincoln, Kyle and Mitchell Renteria of Lincoln, Amy Felsher of Lusby, Md., Ben York of Falls Church, Va.; nieces and nephews and many other relatives and friends. Preceded in death by his wife, Shirley, and parents.
A celebration of Bob's life will be held at a later date. Memorials suggested to Raptor Recovery Nebraska.