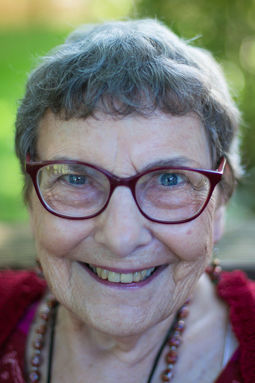 August 5, 1930 - June 10, 2019
Eileen Durgin-Clinchard, age 88, of Lincoln died Monday, June 10, 2019, surrounded by love. Born on August 5, 1930, in Washington, D.C., to an artist mother and Navy admiral father, she moved frequently, spending much of her youth in Coronado, California, and traveled extensively throughout her life, across North America and to Spain, England, China, Greece, Turkey, Kazakhstan, Israel, Palestine, and elsewhere. She didn't mind flying—her dad and brother were pilots, and she knew Edward O'Hare as a child—but also loved to drive, walk, and explore. In addition to knitting and poetry writing, in recent decades she took to couchsurfing and hosted many international guests and students in her Lincoln home.
In the 1980s, Eileen was the first president of PFLAG Lincoln, running PFLAG and AIDS support hotlines in her home. During that time she became involved in the Unitarian Universalist Church, in recent years championing the goals of the UU Justice in the Middle East organization.
You have free articles remaining.
Eileen was a teacher and speech pathologist much of her life. After earning a Ph.D. at age 63, she changed her path to work with the Anti-Defamation League's A World Of Difference program to bring diversity education to schools.
Eileen's activism and volunteerism seemingly knew no bounds. In addition to extensive involvement with the ACLU on the Nebraska and national levels, she was a poll worker at every election and active in the Nebraska Legislature, League of Women Voters, NAACP, the church's Social Justice Committee, and far too many other organizations to mention. She volunteered at the Lied Center and Bryan Health, and avidly supported NET Nebraska and the Ross Theatre, serving for a time on the Ross's board.
Eileen loved her family, friends, and community dearly and let everyone know it. She is survived by children LauraLee Woodruff, Daniel Clinchard, and Calvin Clinchard; daughter-in-law Jennifer Clinchard; and grandchildren, great-grandchildren, and family near and far. She was preceded in death by her eldest son, KC Chase-Lambert.
Memorials, in lieu of flowers, to ACLU of Nebraska, PFLAG, and Mary Riepma Ross Media Arts Center. Services will be held in Lincoln on August 5th, her 89th birthday, with details pending.
To plant a tree in memory of Jean Durgin-Clinchard as a living tribute, please visit Tribute Store.