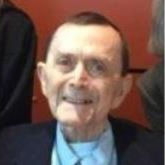 October 28, 1938 - October 23, 2019
You have free articles remaining.
Gerald Lee Kamprath of Plano, Texas, passed away on October 23, 2019 at his home with his wife, Marcia( Keller), by his side. Gerald was born in Seward, Nebraska on October 28, 1938 to parents Martin and Irma (Firnharber) Kamprath.
Gerald is survived by his four children, Mike, Jeff (wife Tracy), Paul and Christa (husband Chasz) Parker. Eight grandchildren Claire, Chloe, Cullen, Charles (wife Kristina) and Charis (fiance Sam) Parker. Chris (wife Rachel) and Matt Kamprath and Bethany (husband Cody) Gibbs. Three great-grandchildren Ethan, Owen and Charlotte Kamprath. He is also survived by many other family members and relatives. Gerald was preceded in death by Mart and Irma Kamprath, brother Wilmar, sister Margie (husband Burt) Edwards.
The funeral service and celebration of Gerald's life was held on October 26, 2019 at Ted Dickey Funeral Home in Plano followed by a reception. Burial was at Plano Mutual Cemetery. Donations may be made to the American Cancer Society.