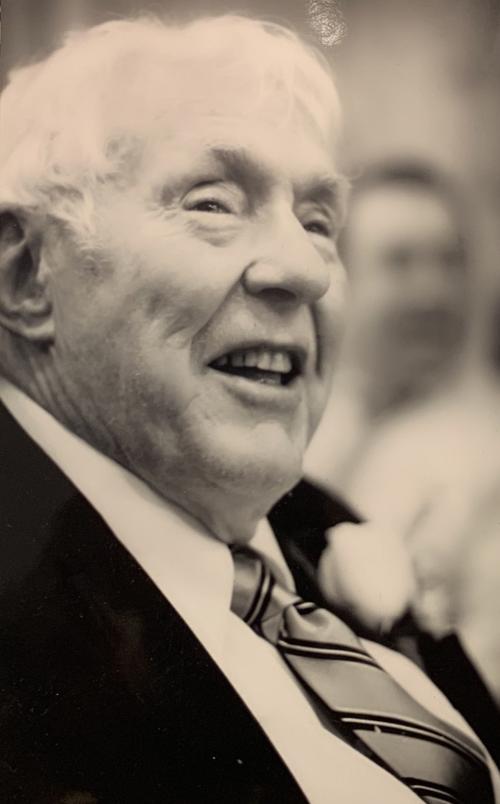 June 26, 1924 - July 30, 2019
Dean G. Kratz, age 95, died at Josie Harper Hospice House in Omaha, NE, on Tuesday, July 30, 2019. Born June 26, 1924, in Sidney, NE, to parents, Golden and Clara Kratz, Dean excelled in school and athletics at Sidney High, lettering in track, football, basketball, and wrestling, and graduating with honors. Dean's athletic and scholastic excellence continued at the University of Nebraska, Lincoln, where he became the first athlete in conference history to win the Big 6 Championship in three middle distance events (the 440, 880, and Mile). He was a Track & Field All-American and finished fourth in the Mile at the NCAA championships.
He graduated with honors (Journalism) in 1946 and moved on to the University of Nebraska College of Law, where he met the love of his life, fellow law student, Barbara Gale Blackburn. Dean and Barbara both graduated with honors from NU law and were married in 1949. Dean practiced law in Nebraska for over 60 years, most of that time as a named partner in the Omaha firm McGrath, North, Mullin & Kratz. A nationally recognized labor law expert, Dean was listed from the first printing, and every year thereafter, in "Best Lawyers in America" throughout his career.
Dean served as Judge and Chief Judge on the Nebraska Court of Industrial Relations for four consecutive six-year terms (appointed by four different governors), was a member of the Executive Council of the Nebraska State Bar Association, served as president of the Nebraska State Bar Foundation from 2005 - 2008, and was recognized as a lifetime fellow of the Nebraska State Bar Foundation. He was also awarded the University of Nebraska Alumni Achievement Award in 2013 and the Foundation Award in 2014 from the Nebraska State Bar Foundation.
A staunch supporter of Husker athletics, Dean served two terms as President of the University of Nebraska Touchdown Club; served as President of the Big Red Breakfast, Inc., for 30 years; and on many other boards connected with University of Nebraska athletics. He was awarded the Clarence Swanson Memorial Award by the Nebraska Football Hall of Fame and the Cornhusker Cornerstone Award by the Cystic Fibrosis Foundation.
Dean was kind, generous, funny, and could tell an excellent story. He was a wonderful husband to Barbara (deceased in 2010), and a caring father and friend to his four children and three grandchildren. A lifetime devotee to athletics, when Dean left the world of competitive track and field, he turned to handball, racquetball, golf, skiing, and tennis, sports he loved to share with his friends and family.
Dean held a life-long fascination with the Nebraska Sand Hills and authored two books capturing his interest in that area: Buffalo Bill, the Dismal River and the Nebraska Sand Hills and Golf in the Nebraska Sand Hills. He also wrote A Demonstration Course in Parliamentary Procedure (published by the U.S. Chamber of Commerce).
Dean is survived by children, Kathy Kratz (St. Paul, MN), Steve Kratz (Omaha, NE), Annie Kratz (Jack Carter) (Santa Barbara, CA) and Tim Kratz (Anne) (Denver, CO); grandchildren, Matison, Cole, and Gianna Kratz; sisters-in-law, Betty Kratz (Omaha, NE), and June Blackburn (Grand Island, NE); nephew, Paul Kratz (Diane) (Omaha, NE); niece, Patti Zukaitis (Dr. John Zukaitis) (Omaha, NE); and grandnieces and nephews, Jeff Kratz (Melissa), Gregory Kratz (Christie), Kathryn Zukaitis, Lucy Zukaitis, Jack Zukaitis, and Julie Rose Zukaitis; two great nephews and one great niece on the Kratz side of the family; and additional nephews, nieces, grand nephews and nieces, and great grand nephews and nieces on Barbara's Blackburn side of the family. Preceded in death by parents Golden and Clara Kratz, wife Barbara Kratz, and sibling Kent Kratz.
Dean's family sends love and gratitude to the many wonderful colleagues, friends, and extended family who were fun for, important to, helpful to, and loving to Dad. You meant a great deal to Dean and contributed immensely to his joy in life and his longevity.
A memorial service to celebrate Dean's life is planned for Monday, September 30, 2019, at Countryside Community Church, 13130 Faith Plaza, Omaha. Gathering to begin at 3:00 P.M., service at 4:00 P.M., and a light supper offered afterwards. Please send any correspondence for the family to Kremer Funeral Home or visit kremerfuneralhome.com to share comments.
To plant a tree in memory of Dean Kratz as a living tribute, please visit Tribute Store.
Obituaries Newsletter
Sign up to get the most recent local obituaries delievered to your inbox.