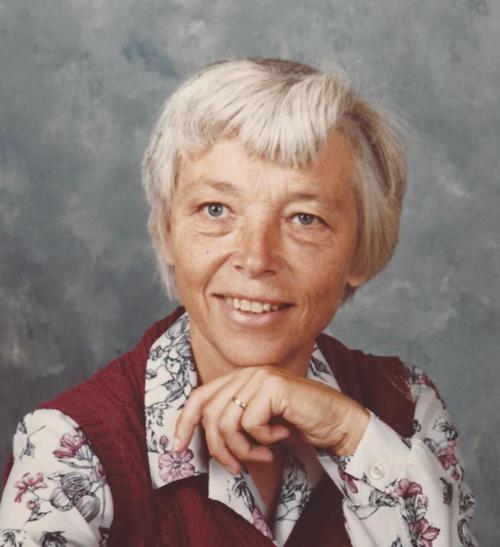 April 23, 1926 - September 6, 2019
Cecilia Daly, 93 of Lincoln, passed away September 6, 2019. Cecilia "Sally" Rieger was born on April 23, 1926 in Garden City, New York, the fifth of seventh children of Ernest and Cecilia (Shaw) Rieger. From her girlhood on Long Island, she developed a lifelong love of the ocean and swimming. Her academic interests were focused on the sciences and led her to attain a master's degree from Vassar in Botany. She decided to pursue her doctorate at the University of Minnesota where she met and married J.M. "Mike" Daly.
Sally put her studies aside and concentrated on raising a family. They started in Minneapolis, moved to South Bend, Indiana, and finally settled in Lincoln, Nebraska. Sally and Mike welcomed 9 children in 11 years. After the youngest of their children started school, Sally started to take classes at the University of Nebraska-Lincoln. In 1974, she was awarded her second master's degree and was the first woman hired as an instructor in the Computer Science Department. In recognition of her ability to inspire and mentor students, she was appointed as chief freshman advisor and awarded an Associate Professorship.
Sally served on the Human Rights Commission for the city of Lincoln. Volunteerism was important part of Sally's life. She was active in parent school organizations, served at Matt Talbot Kitchen, taught English as a Second Language to adults, and was involved in many other outreaches as well. Sally also enjoyed travel and adventure, she and her husband, Mike, took many trips to Japan and Europe and enjoyed touring historical sites together.
You have free articles remaining.
After Mike's death, Sally continued to seek adventure with her sisters, Ruth and Carol, or accompanied by one or more of her children and grandchildren. In her seventies, she snorkeled the Great Barrier Reef, white-water rafted in Alaska, walked on the Great Wall of China, and visited the Maori sites in New Zealand.
In her eighties, she took up gliding and spent many hours soaring. She was delighted to share her love of flying with her grandchildren. Flying was not limited to fixed wing gliders, she also experienced para-gliding. In her nineties, she took up paddle boarding both here and in Jamaica. Of all these adventures Sally had, she truly was amazed by a submarine excursion with the family in the Bahamas. When she wasn't globetrotting, she enjoyed spending time with her family and her beloved dog Coco. She was always available to her children and grandchildren.
She will be missed by children: Katherine Daly O'Rourke, Stephen Daly, Timothy Daly, Martha Daly, Cecilia Daly, Anne Daly Schmidt (Jeff), Constance Daly, Melissa Daly Hoy (Mark). Grandchildren Sean O'Rourke (Amanda), Tyson O'Rourke (Erin), Kealyn Lutt (Brett), Amanda Hoodjer (John), Alexa Hoy, Jerome Schmidt. Great-granddaughters: Carlie, Elora, and baby girl Hoodjer. Brother Richard Rieger, sister Carol Rieger.
Preceded in death by husband Joseph Michael Daly, infant daughter Julia. Son-in-law, John O'Rourke, Parents Ernest and Cecilia Rieger Siblings: Ruth, Ernest, Paul, Thomas.
Mass of Christian Burial will be held at 1:30 pm on Thursday, September 12, 2019, at St Mary's Catholic Church, 1420 K St in Lincoln with Fr. Douglas Dietrich celebrating the Mass. Burial will be at Lincoln Memorial Park. There will be a Rosary at 6:00 pm on Wednesday the church. Memorials are suggested to hurricane relief for the Bahahams. Condolences: www.bmlfh.com