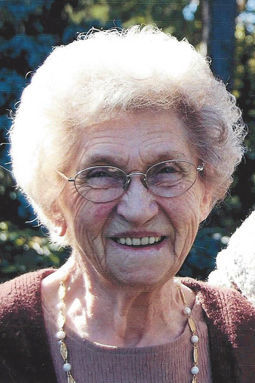 November 24, 1923 - September 24, 2019
Bonita "Bonnie" Smith, 95 of Lincoln, passed away September 24, 2019. Bonnie was born on November 24, 1923, in Colome, South Dakota to Otho and Myrtle (Stein) Holmes. She grew up in Plainview and met her husband at church in Creighton. She loved to play piano. Anywhere she lived, she would play at her church or accompany anyone who asked. She and her husband were missionaries in Nigeria from 1951 to 1957. Bonnie's working career ranged from house parent in Africa to social worker for the State of Nebraska.
Bonnie is survived by her children Rosalee Fricke of Lincoln, NE; Shari (husband Rick) Harvey of North Platte, NE; Brent (wife Robin) Smith of Bennet, NE; and Becky (husband Rick) Shafe of Tuscon, AZ; 9 grandchildren; 28 great-grandchildren; 2 great-great-grandchildren. She is preceded in death by her parents, husband Vernon, sister Marlene Smith and brother-in-law Ralph Smith, daughter-in-law Linda Smith and son-in-law Larry Fricke and great-grandchild Willow Taylor.
The burial will be 9:00 am on Friday, October 11, 2019 at Wyuka Cemetery (family and friends may meet inside the 36th and O St gate.) A Memorial Service will follow the burial at 10:30 am Friday, October 11 at the Lincoln Berean Church (6400 South 70th St.) Memorials are suggested to The Lincoln Berean Church Missions Program or People's City Mission. Butherus Maser and Love funeral home in charge of arrangements. www.bmlfh.com