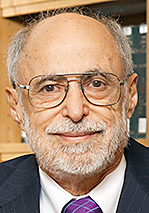 John Mayer Gradwohl, died Feb. 2, 2014 in Rochester, Minn. He was born May 2, 1930 in Lincoln to Elaine (Mayer) and Bernard Gradwohl.
In 1953 John received a Bachelor of Laws, now Juris Doctor, from the University of Nebraska College of Law where he served as editor of the Nebraska Law Review and was a member of the Order of the Coif and Phi Delta Phi legal fraternity. He and his wife, Jan, met as law students and were married in 1954 the day after her last final exam.
John served as a Judge Advocate Officer (JAG) for the Air Materiel Command, Wright-Patterson Air Force Base, Ohio, from 1954 to 1956. After receiving a Master of Laws in taxation from Harvard Law School in 1957, John practiced law with his father and Ed Carter until 1959 when he began his teaching career at the University of Minnesota.
In 1960 John returned to the University of Nebraska College of Law, where until his retirement in 2011 he taught courses including legislation, labor arbitration, estate planning, taxation, school law, and judicial administration. His scholarship and passion for teaching were recognized with the Ross McCollum distinguished professorship, 1985 to 2004, and the Judge Harry A. Spencer professorship, from 2004. John was a judge on the Nebraska Commission of Industrial Relations from 1963 to 1972 and from 1978 to 1985.
John and Jan taught courses on comparative law at universities in the People's Republic of China from 1990 to 1998. With friends, Professors Zhao Yuhong and Ling Bing, John and Jan co-authored the English/Mandarin textbook "Criminal Jury Trial Materials: A Comparative Law Study," published in China in 1995 with funding from the Asia Foundation.
In 1993 John received the Nebraska State Bar Foundation's Shining Light Award, which recognizes outstanding legal research conducted by a lawyer, and in 1995 he was given the organization's Outstanding Legal Educator Award. He and Jan individually received Alumni Achievement Awards from the University of Nebraska Alumni Association in 2001 and were jointly recognized in 2012 by the UNL College of Law Alumni Council with its Distinguished Alumni Award. Among the many honors he received throughout his career, John was particularly grateful to students in the Midlands Black Law Student Association and the Multi-Cultural Legal Society for recognition of his support of and commitment to the education and advancement of students of color.
John's family includes wife, Jan; brother and sister-in-law, David and Hanna Gradwohl; children and grandchildren: Ann Gradwohl; Jill and Jeffery Schroeder and their children Shannon, Joel, and Allison; John Gradwohl and Marsha Mueller, John's daughter Andrea and her children. Additionally, John maintained many close mentor-student relationships that created an extended family that spans continents.
John requested a private family memorial service. In lieu of flowers, please consider a memorial gift to the Access to Justice Scholarship John and Jan Gradwohl Fund at the University of Nebraska Foundation, 1010 Lincoln Mall, Suite 300, Lincoln, NE 68508; or a social service organization of your choice.