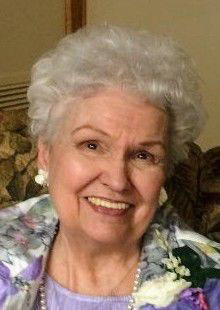 January 29, 1931 - August 26, 2019
Anne Bergman Sandin, 88, of Lincoln, died Aug. 26, 2019. She was born in Holdrege on January 29, 1931, to Elmer and Edna (Urbom) Bergman. A graduate of Loomis High School, she served as Deputy County Treasurer of Phelps County.
You have free articles remaining.
In 1954 she married B.E. "Bud" Sandin. Anne was a longtime Holdrege resident and member of Bethel Lutheran Church. In 1974, the family moved to Lincoln. She was a member of First Lutheran Church. She was an artist, and her creations remain to exemplify her beautiful spirit.
She is survived by her husband Bud, children Alissa, Liana (David Burken), and Christopher (Julie), and 2 grandsons, all of Lincoln, a sister Arlis Wells of Holdrege, and a host of relatives and friends. She was preceded in death by her parents, two sisters, Helen Emmitt and Allene Soshea, and son-in-law Pearle F. Finigan.
A memorial service with inurnment will be held Saturday, September 21, at 11:00 am at First Lutheran Church, 1551 S. 70th, Lincoln, NE. A lunch will follow at the church. Condolences can be left at aspenaftercare.com