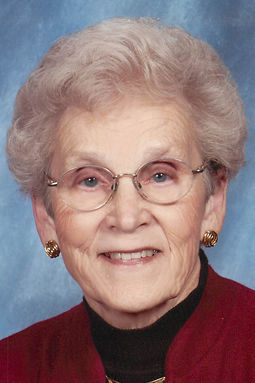 September 5, 1925 - October 14, 2019
Alice Adina (Brendemuehl) Meyer, Kirchhoff was born September 5, 1925 at home in Stoddard, to Leonard & Emma (Fintel) Brendemuehl. On May 9, 1943, she married Arthur Meyer. Arthur Meyer passed away on February 23, 1973. Alice married Edgar Kirchhoff on August 16, 1974; he passed away February 26, 1999. After a brief illness Alice passed away on October 14, 2019 at age 94.
Survivors: son Steven (Betty) Meyer, Hebron, NE, Step Daughter Beverly (Charles) Seger, Waterloo, Iowa, Step Son Leland (Debra) Kirchhoff, Santa Barbara, CA, Step Daughter Arvilla Kirchhoff of Wellington, CO, Step Son Galen (Candiss) Kirchhoff Deshler, NE. Grandchildren: Spencer Meyer of Santa Ana, CA, Cassie (Meyer) and Cody Cahill of Hastings, NE, Kurt (Angie) Seger, Cedar Falls, Iowa, Lora (Seger) Nissen and husband Bill of Moneta, VA, Andrew, Kevin and wife Sarah and Jeremy Kirchhoff of Santa Barbara and Leland's daughters Sara and Joan Kirchhoff. Tracy (Schneller) Spiger of Wellington CO, Richard Schneller of Denver, CO, Austin and wife Linda Kirchhoff of Fishers, IN, Lydia and Mei Kirchhoff of Deshler, NE, Great-Grandchildren, Ansley and Elliston Cahill, Jase and Ella Seger, Jean, Daniel and Nigel James Jr, Spiger, Aurian Stosberg, Blaire, Harper and Sydney Kirchhoff. Sister-in-laws and Brother-in-laws Kenneth (Gidge) Schmidt, Lincoln, NE, and Lynn Reed of KS, Verna Kirchhoff of Superior, NE, Edna Reinke of Deshler, Gertrude Skucius of Hebron, Viola Kuhlman of Manhattan KS, Louise (Ted) Tietjen, Grant, NE and Erwin (Mae) Pohlmann, Lincoln, NE, and a host of nieces and nephews and other friends.
Funeral services are Friday Oct. 18, at 1:30 PM at Peace Lutheran Church in Deshler. Visitation Thursday with family 6-8 PM at Price Funeral Home, Hebron; PriceUrbauerAhrendts. Com.
To plant a tree in memory of Alice Kirchhoff as a living tribute, please visit Tribute Store.
Obituaries Newsletter
Sign up to get the most recent local obituaries delievered to your inbox.