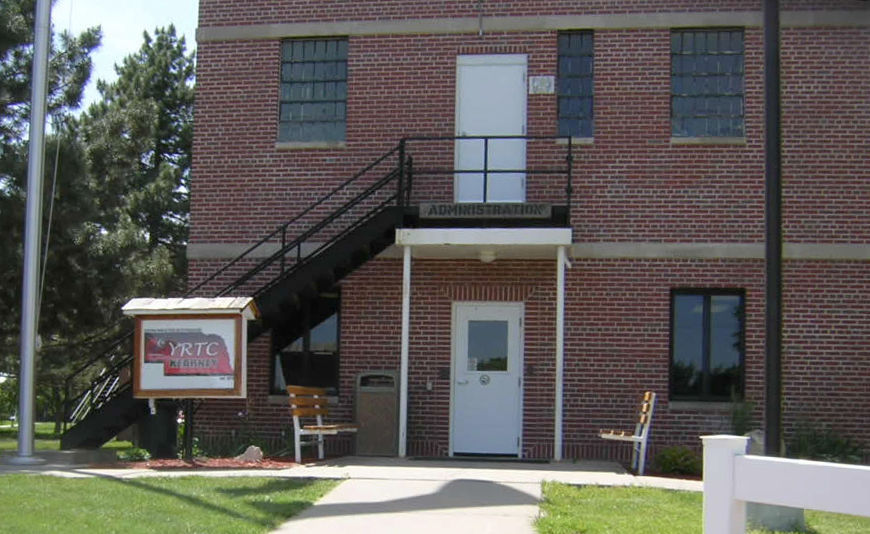 One of four girls from the Youth Rehabilitation and Treatment Center in Geneva who were shuttled from Geneva to Lancaster County, back to Geneva and then to the Kearney treatment center has been released.
Mya Delano, now 19, aged out of the juvenile justice system last month. But she wants to keep her story, and the stories of the other youths who were at the center in Geneva, in front of the public so they won't be forgotten, she said. 
The experience at Geneva and all the moving that followed was wrong, she said in an interview. It was tiring and stressful and difficult for the four who were separated out and treated differently than the other youths. 
The Geneva center, a state-run, campus-style correctional facility for girls who have been unable to succeed in less restrictive settings, reached a crisis point in early August amid concerns over physical conditions and allegations of a lack of programming, treatment and medical care. The four girls, all of whom were African American, were said by HHS officials to have been moved for their health and safety. The remaining 24 girls were moved a week later to the rehabilitation and treatment center in Kearney for boys. 
Problems at the Geneva center are being investigated by Julie Rogers, Nebraska inspector general of child welfare, and state senators are monitoring the problems and potential solutions.
Other allegations include inappropriate use of room confinement, overmedication of youth, inadequate management of prescribed mental health drugs, and lack of mental health care, programming and physical activity. Accusations of violations of the Prison Rape Elimination Act have been made, Rogers said.  
When the four girls arrived at Kearney around midnight on Aug. 15, Delano said, they were put into rooms in the same building, but not the same wing, as boys. That night they had no mattresses, just a cube to sit on, and a metal toilet, like a jail, she said. Around 4 a.m. they were given facility clothes to change into. 
All the while, she said, they didn't understand what they may have done to be abruptly moved out of Geneva, taken from confinement in dark rooms they had been in for days with nothing to do but sleep, without being told where they were going, and without notification of their parents or permission of a judge.  
Rogers arrived the next day and told officials she wanted the girls moved to a room other than a confinement room. It still took two days to get to another room, Delano said. 
In that first week, there was one disruption involving boys trying to get into the girls' wing, Delano said. Then on Sept. 3, a different four girls walked out of the facility after stealing keys and then scaling a perimeter fence. They were caught and three returned to the Youth Rehabilitation and Treatment Center, and one to Buffalo County Jail. 
You have free articles remaining.
Department of Health and Human Services CEO Dannette Smith recently reported to senators that girls are adjusting to the Kearney campus and becoming more engaged in education and recreation, and participating in programming including anger replacement therapy, improving social skills and moral reasoning. 
Delano was scheduled to be released from state custody Aug. 29 because she turned 19 that day, but they didn't waste any time getting her out of Kearney, she said. They knocked on her door at midnight and hustled her out, she said, her mother confirming they had called her and told her to pick her daughter up that night, rather than waiting until the light of day to dismiss her. 
Delano said she has been labeled a troublemaker, in her view because she is more apt to complain about things she sees are wrong. 
"I'm going to say something. If you come at me in some type of way, I'm going to come in some type of way at you, too," she said. "I'm not going to duck and dodge. ... I'm going to say how I feel. I don't like the tension." 
Now that she's out, Delano is in independent living through Bright Path, an organization that provides transitional homes for men and women with alcohol- and drug-free environments and social support. She's also applying for jobs. 
"I've been off on a good start so far, so I'm just going to try remaining (on that path)," she said. 
Delano is on adult probation for a number of misdemeanor charges, must go in for drug testing and for the next 10 months must serve jail time seven days a month. Next year, depending on how she does on probation, she will have to serve a 90-day jail sentence. 
In her updates to senators, Smith said that on Monday, 13 University of Nebraska-Lincoln students will come to the Kearney campus to be assigned as mentors for the girls for a semester. 
A private Kearney company is providing perimeter security at the facility, and four security officers are on site 24 hours a day, seven days a week. They notify Youth Rehabilitation and Treatment Center supervisors of unusual or suspicious activity.  
The 26 girls remaining at Kearney have been moved to a separate, standalone building on the campus, with individual rooms. 
Work is being done on the Geneva campus, Smith said, led by the Department of Administrative Services, and architects are assessing the needs for the buildings there. Contractors are working on the newest cottage to rehabilitate it. 
And a team of HHS, Department of Administrative Services and an architectural firm has toured Kearney and the Lancaster County Youth Services Center to explore options there, and assess potential locations for high-risk youth, Smith said.