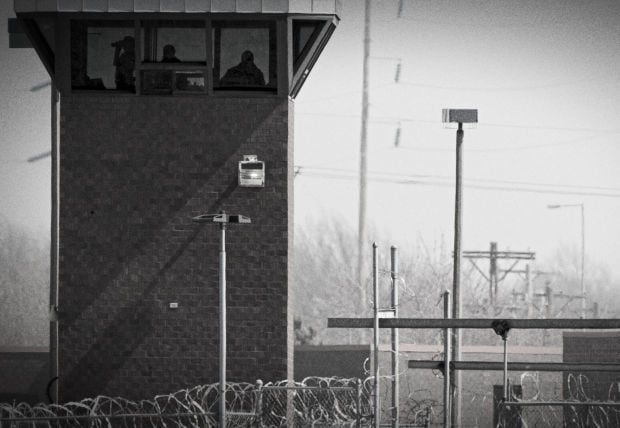 Testimony Monday on a bill that would limit overtime in 24-hour facilities operated by the state, including prisons and the Lincoln Regional Center, to 12 hours per shift, showed the toll that overtime has taken on state workers. 
The bill (LB345), introduced by Lincoln Sen. Anna Wishart, also would prohibit employees working more than seven straight days without a day off. 
Department of Correctional Services Director Scott Frakes told the Legislature's Business and Labor Committee such a bill would throw the prisons into a state of chaos. 
"Eliminating mandatory overtime would have a significant and detrimental impact on (the Nebraska Department of Correctional Services)," Frakes said. 
Omaha Sen. Steve Lathrop, a member of the committee, said mandatory overtime is just one symptom of a larger problem, which is not having enough help. And the state doesn't seem to have enough interest in solving the problem, he said. 
Supporters of the bill described — sometimes emotionally — difficult work conditions, and said their children are growing up, and their parents are growing older, without them. 
Carla Jorgens, a corporal for the Nebraska State Penitentiary and a union secretary who has been there more than 21 years, said the Department of Corrections and the Department of Health and Human Services, which runs the Regional Center, are barely surviving in crisis mode. 
Recently, the department lost more than 110 staff members in the prisons in three months'  time. In reporting their staff numbers, she said, the department counts people on long-term military, sick and investigatory leave.
"These people are not contributing any hours worked, but are currently counted as employed in the institutions," Jorgens said. "For every one of these people, someone has to pick up the 40 hours work per week that fewer and fewer of us are expected to work."
There is such a level of frustration, people are abandoning posts and walking off the job, she said.  
"Our spirits are broken and we are worn down," she said. "Unfortunately, our administration and our governor are indifferent to these needs."
Jason Swedlund, a mental health security specialist at the Regional Center for more than 16 years, and a union representative, testified after a 16-hour shift that ended Monday morning.
"At 6:30 tomorrow morning, that phone rings, and I've got to wonder, am I going to be able to take my daughter to school tomorrow morning, even though I did a 16-hour shift today?" he said. 
He believes the turnover rate at the Regional Center is more than 40 percent. Temporary agency staff brought in to help ease the load sign three-month contracts, then train for four to five weeks and work for about eight weeks, without mandatory overtime, he said. 
"Somebody, somewhere has got to help us out. We cannot do it anymore," Swedlund said. 
Frakes, testifying in opposition to the bill, said the department uses mandatory overtime to ensure coverage of posts that must be filled in order to safely operate the prisons, keep offenders and the public safe, and play an essential role in the rehabilitation process. 
"Ensuring that there are enough people available to cover each shift is a day-to-day challenge," he said. 
He continues to work on eliminating the need for mandatory overtime, he said. 
The job is not for everyone and it is difficult to fill the needed positions when the state has a remarkably low unemployment rate, Frakes said. 
Mark LaBouchardiere, HHS director of facilities, said employee vacancy rates in the 24-hour care facilities make mandatory overtime necessary to care for those in the facilities and maintain security.  
Inspector General Doug Koebernick, who did not testify Monday, commented via email that the amount of overtime worked by correctional staff has been a significant concern of his office since his first report was submitted in 2016.
Studies and conversations with staff show ongoing and excessive overtime affects the personal lives of staff, including having negative impacts on relationships, sleeping, eating, self-care and physical and mental health. Excessive overtime also impacts their professional lives, as it can result in low morale, burnout, complacency and fatigue, he said.
The situations at the State Penitentiary and the Tecumseh State Correctional Institution are especially troubling, as high turnover rates have led to an over-reliance on overtime to staff the facilities, Koebernick said.
He has observed and been told that there are times that penitentiary staff are not allowed to leave the facility until staff "volunteer" to stay and work an extra shift. 
"This makes it difficult for anyone who wants to lead a life outside of their work environment, and places a particular strain on single parents or others who have family obligations," Koebernick said. 
Be the first to know
Get local news delivered to your inbox!