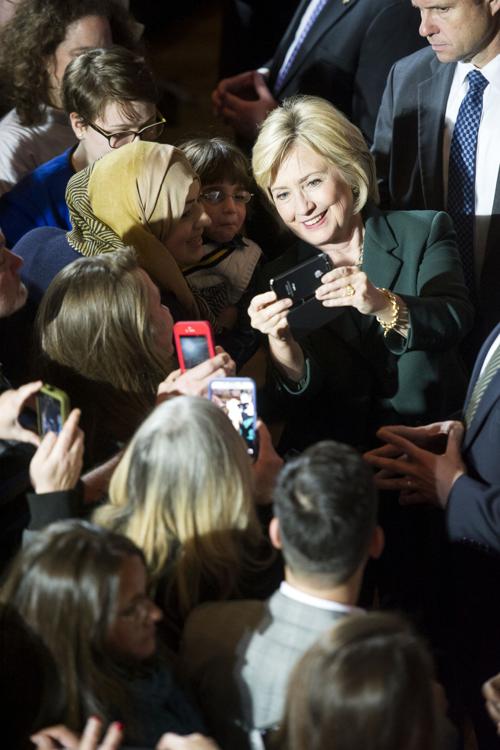 The battle over allocation of Nebraska's five presidential electoral votes will be reopened in the Legislature in coming weeks, with one presidential candidate already eyeing metropolitan Omaha's congressional district vote.
The bill, which would move the state to a winner-take-all system that awards all electoral votes to the statewide winner of the presidential race, sits at second-stage floor consideration, stuck there a year ago by a legislative filibuster.
The measure (LB10) introduced by Sen. Beau McCoy of Omaha is ready to be dislodged by a senator's designation of the measure as a priority bill.
It won't be his, McCoy said, "but I have reason to believe someone will prioritize it."
During a rally in Omaha last month, Democratic presidential candidate Hillary Clinton pointed to metropolitan Omaha's 2nd Congressional District electoral vote, the one President Barack Obama snatched in 2008 during his first presidential race.
Omaha billionaire investor Warren Buffett clearly targeted that electoral vote when he introduced Clinton at the event.
"This district will be in play in 2016, and one (electoral) vote could be important," Buffett told the crowd.
That isn't what's driving the effort to revitalize his bill, McCoy said, nor does he consider the argument to be strictly partisan even though the proposal is supported by the Nebraska Republican Party and opposed by Nebraska Democrats.
"Contrary to what a lot of people think, it's nonpartisan for me," McCoy said. "I'd be fine with using a congressional district method for the entire country."
But when Nebraska is the only state in the nation other than Maine to award some electoral votes by district, instead of bundling them all for the statewide presidential victor, it dilutes Nebraska's voice, he said.
McCoy was a Republican gubernatorial candidate in 2014.
During the 2015 legislative session, supporters of the winner-take-all bill came within two votes of the number required to impose cloture and end an opposition filibuster, failing on a 31-18 vote.
One of the opposing votes was cast by Sen. Jeremy Nordquist of Omaha, a Democrat who since has been replaced by Republican Sen. Nicole Fox. That might mean a single legislative vote now separates the bill from success or failure.
Four senators who are Republicans joined all 13 senators who were Democrats and Sen. Ernie Chambers of Omaha, the lone registered independent in the nonpartisan Legislature, in voting against the motion to end the filibuster last year.
Sens. Sue Crawford of Bellevue and Adam Morfeld of Lincoln said they're prepared to fight the battle once again.
"Why would we want to reduce the incentive for candidates to campaign here and spend money in our state?" Crawford asked.
"Winner-take-all reduces attention and competition in close presidential races in our state."
In 2008, Crawford said, the Obama campaign opened a campaign storefront in Bellevue and engaged Nebraska college and high school students in a presidential campaign.
Morfeld said "partisan politics is the only reason" for attempting to repeal an electoral vote system that has worked to the advantage of Nebraska by dealing the state into the presidential race.
Nebraska has not voted for a Democratic presidential nominee for 52 years, always handing all five electoral votes to the Republican winner until the state in 1991 moved to its current system of awarding one of those electoral votes to the winner in each of the three congressional districts. The remaining two votes go to the state's overall winner.
The Obama campaign's decision to target the 2nd District vote was a game changer.
After winning Nebraska's Democratic presidential caucuses earlier in the year, Obama launched a ground campaign that identified and registered new voters, energized Democrats and mounted a get-out-the-vote drive that led to his capture of one electoral vote.
The president recalled that successful effort during his address to 11,000 Nebraskans who jammed the University of Nebraska at Omaha's Baxter Arena last week.