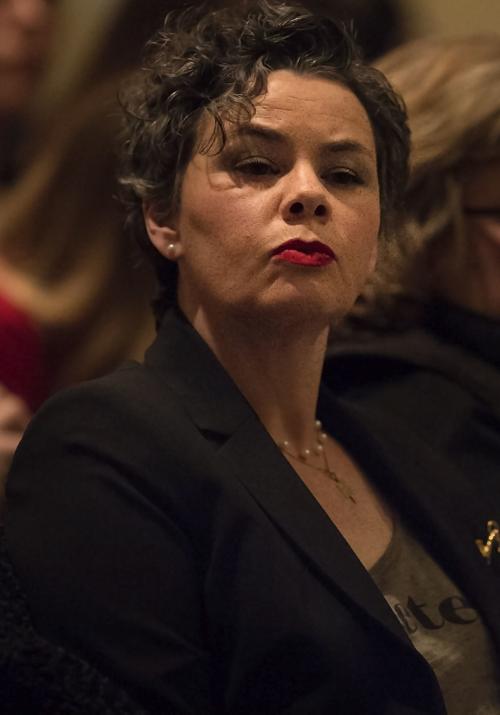 University of Nebraska faculty targeted by lawmakers last fall following a protest against a conservative group told the Legislature's Education Committee a proposal requiring colleges to adopt free speech policies was a thinly-veiled attempt to censor opinions they disagreed with.
In a marathon hearing that began Tuesday afternoon and went past 7 p.m., NU students, faculty, administrators and regents piled on the opposition to LB718, the Higher Education Free Speech Accountability Act.
According to the bill's chief sponsor, Sen. Steve Halloran of Hastings, LB718 requires NU, the Nebraska State College System and the state's community colleges to set free speech policies on their campuses and make annual reports to the Legislature.
Nebraskans entrust the state's institutions of higher education with the physical safety of their children, Halloran said, as well as that "their freedoms and liberties will be protected and defended."
"This trust can be strengthened with proper accountability and disclosure to the public," he said.
It would also require those institutions to create committees charged with reporting disruptions to free speech on campus, although Halloran said an amendment would loosen the requirements for how those committees are formed.
Opponents said it would violate a 1977 Nebraska Supreme Court case which interpreted the state's constitution as erecting NU as an independent entity from the Legislature.
NU leaders also pointed to a "Commitment to Free Expression," approved by regents last week, in saying it accomplished much of what Halloran's bill set out to do.
But Halloran's measure was largely rewritten before Tuesday's hearing with the assistance of the Foundation for Individual Rights in Education, erasing language directing NU to set specific policies.
In its place, according to Joseph Cohn, FIRE's legislative and policy director, Nebraska's colleges and universities would have "broad discretion" to adopt their own policies aligning with both the First Amendment and the Nebraska State Constitution.
"We think this bill is important to do as a Legislature because policies can change and we don't want the forward progress that's been made in the last week to disappear under your watchful eye," Cohn said.
Amanda Gailey, an associate professor of English at UNL, said Halloran and the bill's co-sponsors, Sens. Tom Brewer of Gordon and Steve Erdman of Bayard, have "for months been working to punish a grad student who used words they don't like" -- referring to Courtney Lawton, who was removed from her teaching duties following an Aug. 25 confrontation on campus.
Video of Lawton was shared on social media protesting a recruiting event for Turning Point USA hosted by undergraduate student Kaitlyn Mullen. Turning Point USA is a conservative student organization which maintains a website listing faculty members it says are politically liberal.
Gailey said she had also been under siege by the senators for silently protesting Turning Point USA.
"How they square this assault on dissent with a bill that protects 'without limitations ideas and opinions which individuals find unwelcome, disagreeable or even deeply offensive' requires awe-inspiring gymnastics of hypocrisy," Gailey said.
A statement read on Lawton's behalf by Jay Grabow said the graduate student lecturer was targeted not because the state senators believe in free speech. "They believe in suppression of dissent."
"The very people who claim to be protecting academic freedom and free speech with this bill are the ones who have spent the last five months destroying my life and interfering with my scholarship because they disagree with my politics," the statement read.
No action was taken by the committee on Tuesday.