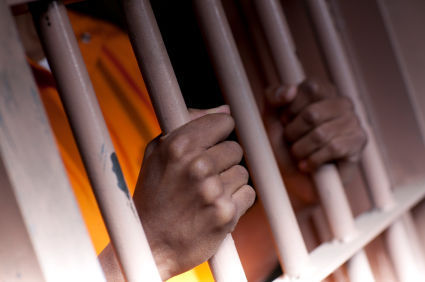 Former inmate Marco Jackson showed up at a Department of Correctional Services hearing on restrictive housing Monday morning to speak for those who couldn't.
Inmates in prison now, some of them in solitary confinement, couldn't offer their input, he said.
Jackson and six others told a hearing officer there are concerns the 19-page draft policy on segregation is overly broad, continues the use of long-term segregation and doesn't have a timeline or enough detail.
Jackson, who was paroled in February, spent about 10 years in the Nebraska prison system during two terms, much of the time in restrictive confinement, he said.
"I've been in segregation. I've been knocking on the door for hours trying to get medical, or just to get a request picked up, and you get a guy walking past the door and saying, 'I'll be back,'" he said.
The Corrections Department developed the rules and regulations after a state law (LB598) was passed in 2015. The law introduced by Sen. Paul Schumacher of Columbus requires a long-term plan for use and reduction of restrictive housing.
It also requires a segregation working group to provide input on the policy and advise on treatment and care of offenders in long-term segregation. 
The law requires that inmates be segregated in the least restrictive manner for the least amount of time, taking into consideration the safety and security of staff, inmates and the prison.
Restrictive housing is supposed to be the alternative of last resort. 
Along with Jackson, those testifying on Monday represented the ACLU of Nebraska and the state Ombudsman's office. John Else of Omaha and Shakur Abdullah, who recently was released from prison, also testified. 
They said they were encouraged by some of the regulations, but discouraged by others.
Else said the rules have multiple and major flaws that are unlikely to result in positive outcomes. He also took the initiative to call for Corrections Director Scott Frakes to raise salaries to retain staff.
"It seems apparent that reformation of the prison structure and processes are not feasible unless quality staff are hired and retained," Else said.
The policy calls for a minimum of six hours of time each day outside of cells for general population inmates.
Abdullah and others criticized that, saying the American Correctional Association standards call for a minimum of 10 hours, especially when there are multiple occupants in cells designed for single occupants.
He and others also had concerns about the policy's lack of an appeals process, saying that without them restrictions would be one-sided, unfair and arbitrary.
The policy doesn't propose caps for long-term segregation, which, he said, is physically and psychologically damaging and inhumane.
Solitary confinement is especially bad for juveniles and older inmates and for people who are mentally ill or pregnant, he said.
The Nebraska Ombudsman office, represented by James Davis and Jerall Moreland, also said the policy needs work.
The most pressing concerns, which they presented in a memorandum, are that the policy has no firm limits on why a juvenile can be placed in segregation or how long he or she can be kept there.
And there should be strict criteria for decisions on placing inmates in segregation, the memo said. No inmate diagnosed with a serious mental illness should be placed in long-term segregation.
The need for the new policy spun off of hearings in 2014 of a special legislative committee that investigated long-term confinement of Nikko Jenkins, who went straight from segregation in prison to release and subsequently killed four people in Omaha.
It became clear at that time, Schumacher said, that solitary confinement was being highly overused by Nebraska prisons, and without a proper set of rules.
Enter Director Frakes in February 2015, who came to Nebraska from Washington state with a good set of credentials for minimizing the use of isolation of inmates, Schumacher said. The Legislature decided to give him the opportunity to write regulations for Nebraska prisons, in conjunction with the working group, to be implemented by July 1.
As it turned out, the working group didn't have an opportunity to provide input, he said.
As a result, Schumacher said, the policy has lots of steps, no appeal process and no real mandate to change what is going on now if the system does not want to change.
There are no hard limits, he said, about how long a person can be kept in solitary, no clear route of appeal and no mandatory steps for programming or rehabilitation to get them back to the general population or get them treatment.
"It's all highly discretionary, which is what it was before," Schumacher said.
The rules and regulations leave the director with enormous discretion, and the less that discretion is applied to some positive result -- a notable decrease in the number of people in solitary confinement -- "there probably is going to have to be legislative response," Schumacher said.