Gov. Pete Ricketts announced Monday that Nebraska will build the Lincoln South Beltway in three years, shaving five years off the original eight-year timeline. 
Under the accelerated timetable, the state will save an estimated $25 million in total costs, the governor said.  
The state will be able to save $7 million in interest costs alone by finishing the work sooner, Lincoln Sen. Mike Hilgers estimated.
One year from now the state plans to be turning dirt on the $300 million project, according to Nebraska Department of Transportation Director Kyle Schneweis, who joined the governor and other officials, including Mayor Chris Beutler, at a news conference at the Capitol.
"It's the largest project we've ever done," Schneweis said, and originally had been scheduled to be constructed in five phases over eight years.  
Beutler hailed the announcement and its potential impact on jobs, growth, tourism and economic prosperity in Lincoln.  
"It will improve the quality of life in our community," the mayor said. 
The state's agreement to adopt "a creative financial tool (is) music to the ears of the city of Lincoln," Beutler said. 
The four-lane expressway south of the city will link U.S. 77 and Nebraska 2 and is designed to divert truck traffic from Nebraska 2 that now traverses through Lincoln.
Later in the day, Hilgers offered an amendment to a pending bill (LB616) he had previously introduced to speed up construction in order to conform to the new agreement during a hearing before the Legislature's Transportation and Telecommunications Committee. 
The newly authorized financing process would avoid the alternative of attempting to accelerate construction through the issuance of public highway bonds.
You have free articles remaining.
Keep reading for FREE!
Enjoy more articles by signing up or logging in. No credit card required.
The creative financing approach will allow the state to continue to "keep the promises we have made to other communities" in terms of highway construction while completing a major project that is "long, long overdue," Schneweis said. 
"Thank you very much for figuring this out," Beutler said.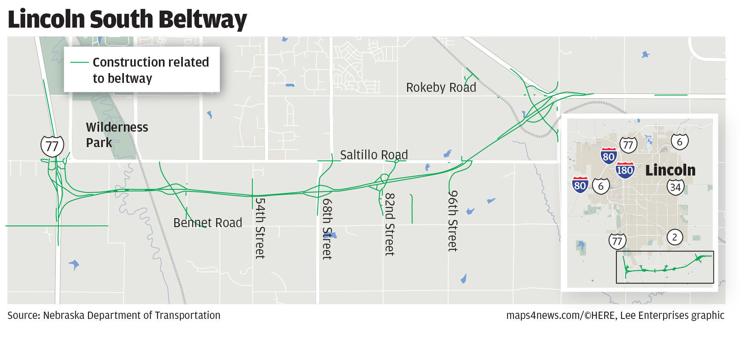 Schneweis said he expects "plenty of bids" on the accelerated project, with the prospect of some construction team efforts.
A bonus of moving up the completion date is "I'll be the first governor to drive on this," Ricketts said with a smile. 
At the committee hearing later in the day, Schneweis said the new financing process has been approved by the state attorney general. 
Supporters of the South Beltway lined up at the hearing to praise the agreement, focusing on increased safety for motorists.
Sen. Deb Fischer hailed the accelerated timeline in a statement from Washington.
"It's great to hear plans are underway to complete the project at a much faster rate and save taxpayer dollars during the process," she said.
Fischer, who is chairman of the Senate subcommittee on transportation and safety, secured a $25 million federal grant to help fund the project.