Senator challenges Ricketts' anti-tax-reform arguments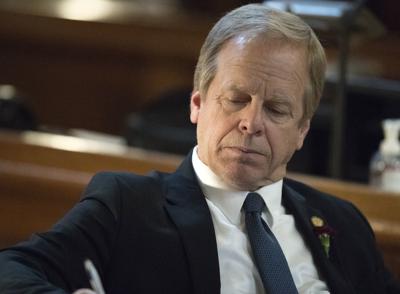 Describing the approaching legislative debate over comprehensive property tax reform as "decision time in Nebraska," Sen. Tom Briese of Albion on Thursday directly challenged the opposing arguments mounted by Gov. Pete Ricketts without naming him.
Opponents of a developing tax reform plan "claim it doesn't make sense to raise one tax to offset another," Briese said. "They rail against comprehensive, revenue-neutral tax reform, claiming it's a tax increase.
"They're telling us they don't understand that an adjustment of the tax burden is textbook tax reform," the Albion farmer, registered Republican and member of the Legislature's Revenue Committee said in a written statement.
"Those who choose to stand in the way of comprehensive tax reform like to offer up Band-Aid approaches to property tax relief," Briese said.
The Revenue Committee is cobbling together a tax reform package that would raise the state sales tax rate by three-quarters of a cent, hike the state cigarette tax and eliminate some sales tax exemptions to help fund $500 million in additional annual property tax relief delivered through increased state aid to public schools. 
Ricketts, who has been making a series of appearances at businesses that would be affected by the plan to express his opposition, has branded the proposal as "a transfer of half a billion dollars from family budgets for government spending."
The governor is proposing a $51 million-a-year increase in the state's $224 million property tax credit fund during the coming fiscal biennium and a constitutional amendment to limit the future growth in property taxes to 3 percent a year. 
The Revenue Committee's tentative plan — it has not been subjected to a vote within the committee — will receive a public airing on Wednesday at a joint hearing that will include members of the Education Committee and the Retirement Committee.
"Politicians and special interests can choose to support tax reform that generates other revenue to reduce our state's over-reliance on property taxes," Briese said. "Or they can choose to stand in the way of that reform.
"Unfortunately, some have chosen to stand in the way."
Ricketts, responding to questions following an event recognizing a Nebraska ranch family for its conservation achievements, said "history shows that this kind of change ends up being a tax increase."
"Real property tax relief comes by controlling spending," the governor said.
The Revenue Committee plan to seek tax relief by increasing state school aid would be "repeating the mistakes of the past," he said.  
Ricketts said he has talked with Sen. Lou Ann Linehan of Elkhorn, chairwoman of the committee, about its tax proposal and "we have agreed to disagree."