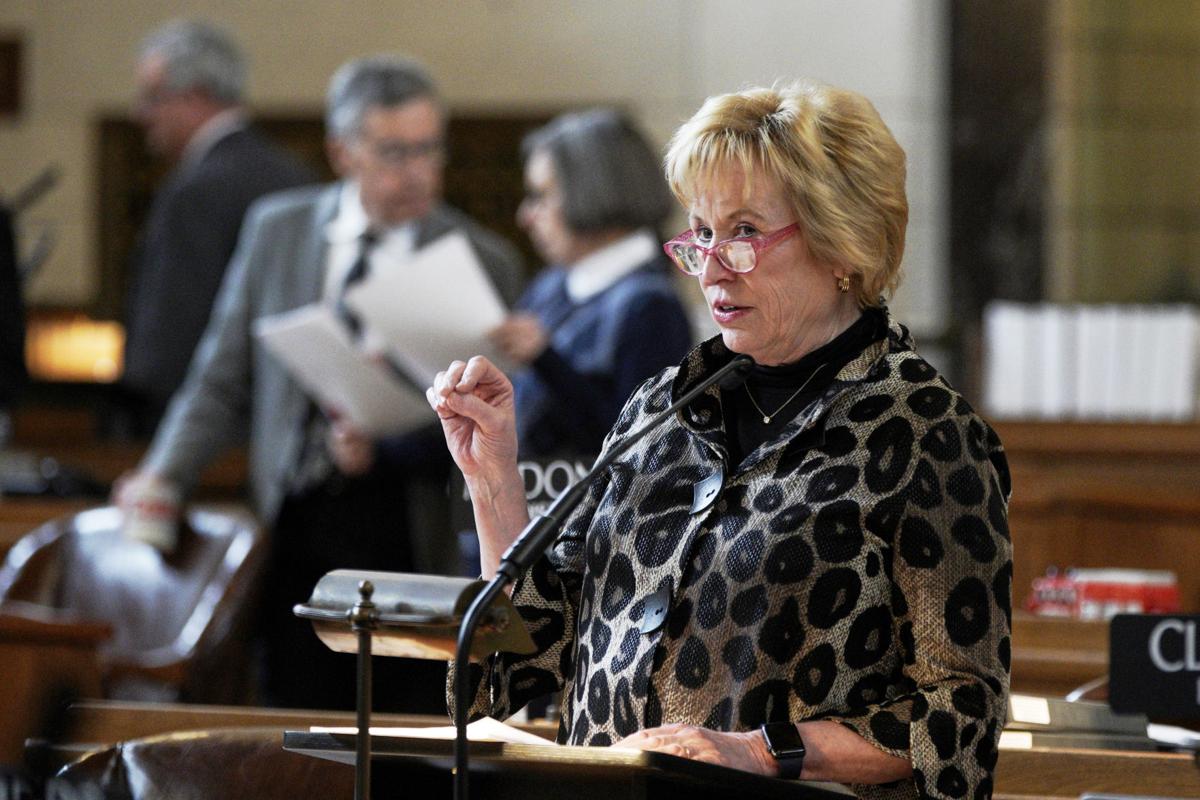 Negotiations with big-city schools seeking agreement on major property tax reduction and school aid reform legislation have reached an impasse and may have collapsed.
"I'm still hopeful," Sen. Lou Ann Linehan of Elkhorn, chairwoman of the Legislature's Revenue Committee, said Wednesday during an interview in her Capitol office.
But the optics are not good.
"Big-city schools say they can't live with it," Linehan said, referring to the property tax relief and state school aid reform bill (LB974) that is parked at first-stage floor consideration awaiting assurance that it can command support from enough senators to bust through a filibuster.
That's at least 33 votes and it's the ticket that Speaker Jim Scheer of Norfolk requires to put the bill back on the legislative road.
Linehan continues to say that she has 32½ votes.
"People go back and forth," she said, "but it's solidifying. At some point, we will proceed or nothing gets done."
Responding to Linehan's statements, Kyle Fairbairn, executive director of the Greater Nebraska Schools Association, said "it's not just a big-school deal; all of us are still opposed" to the bill.
His association represents 24 of the largest school districts in the state.
Fairbairn said "there's not been any real negotiations; she's pretty steadfast with where she's at and hasn't been willing to change it."
Linehan said rural senators who are anxious for substantial property tax relief appear ready, and likely, to slow down legislation on the floor. A bill (LB1155) to adopt a middle-income workforce housing investment act encountered extensive, time-consuming debate on Wednesday.
Sen. John Lowe of Kearney told his colleagues during afternoon floor debate later in the day that legislative progress will be tied to action on substantial property tax relief.
Nebraskans are asking for property tax reduction, Linehan said, and not just in rural Nebraska.
Big-city school administrators "don't listen," she said. "They're living in an alternate world. It's not all about farmers."
The divide between big-city schools and the rest of the state is "literally a cultural war," Linehan said.  
LB974 promises to provide $520 million in property tax relief delivered through reductions in property valuation and increased state aid to public schools.
Linehan on Wednesday released projections of state aid to individual school districts in the first three years under the bill. Those projections don't account for what revenue school districts would lose under provisions of the bill that decrease the property taxes paid by farmers, ranchers, homeowners and businesses.
The bill emerged from a marathon series of meetings and negotiations within the Revenue Committee and immediately ran into opposition from schools in metropolitan Omaha and Lincoln concerned about the impact of the systematic reductions in property valuations, which provide the primary source of funding for public schools. 
Wrapped into the contentious debate may be the fate of a proposed new business investment tax incentive program, largely championed by the Nebraska Chamber of Commerce and Industry. Rural senators have blocked that proposal (LB720) pending action on the property tax relief measure.
More recently, a $2.6 billion proposal (LB1084) to build a new center at the University of Nebraska Medical Center that would respond to national health threats and crises has been attached to the property tax debate.
Linehan said at some point she will signal to the speaker that she's ready to proceed.
But it isn't as if she expected this to be easy. 
"Nothing worth doing is ever easy," she said. 
Be the first to know
Get local news delivered to your inbox!