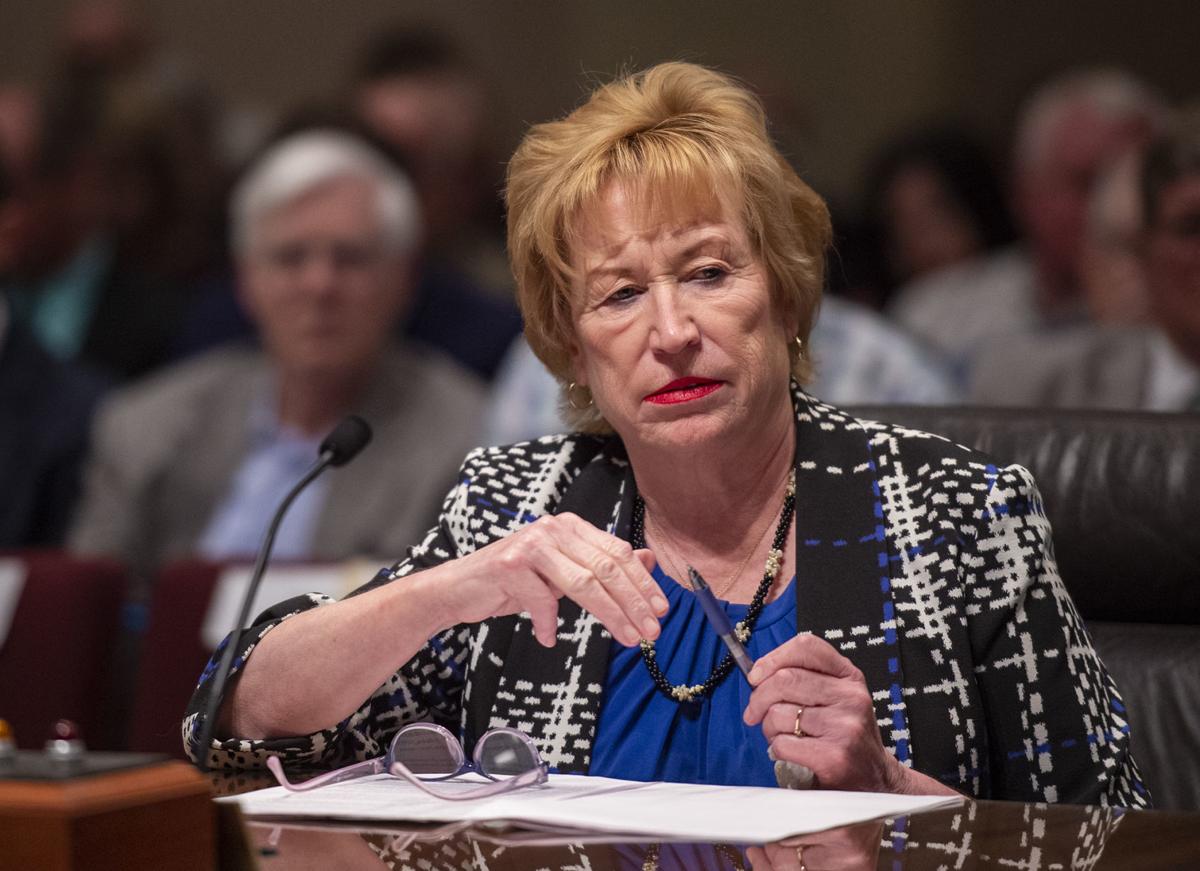 After eight weeks of committee huddles and deliberations, the Legislature's Revenue Committee on Tuesday sent a landmark tax reform package targeted to deliver substantial property tax relief to the floor of the Legislature for action. 
The bill (LB289) was advanced from the committee on a 6-0 count, with Sens. John McCollister of Omaha and Curt Friesen of Henderson declining to cast votes.
The proposal, which would raise the state sales tax rate from 5.5% to 6%, wipe out a couple dozen sales tax exemptions and hike the state cigarette tax in order to fund hundreds of millions of dollars in property tax relief, could be on the legislative floor for debate as early as next Tuesday afternoon.
Property tax reduction would be delivered through increased state aid to schools.
"It's a big turn away from property taxes to state aid to fund schools," Revenue Committee Chairwoman Lou Ann Linehan said.  
For committee members who have felt the pressure applied by political and special-interest opponents who have focused on the sales tax hikes rather than the property tax reductions, Linehan said, it is "a big, brave thing to do."
"It's a lot to ask and a lot to lift," she said.
Concerns expressed by agricultural interests, big cities and urban schools may have contributed to the committee's inability to command a unanimous vote.
But there was victory for Linehan in avoiding any opposition votes after she had shepherded the package though a series of committee huddles that began in the Capitol cafeteria at tables pulled in front of candy and snack machines during the first week in March.
A series of amendments were adopted Tuesday before the bill was dispatched to the floor.  
The package will face heightened opposition now as it emerges into the spotlight, with Gov. Pete Ricketts leading the outcry.
Following the committee action, Ricketts issued a statement describing the bill once again as "the largest tax increase in state history."
"If the full Legislature approves LB289, working Nebraskans will be footing the bill for nearly $600 million in new government spending," he said. 
Meanwhile, property tax relief proponents will begin to apply pressure with a noon rally on the north steps of the Capitol on Wednesday in support of an initiative petition drive already underway to propose a constitutional amendment that would provide a state income tax credit for 35% of local property taxes paid.
That proposal has been spotlighted as the alternative if the Legislature does not act. 
Linehan said the tax reform proposal would move Nebraska from 47th to about 20th among states in providing state support for schools, supplying strong state funding assistance for every student whether he or she lives in Omaha or the Sandhills.
"It's tax-neutral," Linehan said, "and it will depend on the people to help us get this across the finish line.
"We are trying to fix the property tax, not raise more taxes," she said.
During Tuesday's sometimes tense and occasionally volatile committee discussion, it was noted that agricultural interests may be willing to accept a decrease in the current $224 million state property tax credit fund to a $115 million minimum in order to help finance the legislative plan for property tax reduction.
Although the bill has been amended to address urban school concerns, some of them still remained.
The amended bill would raise $372 million in new revenue atop the $224 million already in the state property tax credit fund.  
The half-cent hike in the state sales tax rate would raise an estimated $171 million. A 36-cent increase in the state cigarette tax to $1 a pack would raise another $27 million.
Twenty-five sales tax exemptions would be ended, including those applied to candy, pop and bottled water, which would raise an estimated $30 million. 
Ricketts has proposed a $51 million increase in the state property tax credit fund each year during the fiscal 2019-21 biennium, along with a constitutional amendment to place a 3% lid on annual local property tax increases.
The committee plans to meet again Wednesday to consider a bill (LB720) to create a new business attraction tax-incentive package called the Imagine Nebraska Act.
That proposal, sponsored by Sen. Mark Kolterman of Seward, would replace the 2005 Nebraska Advantage Act, which sunsets in 2020.