Janet Palmtag, the District 1 candidate at the center of intense legislative attention this week, said Wednesday she is setting the record straight after deceptive mailers were sent by her own party. 
Palmtag, who is running for the Southeast Nebraska legislative seat against Sen. Julie Slama, is firing back about the mailer, which went out in the spring but is still a hot topic. The mailer sent by the Nebraska Republican Party said she sided with Lincoln liberals, atheists and radical extremists, which she says is not true and a character assassination. 
She's sending out her own flyers to voters this week. 
One includes an apology from Dan Welch, Nebraska GOP chairman, for the party mailer. In that mailer, the party tried to pair her with Sen. Ernie Chambers, who was pictured. She says she has never met or spoken to Chambers, and he says the same.
That flyer has come up numerous times in his speeches on the floor of the Legislature this week, along with comments he's made about Slama that she has called disgusting and vile. 
The other of Palmtag's flyers is an effort to set the record straight with voters that she is a strong supporter of the Second Amendment, an anti-abortion Catholic, a lifelong conservative Republican and has been an owner and operator of a successful small business for more than 30 years. 
It also says she is endorsed by Republican leaders including Congressman Jeff Fortenberry; former Omaha Mayor, University of Nebraska Regent and four-term Congressman Hal Daub; and former Gov. Dave Heineman. 
In an interview with the Journal Star on Wednesday, Palmtag said she hadn't paid a lot of attention to the discussion about the flyer in the Legislature this week in which her name was evoked daily by Omaha Sen. Ernie Chambers. 
"I'm focusing on winning the election, which is taking a lot of time," Palmtag said. "I'm meeting with a lot of people, anticipating that COVID could enter the picture aggressively again, so trying to get a lot accomplished." 
She talked about the multiple negative flyers sent out by the Republican Party, which she has been a member of for decades.
"The Slama campaign mailed this flyer to people in legislative District 1 and it basically attacked my faith and my conservative values," Palmtag said. "They called me an atheist. I am a Catholic."
Another mailer said she was not pro-Second Amendment, also not true, she said. And another linked her to Sen. Megan Hunt, who has said she is a progressive atheist, but whom Palmtag said she barely knows. 
"It was an unethical, misleading and outrageous example of lying in politics," she said. "It was very disappointing."
Slama should not have allowed it, Palmtag said, but when she did, she should have taken responsibility for it and apologized to the district voters and to Palmtag for that character assassination.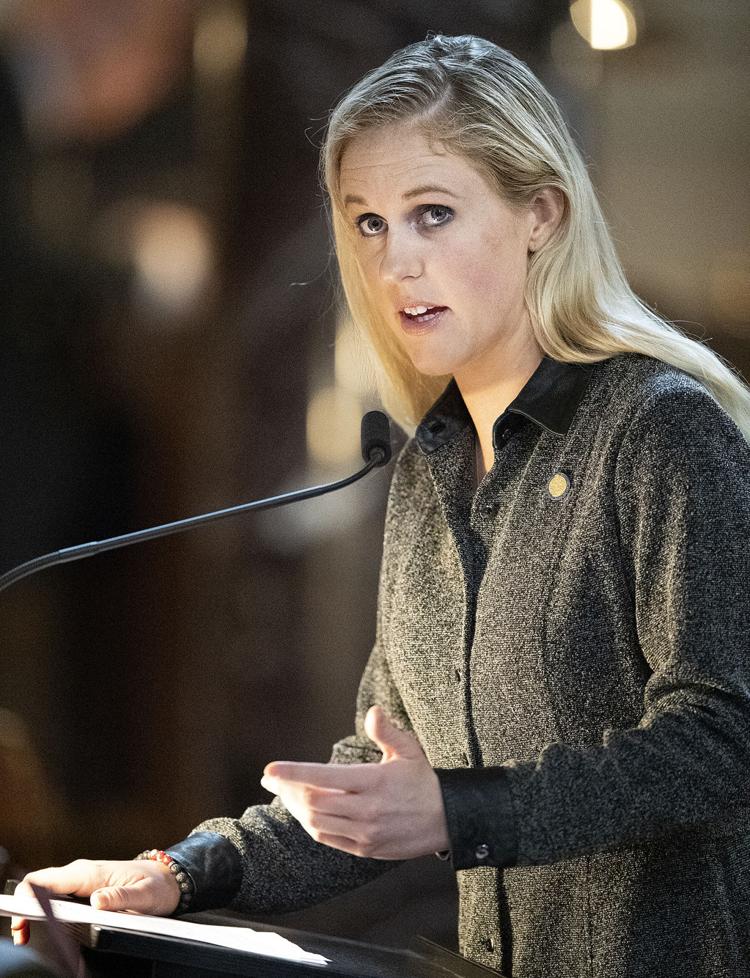 When asked about that Wednesday, Slama said only that she remained focused on the real issues facing her district, including property tax relief, broadband expansion and COVID-19 and flood recovery, and would not talk about the flyer.
Palmtag said it was disturbing that Gov. Pete Ricketts said he supported the dishonest ad. She said she has helped many politicians she believed in, and had worked on fundraisers as far back as Congressman Doug Bereuter and as recent as campaigns for Fortenberry and U.S. Sen. Deb Fischer. 
"I have been contacted by many people in the GOP, saying they had no knowledge of those ads whatsoever," she said. 
Palmtag said people in District 1 she talked to believed the ad and were surprised to learn she wasn't an atheist, but instead is Catholic.
"We are focusing on the issues and trying to right the wrong," she said, "and get the truth out."
Palmtag said since a letter went out from Heineman and former U.S. Sen. and Gov. Bob Kerrey supporting her, her fundraising has gone up.
"I have a lot of support coming my way," she said. 
Meanwhile this week, the Nebraska and Lancaster County Republican parties have called for the expulsion of Chambers for comments about Slama they said were sexist and disgusting.
The Nebraska Constitution allows for senators to be expelled but provides no guidance about when or how to do that, except to say it would take 33 votes.
Speaker Jim Scheer was unsure how it would even be done, and said senators instead were focused on the work of the Legislature they have in front of them in the next 14 days.
Be the first to know
Get local news delivered to your inbox!