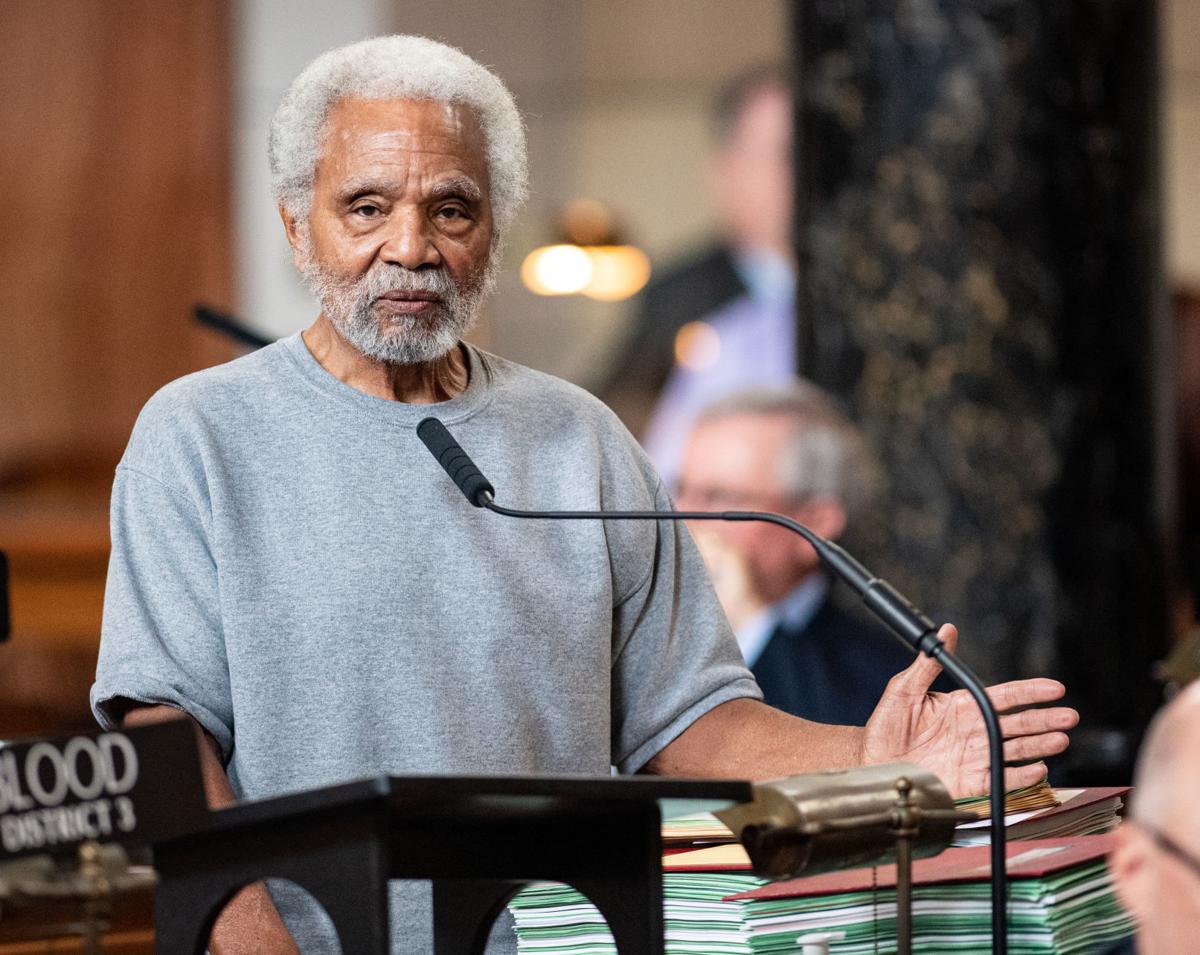 Omaha Sen. Ernie Chambers last week delivered a 44-page "open letter" to Gov. Pete Ricketts, calling him out for what Chambers said was a "tell-tale pattern of problematic behavior."
The most serious part of Chambers' complaint, he said, implicates "respect/disrespect for the law, personal and professional integrity, the higher duty of an elected official and moral rectitude.
"If one would land a slippery fish, one must employ a net of finest mesh," he wrote. "Hence this letter, of necessity, must be detail-rich."
The senator spent a portion of the letter on what he called Ricketts' arbitrary enforcement of law, in the illustration of his "picking and choosing which laws to enforce and which to frustrate," a violation of his mandate, Chambers said, to see that all laws are faithfully enforced.
Chambers, a longtime critic of Ricketts, asked why the governor would be foot-dragging on enforcing a law that would enhance the availability of medical care for the working poor and save lives, after moving swiftly to bring back the death penalty.
The Nov. 8, 2016, vote on whether to retain the Legislature's death penalty ban, a referendum that Ricketts backed with $300,000 of his own money and his father, Joe Ricketts, backed with at least $100,000, was defeated, with 60.6% of Nebraska voters opting in favor of keeping the death penalty.
Ricketts approved a new execution protocol within three months. One year from the vote, condemned prisoner Jose Sandoval was informed of the drugs that would be used in his execution, and two months after that, Carey Dean Moore was given the same information. 
Moore was executed Aug. 14, 2018, one year and eight months after the vote. 
You have free articles remaining.
The November 2018 vote on an initiative petition to expand eligibility for Medicaid to cover certain adults ages 19-64 whose incomes are 138% of the federal poverty level was approved by 53.6% of voters.
The state Department of Health and Human Services announced five months after the vote the expansion would not begin until Oct. 1, 2020, nearly two years after the vote.
The two-year delay, the department said, was necessitated by the need to build and implement a new system to manage the Medicaid benefits that are targeted at a new category of recipients composed largely of Nebraskans who work at low-wage jobs. It also is expected to contain work requirements and benefit limits. 
Lincoln Sen. Adam Morfeld, who led the Medicaid expansion drive, said the delay was "in violation of the law and completely against the clearly expressed will of the people." 
Chambers went on to write about accusations of Ricketts launching attacks on Chambers and others who supported overriding his veto of the death penalty abolition bill; on University of Nebraska-Lincoln football players who took a knee to exercise their right of free speech; on weighing in on criticism of Nike regarding the flag shoes controversy; the snubbing of the One Book One Nebraska selection of "This Blessed Earth" by Ted Genoways, saying the book was written by a political activist, someone out of touch with Nebraskans and that would not unite them.
And, Chambers said, Ricketts disrespected the mayor of La Vista by attacking his restaurant tax proposal via social media, and would not meet with him to discuss the matter. 
He also discussed Ricketts' father and media attention Joe Ricketts got this year for emails in which he laughed at and liked racist jokes and for writing anti-Muslim sentiments. Joe Ricketts said when they were posted online that he deeply regretted some of the exchanges and apologized.
Chambers also called out the Ricketts family for backing an anti-Donald Trump super PAC with $3 million during the 2016 primary, with the governor's mother, Marlene Ricketts,  saying Trump was too unpredictable to be president, then reversing course, Chambers said, after Trump got the nomination and after Trump tweeted, "They better be careful, they have a lot to hide!" aimed at the family.
Chambers ends the letter with this: "Well, Governor, all things come to an end. I've said enough and have 'made the points' I set out to make. Time and events will determine whether I deem any additional action to be warranted."
Asked if Ricketts or his spokesman wanted to respond to the letter, Taylor Gage, communications director for the governor, said: "What about this is newsworthy?"