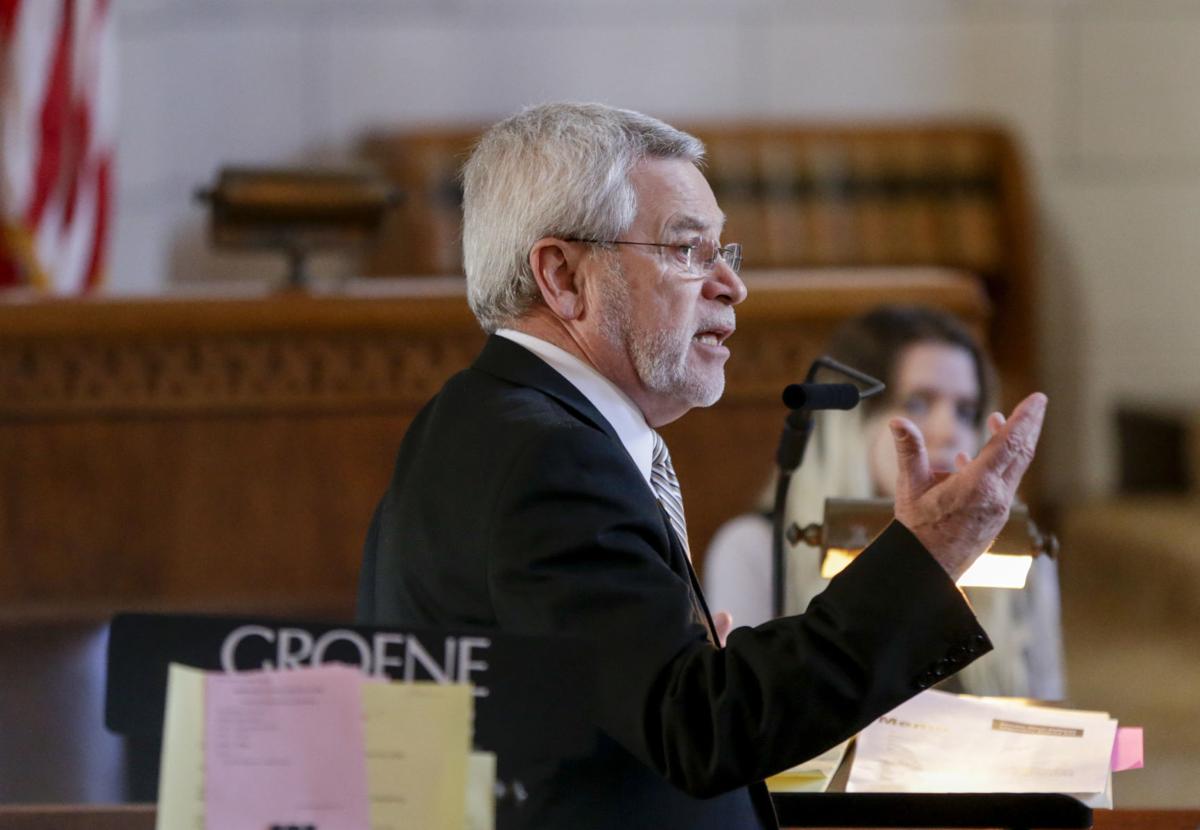 The University of Nebraska would be required to report "disruptions" to free speech on campus under a bill introduced Wednesday by a state senator critical of the university's response to a confrontation between a student and lecturer last August.
The Higher Education Free Speech Accountability Act (LB718) would require the NU Board of Regents to create a special committee charged with making an annual report regarding "barriers to or incidents of disruption" to free speech on campus.
The reports, which would be shared with the governor and Legislature each year, would also include detailed explanations of disciplinary actions taken against students or faculty.
Drawn from parts of a model by the Goldwater Institute, a conservative think-tank based in Arizona, LB718 would also require NU to publish the reports in easy-to-find locations on each campus's website.
"At some level, it's a means or a way for the university to say 'We're doing the right things and we're willing to report on what those things are,'" said Sen. Steve Halloran of Hastings, the bill's sponsor.
NU drew fire from Halloran and two other senators last fall critical of how administrators responded to a confrontation between UNL student Kaitlyn Mullen and graduate student lecturer Courtney Lawton while Mullen was recruiting for Turning Point USA, a conservative student organization. 
A video of a protest by about a half dozen faculty and lecturers, who claim Turning Point USA targets faculty it says discriminate against conservative students, depicts Lawton as referring to Mullen as "neo-fascist."
Lawton was removed from her teaching duties and later told her contract would not be renewed at the end of the year.
The Nebraska chapter of the American Association of University Professors criticized the administration for changing its course regarding Lawton following criticism, while the Foundation for Individual Rights in Education called for Lawton to be reinstated.
But lawmakers, including Halloran and Sens. Steve Erdman of Bayard and Tom Brewer of Gordon, said the incident was one of many in which students with conservative beliefs were disparaged across the university system.
Halloran said Wednesday while he feels NU "beefed up" its free speech policies in a Nov. 9 draft circulated among regents, administrators and faculty, the Legislature needs to act in an effort to hold the university accountable.
"We're not wishing to micromanage the university on their policies," he said, "but we want to be aware of how it is enforced under their policies."
LB718 would require regents to adopt a free expression policy for the campus community outlining the university's role of discovery and dissemination of knowledge through teaching, research, discussion and debate.
The policy would also need to declare it was not the role of NU to "shield individuals from speech protected by the First Amendment," including ideas and opinions found "unwelcome, disagreeable, or even deeply offensive."
Students and faculty, according to the draft requirements included in the bill, "shall be permitted to assemble and engage in spontaneous expressive activity as long as such activity is not unlawful and does not materially and substantially disrupt the functioning of the campus."
Similar free speech legislation has been introduced by conservative lawmakers around the country. Bills based on the Goldwater Institute model have been introduced in states such as California, Colorado, Illinois, Louisiana, Michigan, North Carolina, Texas, Utah and Virginia.
David Moshman, a professor emeritus of educational psychology at UNL who has written extensively on issues surrounding free speech and academic freedom, said Halloran's bill is "an excellent statement of basic First Amendment standards and principles."
But, he added, the bill as drafted appears to violate a Nebraska Supreme Court ruling dating to 1977, which found that while the Legislature can appropriate money to NU, it cannot set policy or practices for the Board of Regents, which is an independent entity under the state's constitution.
"If the regents voluntarily decide to adopt it, I would have no problem with that," Moshman said. "But it shouldn't come from the Legislature. That puts them on a worse constitutional ground."
Furthermore, that the bill singles out the University of Nebraska and not all public institutions of higher education in the state, puts the proposed legislation on an even weaker footing, Moshman said.
The Nebraska chapter of the American Association of University Professors, which in November collected the signatures of 315 past and present faculty from all four NU campuses in an open letter raising concern regarding the effects of political pressure on the university system, echoed Moshman.
Because of the relevant case law outlined in Board of Regents v. Exon, Nebraska's AAUP said in a statement that it doesn't expect Halloran's bill to reach the floor of the legislature.
Nebraska lawmakers should study other laws limiting the relationship between politicians and higher education, the AAUP added, and consider why the U.S., unlike other countries around the world, "has maintained a long and distinguished tradition of prohibiting political involvement in higher education."
Be the first to know
Get local news delivered to your inbox!