A new Nebraska tourism promotion opens with a boy with tousled white-blond hair, 9-year-old Carter Frey, peering through oversized glasses into the camera.
Quirky music and springing noises play in the background.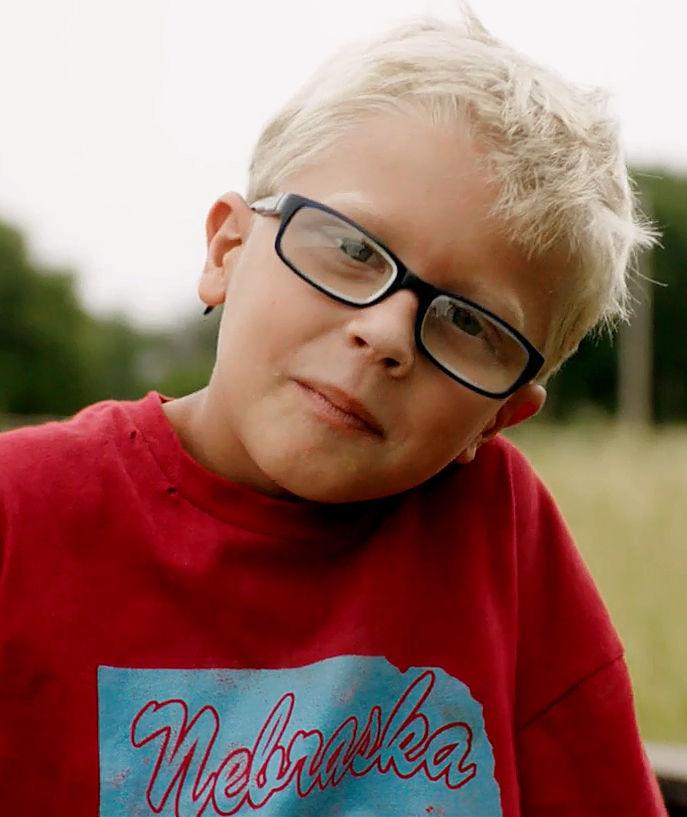 "Nebraska is kind of like that odd kid," a voice says. "Didn't say much in school. Slightly peculiar maybe. But when you took the time to get to know him, turned out he was pretty interesting." 
He plays the cello. His parents are both artists.
Some people won't take the time to get to know the state.
"But if you're someone who will, odds are you're going to like it here," the voice continues.
"Nebraska. Honestly, it's not for everyone." 
That sales pitch may strike you as a little odd, itself, or even a little risky.
But research shows Nebraska is so low on American travelers' radar that, hey, maybe a little self-deprecating humor is worth a try.
In 2012, Nebraska research showed people outside of Nebraska were barely aware of the state as a vacation destination. Only 17 percent were likely to vacation here. And "Portrait of American Travelers" surveys have shown that since at least 2013, Nebraska has been the least-likely state for people to visit. 
But maybe with this campaign, those people of a certain mindset — problem-solvers, creative thinkers, the intellectually curious — will get the message.
They don't judge a book by its cover. They understand nuance. They're not trying to feed their egos, but rather their souls. 
That 11 percent to 12 percent of people in this country the new campaign is aimed at, who make up 40 percent of the traveling public, may be the ones who can appreciate this state that's smack dab in the middle of the Great Plains, said Nebraska Tourism Director John Ricks. The Great Plains, by the way, are not so plain, but rather dazzling and awe-inspiring in their own way.
Ricks came to Nebraska two years ago from the Colorado Tourism Office to take over as executive director here. He and the Nebraska Tourism Commission believe this campaign will work, that there are people across the country who like experiences that are unpretentious and uncomplicated.
The campaign was unveiled Wednesday afternoon at the Nebraska Tourism Conference at Lied Lodge in Nebraska City. It's been at least 18 months in the making. In 2017, the state hired the Vladimir Jones agency to handle the advertising and media.
"We've worked with the industry, our board, marketing committees and everybody else since the inception. This isn't something that's been done in isolation," Ricks said.
They've gone beyond, to other convention and visitor bureaus, properties and attractions, and bounced the concept off them. And it's been tested with consumers.
"We're pretty excited about it," he said. 
A campaign can influence potential visitors in three ways, Ricks said, to increase their awareness of the state, their familiarity and likelihood to visit. 
It needed to create a strong emotional connection to the state.
The culture of the state is the context of its appeal, Ricks said. The free spirits who live here; the independent, self-reliant people; natural wonders; the good life; western heritage; simple life that is warm and inviting. The things-to-do just aren't compelling enough to get people to plan a vacation here. 
"The perception of a place to visit in people's heads is more important than the things to see and do when you get there," he said. "Because, if they're not here, they don't get to enjoy those things. ... So we had to find a way to get people here."
The whole package of researching, developing, testing, filming, buying, placing the campaign cost about $450,000, Ricks said, spread out over two to three years. The tourism budget is about $6.6 million, compared with the average of other states of about $20 million. 
The ads will launch next spring, and the tourism office will see if that odd, endearing, friendly little kid, that Carter Frey-type that's the heart of the campaign, will sell Nebraska to that 40 percent of travelers who want to go beyond the obvious. To know Nebraska deeper. 
"It's very different than I've developed over the last 30 years, boatloads of campaigns," Ricks said. "I can't wait 'til this one hits the marketplace."