At a troubled moment when partisan division is dominating government and splitting Americans into warring tribes shaped and defined by political party affiliation, Nebraska stands alone as the outlier. 
Not that there isn't partisan divide and political warfare in the state, but it is not institutionalized in Nebraska's legislative branch as it is in Washington and in the 49 other states where senators and representatives or assemblymen and women divide and organize along party lines.
In Washington, party is dominant.
In Lincoln, it is shut out of the legislative chamber and, even prior to that, barred from the ballot on which legislative candidates seek election as nonpartisan candidates with no listing of their party affiliation.
It's not that party and partisan politics are not present in terms of philosophy and agenda and party affiliation and even as a reflection of votes cast; it's that party does not rule, organize, direct, order, reward and punish, or dominate. 
Newly elected senators often are surprised to see how free and independent they really are once they enter the Legislature.  
If you sift through the box at History Nebraska that houses former Lincoln Star editor James E. Lawrence's correspondence in 1934 with the hope that you might discover some communications with George Norris during the year that Nebraskans voted on the constitutional amendment proposing a one-house, nonpartisan legislature, you will discover that, yes, letters from Norris are there.
"It is evident that the politicians are against it," Norris wrote in a copy of a May 12 letter also sent to Donald Gallagher, who apparently directed the One-House Legislative Amendment Committee that would advocate for the proposal championed by Norris. 
A leading Democratic figure told him to "take the nonpartisanship out of it," Norris wrote.
"A prominent Republican said he opposes (the proposed constitutional amendment) for that reason," Norris stated.
That apparently was all the confirmation that Norris needed. 
"I think this is one of the strongest features in its favor," the senator wrote.
And that settled it. The nonpartisan feature remained as a major piece of the proposed single-house legislative reform. 
Earlier in that same letter, Norris wrote that the proposal "is first a proposition to reduce taxes and second a proposition to improve government."
No doubt, the opportunity to reduce government costs by erasing one of the two houses played a large role in gaining voter approval that November. The 1930s were marked by Dust Bowl drought on top of the Great Depression, a double-hit imposed on the Plains states.
And, in fact, the change immediately cut legislative costs in half when the first unicameral session was held in 1937. 
And so today you have 49 -- it began as 43 -- nonpartisan state senators instead of the 133 legislators who filled the two houses during the final bicameral legislative session.        
Norris noted in his letter to Gallagher that he already had contributed $1,400 to the constitutional amendment drive and he offered another $1,000 immediately.  
That was big money then; adjusted for inflation, $1,000 in 1934 is equal to nearly $19,000 today.  
"I am not going to stop," Norris wrote. "I would rather be a pauper the balance of my life than to have this proposition fail.
"It is the last thing I am going to ask.  
"I am asking it in the interest of the people of Nebraska."
In later correspondence, Lawrence would tell Norris that he would "assume responsibility" for circulating petitions to acquire signatures for the proposition in Lincoln.
"I think the amendment is more important in the long run than the success or defeat of any candidate or candidates," Norris subsequently replied.
On Nov. 6, 1934, Nebraska voters approved the one-house proposal.
And, on the following day, Norris wrote Lawrence that "this victory for better government has been made possible by the intelligence and patriotism of the voters."
Norris, a Republican at the time, subsequently would leave the party to seek and win re-election to his fifth United States Senate term in 1936 as a nonpartisan independent. He was ultimately defeated for re-election in 1942. 
Lawrence, in turn, would become a close political associate of the senator, helping direct his 1936 and 1942 independent campaigns and later collaborating with Norris when the senator wrote his autobiography.
A recent study by NET News demonstrates a gradual, but steady, trend toward nonpartisanship among registered voters in Nebraska. 
In 1990, some 7.3 percent of registered voters in Nebraska were nonpartisans. By 2000, it had climbed to 13.8 percent. In 2018, it was 21.1 percent.
"In Nebraska, the growth of registered nonpartisans has happened almost entirely at the expense of the Democratic Party," the NET News report noted, with the Republican share of registered voters remaining steady while the Democratic share has been in decline. 
"It seems like people, as time goes on, are becoming more and more disgusted with the political parties, the traditional political parties," Paul Landow, University of Nebraska at Omaha political science assistant professor, told NET.
"A large number of my political science students are registered nonpartisans," he said.
"They just don't want anything to do with the political parties. They don't see the political parties as representing their interests."
Although Nebraska governors wield influence in the Legislature, they do not command the kind of control that Republican President Donald Trump appears to hold over current GOP members of Congress or that other governors may have in partisan legislatures.  
Perhaps the most dramatic example of nonpartisan legislative independence during Gov. Pete Ricketts' first term was the high-profile override of the Republican governor's veto of legislation repealing the death penalty in Nebraska. 
Sixteen Republicans voted to override the governor's objections, joining 13 Democrats and Sen. Ernie Chambers of Omaha, a registered nonpartisan, in an extraordinary expression of the Legislature's nonpartisan nature. 
Ricketts subsequently helped fund a referendum petition drive that ultimately overturned the Legislature's action. 
The 2019 Legislature that convenes on Wednesday will be composed of 30 registered Republicans, 18 registered Democrats and one registered nonpartisan, all elected and serving as state senators free from party whips.
In Nebraska, political party pressure shows up virtually unmasked every 10 years when senators tackle congressional and legislative redistricting following conclusion of a federal census. It would be hard to argue that those are nonpartisan legislative decisions.
But George Norris probably would be content with what he might have seen most of the rest of the time. 
What's ahead in the Legislature this year
What's ahead: The hot topics, by the numbers and more as the Nebraska Legislature convenes
What will be the biggest topics in the 2019 Legislature?
The Journal Star's Statehouse reporters have rounded up topics they believe will command attention in the 106th Nebraska Legislature session, which begins at 10 a.m. Wednesday. Here are their predictions:
Property tax
Property tax relief once again will be a challenging issue as the Legislature struggles to find a filibuster-proof majority of senators who can agree on some package of tax reform.
Built into that challenge is funding and allocation of state aid to schools which, in turn, has a major impact on the state budget.
Gov. Pete Ricketts is expected to weigh in with his own proposals as he did in 2018.
State aid to schools
Senators on an informal study committee this summer dug deep into the history and rationale behind the state's school funding formula.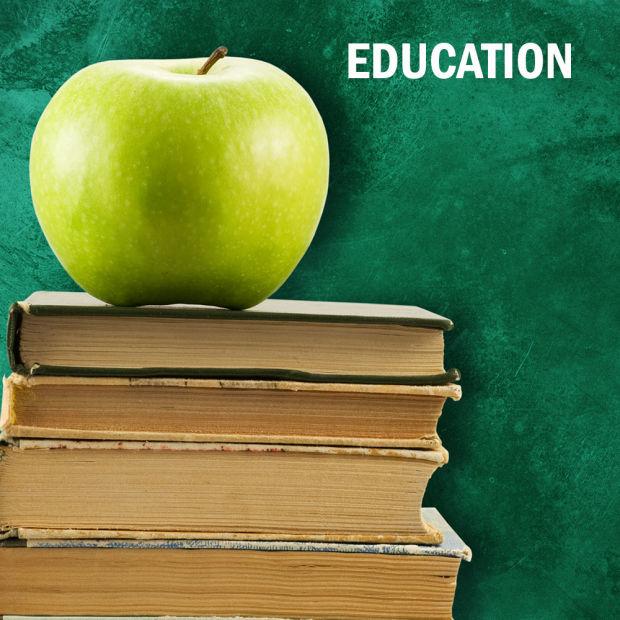 They learned over time, the Tax Equity and Educational Opportunities Support Act, or TEEOSA, gradually shifted the burden to property taxpayers, leaving some school districts without any state aid.
Sen. Mike Groene of North Platte, who will seek re-election as chair of the Education Committee, said the Legislature needs to move the needle away from property taxpayers in order to create a more equitable formula, and erect guardrails to prevent future shifts.
Tweaking any part of the state aid formula -- several bills will likely be introduced offering changes to various components -- may add more cost to the state, which is already facing a budget crunch.
Medicaid expansion
Expanded Medicaid coverage approved by Nebraska voters in November is likely to spark sharp legislative division over the terms, and perhaps the timing, of state implementation and funding.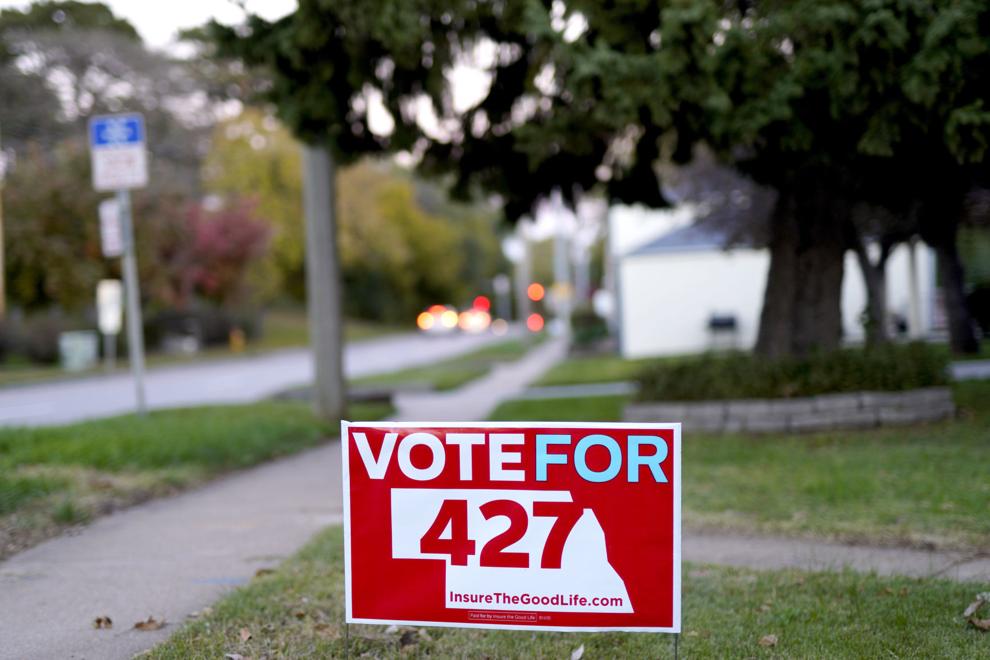 Ricketts already has signaled his intention to fund the state's share of costs for expansion of coverage to an estimated 90,000 Nebraskans, primarily identified as the working poor, out of the current state budget.
Medicaid expansion supporters have pointed to the new revenue that will be flowing into the state from collection of state sales taxes already owed for online purchases as one potential source of funding.
The governor
Ricketts will be fully engaged with issues in what appears likely to be a conservative Legislature that contains perhaps one or two more moderate, or progressive, voices following results from the 2018 election.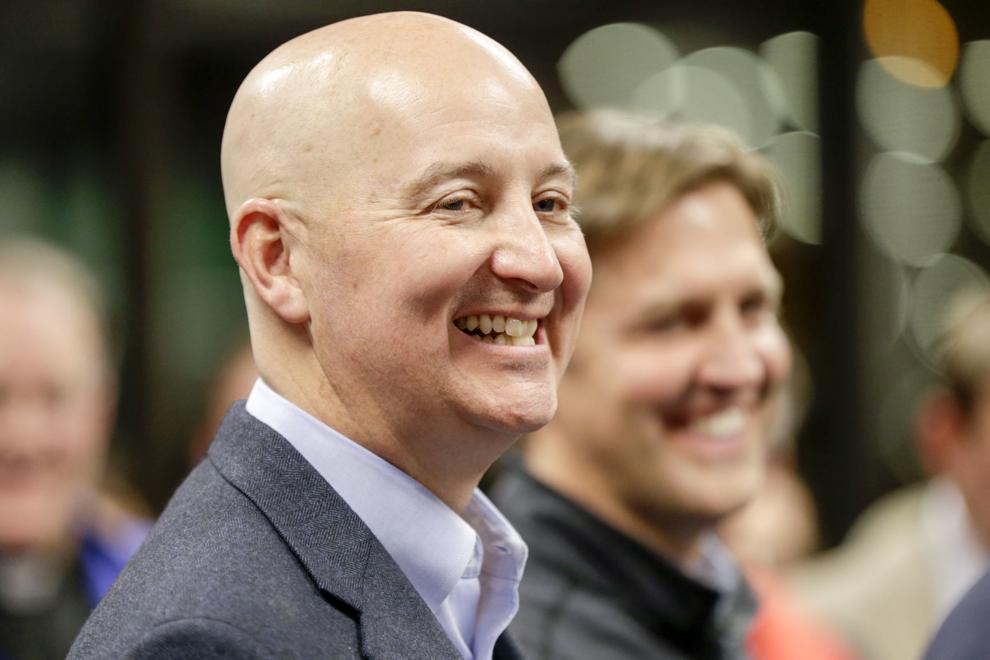 Heading into his second and final term, the conservative Republican governor will be working with a nonpartisan Legislature composed of 30 Republicans, 18 Democrats and one registered nonpartisan.
Sens. Anna Wishart and Adam Morfeld registered a campaign committee -- Nebraskans for Sensible Marijuana Laws -- over the legislative interim that could allow voters to place a medical marijuana legalization measure on the 2020 ballot.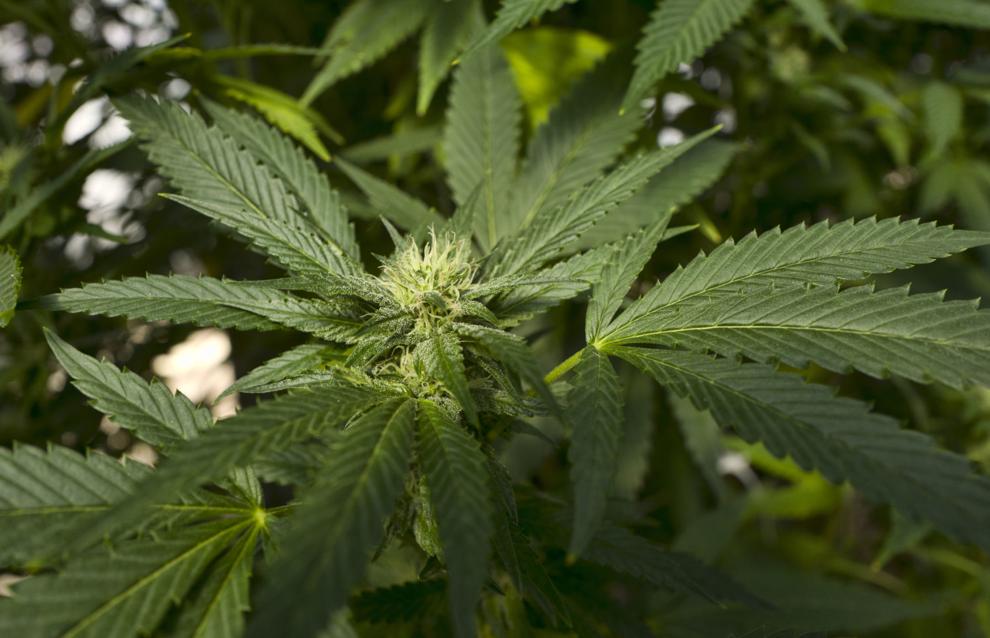 The committee would seek a constitutional amendment to give Nebraskans the right to use marijuana for medical purposes. 
Wishart is also going to give the Legislature another chance to pass a medical cannabis law, similar to but not exactly like the one she introduced two sessions ago that did not get to a vote.
Meanwhile, Nebraska Attorney General Doug Peterson has issued two memorandums to law enforcement saying it remains illegal to possess, manufacture, distribute or dispense CBD oil.
Prisons problems
The Nebraska Justice System Special Oversight Committee of the Legislature recommended in its 2018 report that the state continue to address crowding in its prisons.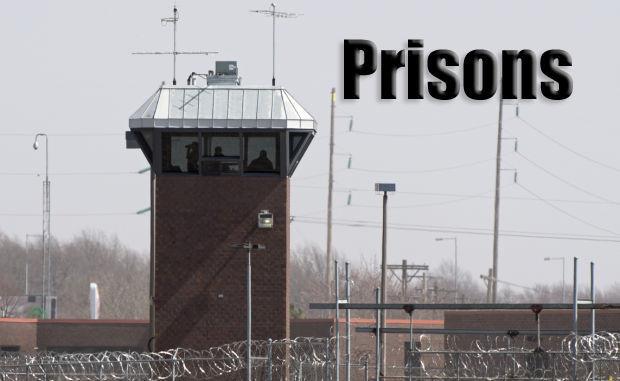 According to Nebraska Inspector General Doug Koebernick, the state has one of the most crowded systems in the country, with a population at 157 percent of design capacity. The percentage has dropped slightly because of an increase of 100 beds at the Community Corrections Center-Lincoln and a "very slight" decrease in the number of inmates. 
Reform bills passed by the Legislature have not had the effect of lowering the inmate population as senators had hoped they would by this time.
Staffing continues to be a problem, with an increase in staff overtime at the prisons more than doubling in four years, Koebernick said in his 2018 annual report.
The committee said that since nearly all inmates will ultimately re-enter the community, "it is vital that those serving time are given an opportunity to rehabilitate themselves and gain valuable skills while incarcerated." 
NU funding
The University of Nebraska Board of Regents approved a two-year budget request last August asking for a 3 percent and 3.7 percent increase to the university's state appropriations.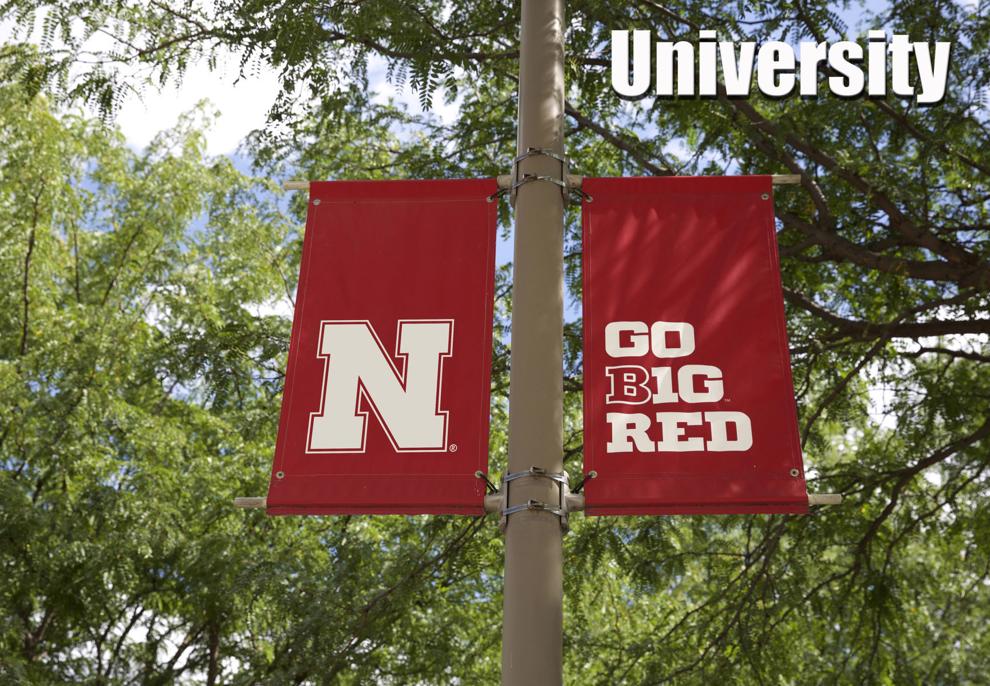 NU President Hank Bounds said the request for $39 million more in state money, if granted, would barely cover the university's rising costs in 2019-20 and 2020-21.
One regent said the $610 million request by 2021 was "deficient compared to (the university's) needs," and one that may lead to tuition increases or further programmatic cuts to balance NU's budget.
NU has made $22 million in cuts toward an existing $46 million budget gap, eliminating 100-plus jobs in the process.
Last year's Legislature approved cutting NU's budget 1 percent -- the third cut to the university's budget in 18 months -- after Ricketts proposed a 4 percent reduction.
Legislature 2019: By the numbers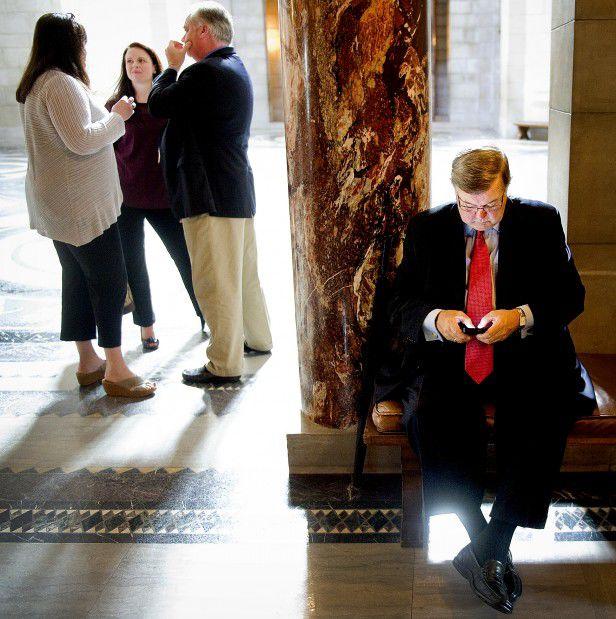 Senators who represent Lincoln in the Legislature.
Days senators have to introduce bills at the beginning of the session. 
New members to be sworn in Jan. 9, including those newly elected and newly appointed. 
Women who will serve in the 106th Nebraska Legislature. 
Recess days or federal and state holidays off during the long session. 
Age of the youngest member of the Legislature, Julie Slama, a law student and press secretary for Gov. Pete Ricketts' recent re-election campaign. 
Senators to be sworn in Jan. 9, including incumbents, newly elected and newly appointed.
Senators, out of 49, who have served in the Legislature two years or fewer. 
Age of oldest member of the Legislature, Sen. Ernie Chambers, and also the longest-serving. 
Days in the long session of the Legislature that begins Jan. 9 and is slated to end June 6.
Compensated lobbyists registered with the Nebraska Legislature. An additional 16 uncompensated lobbyists are registered. 
Legislative session to take place 'under construction'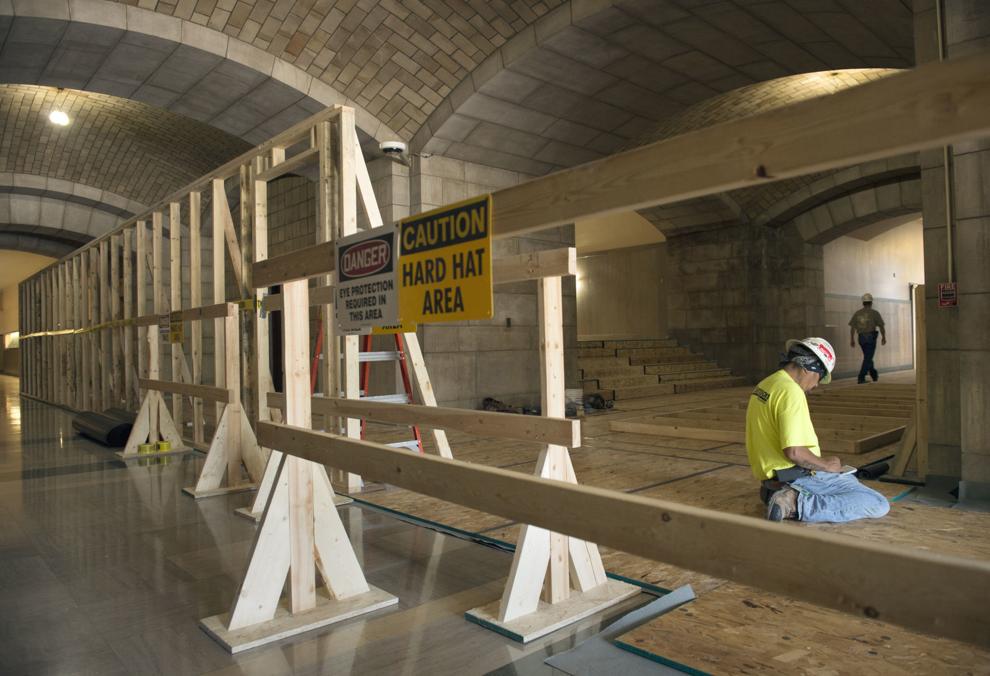 If you're headed to the Capitol to talk to your state senator during this legislative session, you might want to call ahead.
And if you think you know your way around, be warned there have been changes.
An eight-year, $106 million heating, air-conditioning and renovation project kicked off last summer, sealing off the southwest quadrant of the Capitol behind temporary walls where first phase work is taking place.
While the south and west doors remain open, the work has pushed some senators into the tower on floors not accessible to the general public.
Anyone wanting to meet with a senator in the tower should call ahead to schedule an appointment, said Roxanne Smith, the Capitol's tourism supervisor and public-information officer.
Or, visitors can stop at the information desk on the ground floor to request a legislative staff member come down to meet them.
Some shuffling may still happen, however, after the Legislature convenes and committee assignments are doled out, moving some senators into the tower or others back onto the lower floors.
Smith said the final roster and office locations should be published on the Legislature's website — nebraskalegislature.gov — by mid-January.
Construction will also move some committees into the Warner Chamber — the former Senate chamber before the unicameral form of government was adopted — opposite the George W. Norris Chamber for this session.
Hearings for the Transportation and Telecommunications Committee will be in the Warner Chamber on Mondays and Tuesdays, and the Judiciary Committee will meet there Wednesdays, Thursdays and Fridays.
The Nebraska Court of Appeals will convene in the Nebraska Supreme Court hearing room while the renovation is taking place.
And the Capitol's cafeteria has moved to Room 1301 inside the east doors, where it will be open weekdays 11 a.m. to 1 p.m.
Smith said any questions should be directed to the information desk on the ground floor.
Legislature: The reporters and editors bringing you legislative news
The team bringing Lincoln Journal Star readers their legislative news has combined journalistic experience totaling more than 106 years -- which is the number of the session that begins on Wednesday.
JoAnne Young is covering her 13th session of the Nebraska unicameral this year. She also writes about state agencies, and before that, reported on schools, county government and medical news for the Journal Star. She finished sixth out of 10 teams this season in her fantasy football league. 
Don Walton is a longtime Journal Star political and government reporter who has covered the Legislature during portions of his reporting career, including most recently since 2015. Don is a Husker and Yankee fan.
Chris Dunker is covering his second legislative session. He also writes about higher education, and has covered school boards, city councils, county government, crime and courts. When Chris is not writing, he keeps busy chasing a toddler and keeping his lawn green.
Shelly Kulhanek is the editor for the Statehouse team. She's been correcting it's and its for more than 30 years in stories, but she still avoids using the verb lay in all its present, past and future tenses.