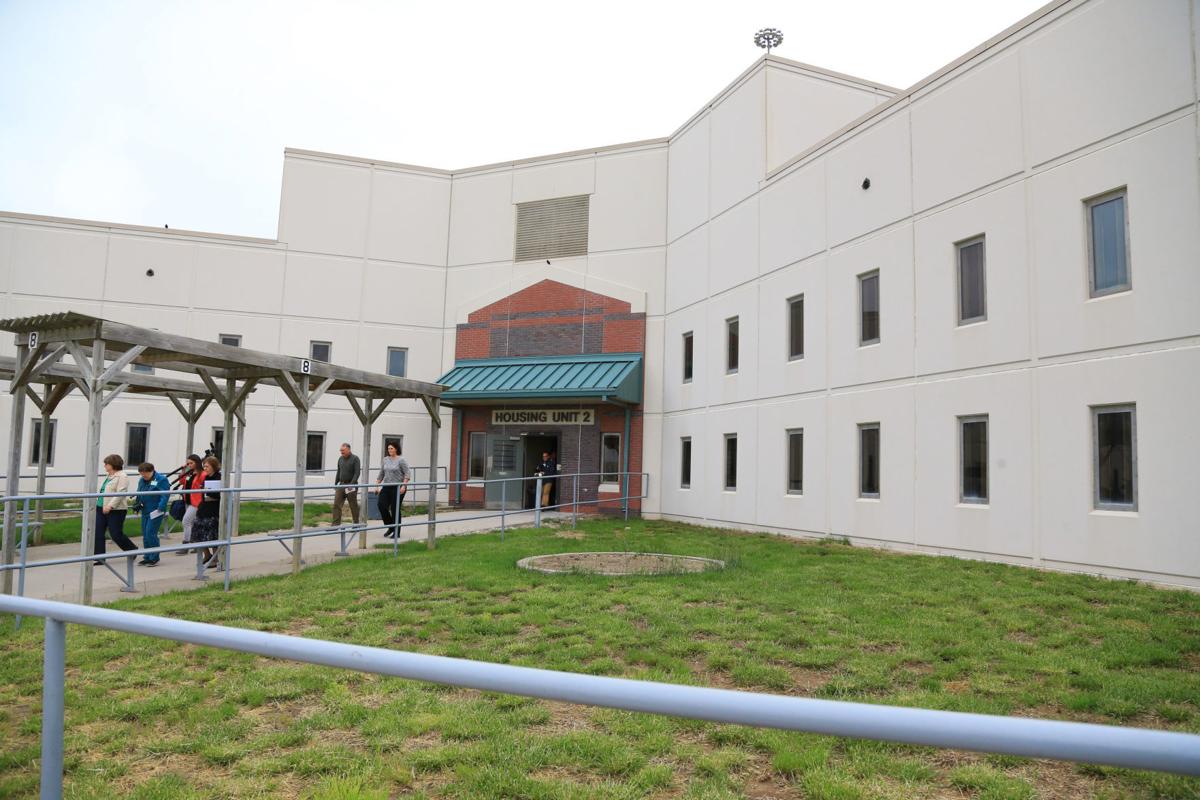 Significant staffing problems, including high overtime and turnover, continue to plague the Nebraska prison system, the state's inspector general for corrections reported Tuesday. 
Crowding in the prisons is down slightly — from 159 percent of design capacity to 157 percent — with an increase of 100 beds at the Community Corrections Center-Lincoln and a "very slight" decrease in the inmate population, Inspector General Doug Koebernick said in his annual report.
Even so, the Nebraska correctional system remains one of the most overcrowded state correctional systems in the country, he said. 
The data reported by Koebernick shows the department still has a significant staffing crisis.
This is the third annual report of the Office of Inspector General of Nebraska Corrections, established in 2015 by the Legislature to provide increased accountability and oversight of the correctional system.
In the past year, Koebernick has visited facilities, attended correctional meetings and talked to senators, the public, inmates, parolees, corrections staff and the parole board and its administration.
Department of Correctional Services Director Scott Frakes received a copy of the report Tuesday, and he and his team plan to review it and consider its recommendations as agency decisions are made, said spokeswoman Dawn-Renee Smith.
"Director Frakes and his team are committed to the agency's mission to keep people safe and our vision to have safe prisons, transform lives and live in safe communities," she said. "Efforts are continually underway to improve all aspects of the agency."
The report showed the department has failed to get control of overtime and its resulting costs, even though it has made a number of attempts to do so, Koebernick said, including efforts to recruit workers, pay bonuses in the hardest-hit prison and bus protective services employees from Omaha to Tecumseh.
His report detailed a dramatic increase in staff overtime at the prisons, more than doubling in the past four years. Overtime spending grew from $5.3 million in fiscal year 2006-07 to more than $13.3 million in 2016-17. 
The problem is most acute among protective services employees — correctional officers, corporals and caseworkers — with overtime hours increasing by approximately 100 percent since 2014.
The three facilities with the most overtime are the Tecumseh State Correctional Institution, the Lincoln Correctional Center and the Nebraska State Penitentiary.
Koebernick said there's a difference in mandatory and voluntary overtime, but at prisons such as Tecumseh and the penitentiary, it's difficult to tell the difference.
At those prisons, some workers choose overtime to keep from receiving mandatory overtime. They also volunteer to assist fellow workers or volunteer in the hope it will be reciprocated when needed, he said.
As overtime and turnover continue to increase, many workers say it's taking a toll on their ability to do their jobs safely and as it should be done, Koebernick said in the report.
Studies, reports, surveys and conversations show high amounts of overtime lead to low morale, burnout, complacency and fatigue that can increase errors on the job.
Turnover rate among highest
Protective services employees have experienced the highest turnover in recent history, or perhaps ever, he said.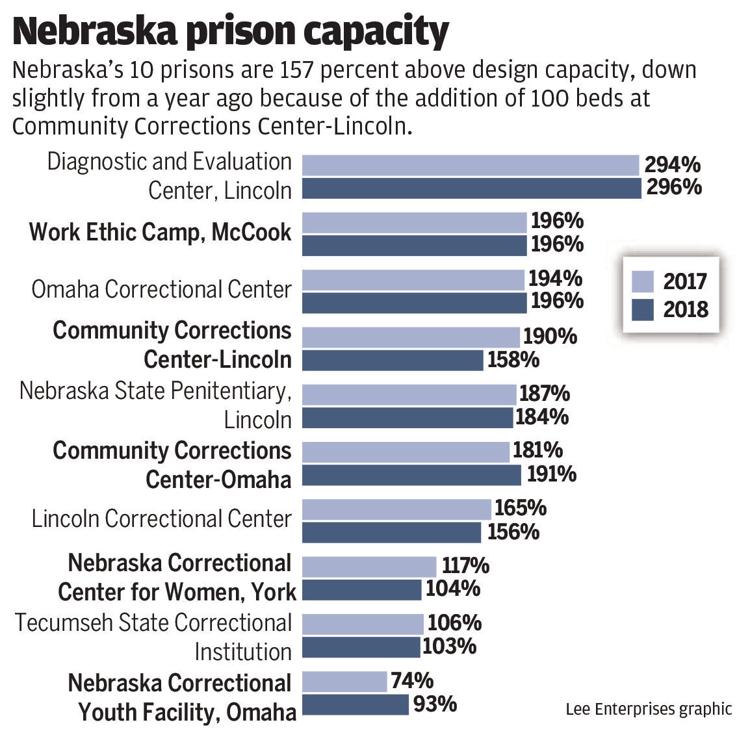 The turnover rate for all corrections employees exceeded an unhealthy 30 percent in 2016 and 2017, the report said, with six positions ranked in the top 27 classifications with the highest turnover rate in state government, ranging from 22 percent for corrections unit case managers to 59 percent for corrections officers.
From 2010 to 2017, the turnover of the protective services employees increased by approximately 91 percent. During the first seven months of 2018, 257 of those positions turned over, which projects to 440 positions during calendar year 2018. 
In June, for example, 44 workers left the Corrections Department, including 15 corporals — nine at the penitentiary and six at Tecumseh. The Omaha Correctional Center lost seven correctional officers.
Of the 44, nine were fired and 20 provided less than two weeks' notice. Twenty-six had worked for the department less than a year. 
In 2017, 77 protective services employees were fired; 132 provided less than two weeks' notice when resigning; 22 resigned with a statement of charges pending or were under investigation, suspension or discipline; 26 transferred to another state agency; and of all employees who left, nearly 40 percent, or 242, had less than one year of work experience with the department.
Turnover of all positions is projected by the department to decrease in 2018, from 650 positions in 2017 to 594 this year. 
You have free articles remaining.
Smith said the struggle to fill positions and retain team members becomes greater when the work is specialized and includes inherent risk. 
Getting workers to Tecumseh among solutions
State Ombudsman Marshall Lux said it appears the department is not making much progress in staffing improvements, and that's disappointing. The Legislature, the governor and department need to address that, he said.  
One of the best things the department has done is bringing people from Omaha to Tecumseh to work, he said. 
Not having full staff on a given shift takes away from quality of life of the inmates, when libraries can't be accessed, gyms can't open and clubs can't meet without supervision. 
"It's a pretty important concern to them. They don't have much else," Lux said. Having those outlets makes the prisons more tranquil.
The social fabric of the prisons has declined dramatically in the past decade, primarily because there's no longer an open-yard system. The yards are managed, for certain groups at only certain times of the day, he said. The rest of the time, inmates are confined to cells or units. 
"Nobody's saying it should be the Holiday Inn," he said. 
But changes caused by inadequate staffing can cause problems, he said. 
The department has expanded its recruitment efforts with radio ads and billboards, attended career fairs and schools, and worked with the Nebraska Department of Labor to identify businesses that are closing, in order to reach out to those employees. In the first half of 2018, Smith said, the agency participated in 72 recruiting events across Nebraska, Missouri, Iowa and Kansas.
Last year, Frakes announced two plans for Tecumseh and the penitentiary. The department provided a $2,500 bonus for the first 100 employees hired at those two prisons, and a merit and longevity pay increase of up to 10 percent of salary was given to employees at Tecumseh.
The department filled 96 of the 100 positions that were eligible for the $2,500 bonus, and 71 percent were still employed on June 25.
Another initiative to assist staffing was the hiring of workers at Omaha Correctional Center, but assigning them to work at Tecumseh or the penitentiary. Eventually, all of those workers were shifted to Tecumseh, the report said, and now approximately 50 workers are transported from Omaha to Tecumseh each day. They are paid for the three hours of travel time and work five hours.
It has provided relief to the Tecumseh staff, Koebernick said.
Smith said being a part of mission-driven work where you keep people safe and feel like family is what makes corrections a fulfilling career.
Additional highlights
Other highlights of the inspector general's report: 
* The number of inmates in restrictive housing has increased since 2014, and those in restrictive housing for more than 180 days has increased from 62 in September 2016 to 158 in August 2018.
* The department is taking away inmate good time at much higher rates than in past years, more than tripling between 2014 and 2018, and is restoring good time that has been lost at a lower rate.
* Three new prison projects are moving forward. A year ago, a $1.55 million, 100-bed dormitory at the Community Corrections Center–Lincoln was finished. It houses about 80 men on work release. 
A $26 million, 160-bed addition to Community Corrections Center-Lincoln is under construction and scheduled for completion in January. It will house women in community custody and will have separate offices, classrooms, cafeteria and a visitation area.
A $75 million reception and treatment center will connect the Lincoln Correctional Center and the Diagnostic and Evaluation Center, and will include a 32-bed skilled-nursing facility and a 32-bed secure behavioral health unit.
* Contraband, such as cellphones, weapons and drugs, remains a significant concern in the prisons, but the department does not have a system to track it.
* The number of medical complaints by inmates made to the ombudsman's office has decreased.
* Two prison suicides this year have led to a suicide work group to examine ways to reduce suicides in the prisons.
* The department's new classification tool has resulted in more than 90 percent of men being classified as low-risk.
Koebernick said he has several concerns about the operation of the penitentiary and will issue a supplemental report by Oct. 5.