Nicole Barrett began working at the state Capitol this summer and wanted to give some perspective Thursday to the Legislature's Appropriations Committee about the parking issues she has encountered.
When she got her job, she said, she called parking garages in the area to place her name on their waiting lists — at least those that would take names — including adding her name to the state's waiting list. 
In the meantime, she did what others at the Capitol without dedicated parking did. She parked on an area street and went out every two hours to move her car. She still got four parking tickets, she said, since the city has become more aggressive about parking enforcement in the area. 
"It is a challenge," Barrett, who drives in from northeast Lincoln, told the committee during a hearing on the parking issue. 
She explored public transportation, but was nervous about how she would get home when she had to stay late at work, especially during the upcoming five-month legislative session. 
In September her name came up for parking in a downtown garage, a half-mile away from the Capitol, for which she pays $75 a month. 
"I am a little nervous about January, February and March, when it's late nights and it's dark," Barrett said, but she is grateful to have a reserved spot in a garage. 
Some other state employees aren't as lucky, or able to pay the cost for parking. And that puts a burden on people who reside in the area of the Capitol, who also have to sometimes park blocks from their homes and apartments because state workers are taking up the spaces near their homes. 
That's why Lincoln Sen. Patty Pansing Brooks took the lead, along with Executive Board Chairman Dan Watermeier, on an interim study to come up with solutions to the parking dilemma in the Capitol environs.
"Clearly, something must be done," she said. "This parking issue is imposing on the lives of those who live around here, as well as to the visitors to our Capitol."
The state has 2,349 off-street parking stalls for 3,514 employees, and has issued 2,562 parking permits. In 20 years, the state will employ about 5,000 workers, and a new Capital Facilities Plan indicates only about 425 parking spaces will be added to the mix, Pansing Brooks said.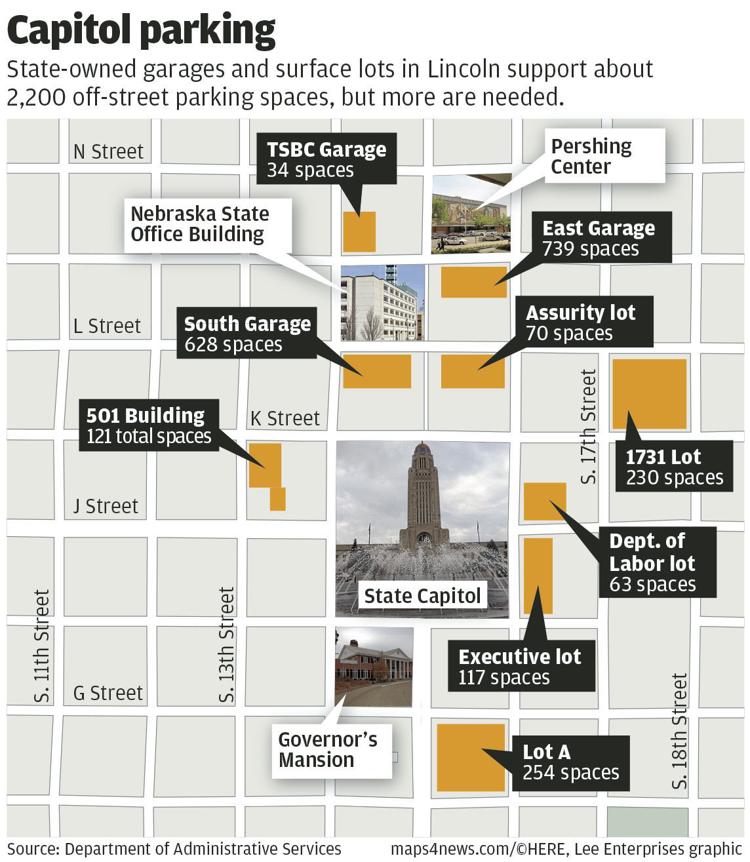 The recently released facilities plan recommends building several new office buildings on surface parking lots, and adding some spaces in parking garages, mostly underground. But Pansing Brooks said that will not solve the problem and may add to it. 
A geothermal heating and cooling project at 17th and M streets could lead to an office building with two levels of parking, which could add more than 180 spaces, said Doug Wilken, Department of Administrative Services attorney.  
He said the agency has been working on solutions to the parking problems. When asked, he told the committee the state has no incentive program to encourage employees to walk, bike or take public transportation to work. The agency has been talking to the city about using excess parking spaces in their garages during the day. 
Shawn Ryba, executive director of the South of Downtown Lincoln Community Development Organization, came to the hearing to ask for help with the parking problem. He would love for the Appropriations Committee to make state employee and visitor parking a priority, he said.  
The ultimate goal of his organization is to improve the quality of life for all residents that live in that area, with workforce development, affordable housing and neighborhood services.
"Property owners and renters are very frustrated with their parking situation," he said. "Having the pressure to be the state's parking lot is unfair, undeserving and an undue burden." 
Pansing Brooks said she will look at the possibility of introducing a bill to fund an update of the 2009 Capitol area parking study by consultants, which could cost upward of $150,000.
She also could explore the idea of a bill that would enable the state to hire a parking manager, such as the city of Lincoln has, who has parking expertise and experience. 
"I was really grateful to have the two employees come and talk about safety issues, about how dangerous it is walking at night," she said. "When we walk out at night, there's a guard in our (senators') lot. What about everybody else?" 
She appreciated that the senators on the Appropriations Committee seemed to recognize the need to improve parking, she said.