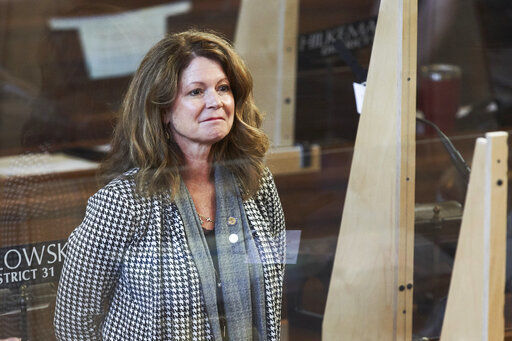 The 90 minutes of debate Speaker of the Legislature Jim Scheer allowed on second round of Lincoln Sen. Suzanne Geist's anti-abortion bill Tuesday was mostly on the bill's constitutionality. 
While senators on both sides argued the constitutionality, Sen. Steve Erdman of Bayard said: What difference does it make anyway?
Senators have passed bills that were eventually ruled unconstitutional by a court, but regardless, it was the law until some court said it was not, he said.
"So this whining about it's unconstitutional is a stall tactic."  
Omaha Sen. Ernie Chambers asked Attorney General Doug Peterson on Monday for a legal opinion on the constitutionality of the bill. Chambers said the U.S. Supreme Court explicitly upheld the D&E abortion method in a Nebraska case, Stenberg v. Carhart, in 2000. And former Nebraska Attorney General Don Stenberg agreed it could not be banned without placing an undue burden on a woman's right to obtain an abortion.
Peterson posted his opinion Tuesday afternoon, concluding LB814 is likely constitutional because it does not appear to impose a substantial obstacle on access to abortion in Nebraska. 
Peterson's opinion said LB814 permits abortion providers to use the D&E process so long as a doctor doesn't perform it on a "living unborn child." 
Omaha Sen. Megan Hunt on Tuesday then requested another legal opinion from Peterson on the consequence of a messy debate last week that failed to include formally reading and introducing the bill on general file, the first step of a legislative debate.
That first-round debate on LB814 last week was a mixture of motions on rules and points of order for an unrelated bill, and a frozen queue that was supposed to be the order of speakers for the anti-abortion bill but was never used. There was also confusion from the presiding officer about whether debate time was being counted for the bill. 
She asked if the oversight in compliance with fundamental legislative rules and policy affected the validity of LB814 and made it vulnerable to court challenge. 
During debate Tuesday, Lincoln Sen. Mike Hilgers said neither the U.S. Constitution nor the state Constitution puts a restriction on this bill or the procedure that would be prohibited. And there is no Supreme Court or 8th Circuit Court of Appeals decision that is binding on it. 
Hilgers argued the legal standard has changed on abortion-related court cases that other constitutionality decisions rely on.
But Lincoln Sen. Adam Morfeld said the basis of Hilgers' arguments is not the final word on whether or not D&E bans are sound law or policy. 
Geist had to invoke cloture after the 90 minutes to force a vote on the bill, which prevailed. The bill then advanced on a voice vote to final reading.
Be the first to know
Get local news delivered to your inbox!