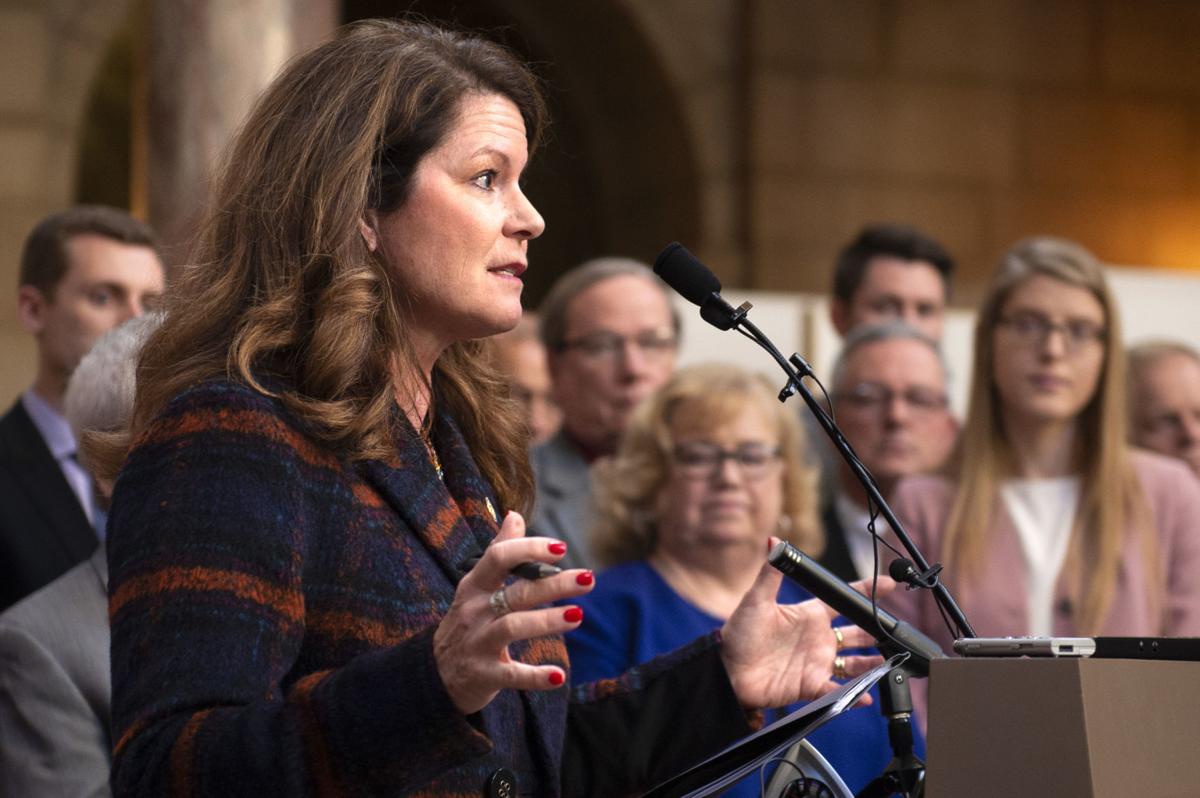 Saying dismemberment of a live fetus during an abortion is brutal and barbaric, Lincoln Sen. Suzanne Geist introduced a ban on the practice in most cases Wednesday, the first day of the 2020 Nebraska Legislature. 
Geist said the practice in Nebraska has been performed over the past 10 years 21 to 186 times a year, in up to 7.3% of abortions. It is typically performed between 13 and 24 weeks of pregnancy. At 13 weeks, she said, a fetus has fully developed arms and legs and is about 2.9 inches long. 
"I'm a mom and a grandma, and I can't believe that we as a society think that this is OK," she said. 
The practice is wrong, she said, and she is sponsoring the bill because she believes the practice is an immoral one. 
"I also believe if the people of the state of Nebraska, whatever their stand on abortion is, I believe that they're going to agree that this practice is barbaric."
She felt she had to do something about it, she said, even though it is a short session with many other high-profile issues needing the attention of senators. 
The bill, which will be Geist's priority bill, would not restrict women's access to abortion in Nebraska, she said, because there are other methods of abortion available in the 13- to 24-week period of pregnancy. 
In the procedure, a medical provider dismembers the body of a living fetus and extracts one piece at a time from the uterus through use of clamps, grasping forceps, tongs, scissors, or similar instruments, according to the bill.
A dismemberment abortion does not include using suction to collect fetal parts into a container, or using instruments or suction to remove the remains of a fetus that has already died. 
The bill would carry with it penalties for those performing a dismemberment abortion in that time period. Other than a dismemberment abortion necessary because of a medical emergency, a person who does the procedure could be sued or charged with a Class IV felony, punishable by up to two years in prison and 12 months post-release supervision, a $10,000 fine, or both. 
Geist said she has 20 co-sponsors to the bill; 19 of them are Republicans. But she said she is working on getting 33 supporters so it could get past a filibuster. 
You have free articles remaining.
Julie Schmit-Albin, executive director of Nebraska Right to Life, said her organization will make LB814 its primary bill of the session. She said she had not heard that any senator was going to introduce a so-called "heartbeat bill," which would ban abortions at the time a fetal heartbeat can be heard, as early as six weeks into the pregnancy. 
She said it only makes sense to end the dismemberment abortion practice, just as lawmakers have banned partial-birth abortion and abortion after 20 weeks.  
Marion Miner, speaking on behalf of the Nebraska Catholic Conference, said laws similar to Geist's bill have been passed in about a dozen states. Some are facing lawsuits, and others have not been challenged and are in full effect. 
"We're eager to see this law passed and are confident in its constitutionality," Miner said. 
The U.S. Supreme Court last summer declined to hear Alabama's bid to revive a state law that would have criminalized a method called dilation and evacuation, what Alabama calls dismemberment abortion, that is said to be the most-common type of abortion in the second trimester of pregnancy.
Schmit-Albin said while dismemberment abortion laws are the subject of lawsuits elsewhere, that doesn't mean a lawsuit will be filed in Nebraska.
"They threatened that with the 20-week ban, and it never happened," she said. 
The ACLU of Nebraska was quick to respond to the introduction of the bill, saying it is an attempt to dismantle legal abortion care. 
"This bill is about one thing and one thing only — pushing abortion out of reach for women in Nebraska," ACLU Executive Director Danielle Conrad said. "The bottom line is, the decision about whether to keep or end a pregnancy belongs to a woman, and politicians should not be in the business of judging her or interfering with that decision."
She suggested, instead, senators work together to improve women's health, especially women in rural and low-income areas where access to care is limited.
From pomp to protest -- photos from the first day of the Legislature: