Lincoln senator slams Ricketts for promoting rural-urban divide over taxes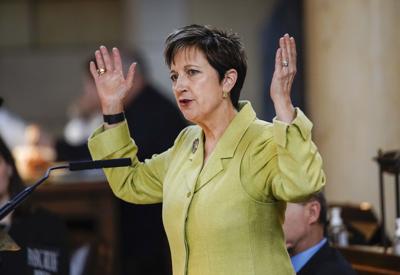 Lincoln Sen. Patty Pansing Brooks on Thursday rebuked Gov. Pete Ricketts for telling people at a rural Nebraska town hall that senators from urban areas of the state did not care about property tax relief.
At a Wednesday meeting in Beatrice, Ricketts blamed the legislative filibuster for raising a high barrier for property tax relief packages to clear, singling out Pansing Brooks for comments she made in 2015, as well as others for blocking his reforms.
The Republican governor also said he would not sign any bills raising sales or income taxes to offset the cost of providing property tax relief, adding urban senators likely wouldn't support those measures either.
"Why would the people of Lincoln and Omaha raise taxes on themselves to give you guys tax relief?" Ricketts responded to a question from a Wymore area farmer.
Pansing Brooks, a Democrat who represents District 28 in the nonpartisan Legislature, said Ricketts' comments were "just plain wrong," creating a divide between Nebraskans.
"I am very disappointed that the governor is speaking about taxes in a way that pits rural and urban areas of our state against one another," she said in a statement.
"People are making a lot of money, and they're the ones that are most vocal about those property taxes," she said during a working group of senators convened at the time to study property taxes and school finance.
Campaigning for her first term in the Legislature, Pansing Brooks said voters showed little concern about their property tax bills, but said things have changed over the last five years.
The issue was at the forefront of voters' minds during her re-election bid last year, and Pansing Brooks said she has learned how property taxes have affected agriculture from rural lawmakers during her first term.
"Clearly, Nebraska needs both business and agricultural sectors to thrive economically," she said. "I represent Lincoln, but I also represent the entire state, and as such, I understand that our rural and urban economic strength is intertwined."
Pansing Brooks on Thursday added her name to a bill (LB314) by Sen. Tom Briese of Albion that would raise the state sales tax rate from 5.5 percent to 6 percent, hiking the state cigarette tax by $1.50 per pack, and increasing an excise sales tax on alcoholic drinks, while also eliminating the sales tax exemption on candy, soft drinks, bottled water and other items.
Briese's bill also creates a 7.84 percent tax surcharge on income over $250,000 for individuals, revenue that would be directed into the state's property tax relief fund, part of a broad effort to generate $782.6 million to offset the property taxes, largely paid to schools across the state.
Briese's bill also increases the earned income tax credit, which Pansing Brooks said will help Nebraska's working poor move out of poverty.
Like its predecessor, LB1084, which Pansing Brooks also supported, LB314 has "broad bipartisan support across urban and rural interests," including co-sponsors from Omaha and Nebraska's Panhandle, Briese said.
"I've always maintained all Nebraskans need property tax relief whether you're a rancher in Cherry County or a homeowner in Lincoln or Omaha," said Briese, a registered Republican. "You can use property tax relief."
Nebraskans living in the state's two largest cities experience property tax rates ranking in the top 10 in the country, he added.
Pansing Brooks said she believes Briese's plan "offers the best way forward" in delivering meaningful property tax relief this year, adding she hopes to work with Briese and others to address concerns, specifically relating to small businesses like craft brewers.
"We must have a compromise that works for our entire state, rural and urban," she said. "LB314 will need work as it moves forward, but it offers a realistic starting point and represents a reasonable, comprehensive approach."
Briese said he's flexible to working with other senators to address their concerns, particularly to avoid harm to Nebraska businesses, but added he believes most of the bill's provisions would garner the support of a majority of Nebraskans.
Former Sen. Paul Schumacher of Columbus, who Ricketts also referred to Wednesday as a senator who advocated for tax hikes, said Briese's plan to address the property tax issue created a way to actually fund it, rather than relying on drawing down the state's cash reserve.
"There has not been a realistic effort to deal with property taxes," said Schumacher, who was term-limited. "Unless you come up with a source for property tax relief, urban or rural, you can't give it. If there are no new taxes, where are you going to get the relief from?"
Should the bill advance from the Legislature's Revenue Committee, of which Briese is a member, and through three rounds of floor debate intact, it will run into a governor who has pledged not to sign any tax hikes into law.
At his Beatrice town hall, Ricketts indicated he would not sign Briese's bill when asked by one farmer who advocated for it.
Through a spokesman, Ricketts reiterated that point Thursday, homing in on Pansing Brooks' district in central Lincoln.
"The governor opposes plans, such as LB314, which would raise taxes on the people of Lincoln," Taylor Gage said in an email.
Briese said he supports — like the governor — erecting spending controls for local governments to stem revenue growth through property taxes, but said that's just one piece of the puzzle.
"The only responsible means of achieving meaningful and substantial property tax relief is through raising other revenues to offset the property tax burden," he said. "We're not going to be able to slash and burn our way to where we need to be."