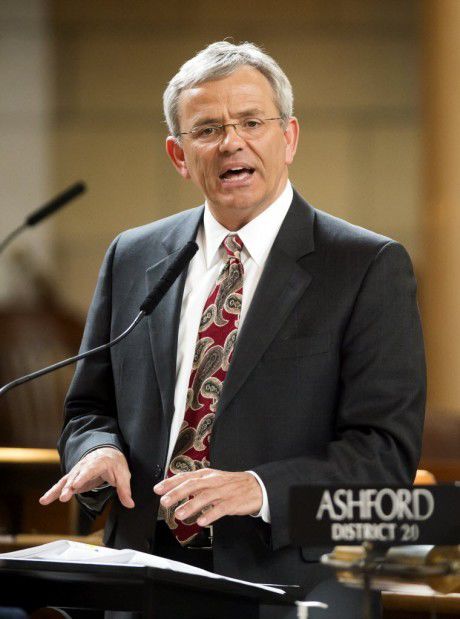 The high-stakes metropolitan Omaha contest between Sen. Merv Riepe and former Sen. Steve Lathrop has emerged as this year's featured legislative race, a clash that has engaged Gov. Pete Ricketts and triggered total costs soaring far beyond half a million dollars.
The 12th District showdown has spawned a flood of negative TV ads and direct mail targeted at Lathrop and funded by the national Republican State Leadership Committee accusing the former senator of being soft on illegal immigration and crime.
The latter charge prompted the Omaha Police Officers Association to hold a news conference this week to categorically dispute that claim while endorsing Lathrop's bid to return to the nonpartisan Legislature.
The State Troopers Association of Nebraska also participated in that event.
Riepe, a Republican who is a retired hospital administrator from Ralston and chairman of the Legislature's Health and Human Services Committee, has been a dependable legislative supporter of the governor.
Lathrop, a Democrat and Omaha attorney, served eight years in the Legislature before bumping into the constitutional limit of two consecutive terms, a barrier that requires senators to leave for four years before considering a third term.  
Ricketts pumped $14,000 into Riepe's campaign on Oct. 22, bringing his total personal contributions to $19,000, according to campaign finance reports filed with the Nebraska Accountability and Disclosure Commission. 
Lathrop's total funding figures, combining expenditures and cash on hand, had reached $314,000 by the Oct. 22 reporting date compared to a total of $240,000 for Riepe.
But the advertising by the Republican Legislative Leadership Committee is likely to have cost $100,000 or more and is not included in the Riepe campaign figures. 
One TV ad describes Lathrop as "liberal" and associates him with Sen. Ernie Chambers of Omaha, the best-known and probably most controversial member of the Legislature. 
"They're trying to turn this into a partisan race," Lathrop said. 
"They just make things up," he added. "And there is no accounting of where the money is coming from."
The legislative district, which includes Ralston and neighborhoods in the Millard area, contains a thousand more registered Republicans than Democrats.
Latest voter registration figures: Republicans, 9,359; Democrats, 8,324; nonpartisans, 6,437.
While Riepe has focused on health care issues as a state senator, Lathrop was actively engaged in a broad spectrum of issues during his eight years in the Legislature, ranging from prison reform and widespread reform at the Beatrice State Developmental Center to negotiated resolution of difficult legislative challenges ranging from collective bargaining to embryonic stem cell research.
Lathrop and Ricketts clearly are on different paths in terms of the pace and urgency of significant corrections reform with a 2020 mandate for reduced prison population looming not far ahead.
Meanwhile, Lathrop said during a telephone interview that significant property tax relief, funding and distribution of state school aid and the "serious fiscal issues" raised by a sharp decline in the state's cash reserve present huge challenges that need to be addressed.
"Some significant problems have been left untended for four years," he said. 
If elected, Lathrop said, he would attempt to "bring people together to solve problems and try to legislate by consensus."
Riepe did not respond to several efforts to arrange an interview or seek a written statement outlining his views.
When he announced his candidacy for re-election in September, Riepe said: "The tax burden in Nebraska is too high and I have not only fought against efforts to increase taxes, I have worked every year to reduce taxes on Nebraska families and small businesses."
Riepe gained enactment of legislation seeking to strengthen direct primary health care access in Nebraska.
Lathrop said he has knocked on 15,000 doors during his campaign and is on his third path through the district as the election looms a week ahead.
In his initial legislative race in 2006, Lathrop defeated Jean Stothert, who now is Omaha's mayor, by just 14 votes. He was re-elected without opposition in 2010.
Riepe won the seat in 2014 by a comfortable margin. 
2018 Voter's Guide
2018 Lincoln Journal Star Voter's Guide — General Election Edition
Your guide to Lincoln-area races that will appear on the Nov. 6, 2018 general election ballot. Click on a race name to view candidates and other information.
Be the first to know
Get local news delivered to your inbox!