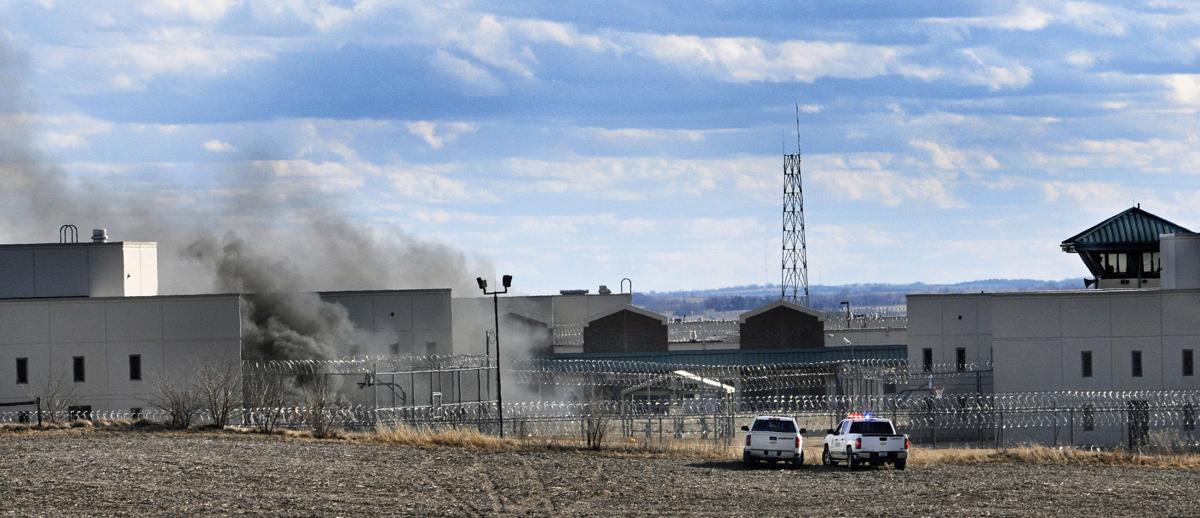 A March 2 disturbance at Tecumseh State Correctional Institution that ended in the deaths of two inmates was triggered by staff confiscating a large amount of homemade alcohol, a report by a national review team showed.
After being alerted by the smell of alcohol that day, staff searched a housing unit while inmates were at lunch and found four foot lockers filled with alcohol.
When inmates returned and discovered the missing foot lockers, some were angry and reacted by setting fires and damaging the unit. Two inmates, Damon Fitzgerald, 39, and Michael Galindo, 31, were killed by other inmates during the melee.
"I truly hate violence," Corrections Director Scott Frakes said Thursday. "Violence is unfortunately a part of prison life. It is a reflection of the population that we incarcerate as a society."
Roughly 60 percent of inmates in Nebraska prisons have a violent conviction, and another 5 percent have been violent after arriving at prison, he said.
Every violent incident is unacceptable, Frakes added, and so he and others analyze each incident to look for system failures, operational breakdowns, gang issues.
"It is our responsibility to do everything we can to keep people safe."
But it's always going to be a challenge, Frakes said, because there is significant movement of people, about 2,000 entering and 2,000 exiting the system each year.
After the March 2 disturbance, about 60 men either went to long-term restrictive housing or received misconduct reports.
Frakes did not release the critical incident report, but released an action plan to reporters that grew out of the recommendations by the team of National Institute of Corrections consultants from Florida and Oregon. He said the report itself had significant security information that could not be made public.
"Every time this happens there are lessons learned," Frakes said. "You gain some specific operational insight."
The prison will make changes to the Tecumseh unit, including creating a "closed management unit" that will operate with more security and less out-of-cell time -- about four hours a day -- than general population units. 
Inmates in the unit will be provided programming and incentives to lower their risky behavior so they can earn their way back to the general population.
"This is more a response to the systemwide need that we've identified. We have part of our population that is escalating demonstrated violence. It became very obvious last year," he said.
The men who live in the unit are generally considered to be more dangerous and have participated in assaults and/or significant gang activities in prison, Frakes said. Many have sentences for violent crimes and some for gang-related crimes.
There is more complexity to the gang activity than the department knew, even a year ago, like what is going on within the different groups and how they interact, Frakes said. With intelligence gathering, staff is gaining greater insight into who is orchestrating violence.
Eventually, said Tecumseh Warden Brad Hansen, men will be transitioned from restrictive housing to the unit, which will function as step-down housing. As of Thursday, there were 39 men in one of the 64-capacity galleries in the unit, and 44 in the other.
Frakes said if anyone would have asked him at 9 the morning of March 2, he would have said things were moving in the right direction at Tecumseh, including that living unit, and had been for several months.
"There was still tension. That's a population that doesn't like to be told what to do. This is true at the Penitentiary. It's true at (Lincoln Correctional Center). They're going to be resistive, surly, disrespectful," he said. "But in general, in day-to-day operations, things were starting to feel like we were headed in the right direction again."
Other changes to the unit will include adding handcuffs and meal ports to cell doors, and replacing porcelain sinks and toilets with stainless steel fixtures.
Because of an increase in concocting homemade alcohol, inmates will get canned fruits instead of fresh fruits and staff will be more aggressive in searching inmates as they come out of the dining hall. 
The national team also recommended permitting the use of disciplinary segregation for flagrant or serious misconduct. However, the department will not use disciplinary segregation, the action plan said. And managers will clarify how immediate segregation can be used for risk management, Frakes said.
Other recommendations and actions included:
* Make clear the allowed use of immediate segregation for inmates believed to be under the influence of alcohol or drugs;
* Increase the frequency of staff simulation drills to at least monthly, per shift;
* Improve communication among administration, management and line staff, including conveying department priorities and plans;
* Ensure through classification of inmates that proper cell placements occur;
* Consider and implement additional programming for inmates; 
* Establish an agency grievance administrator by July and new technology for grievances.
Be the first to know
Get local news delivered to your inbox!