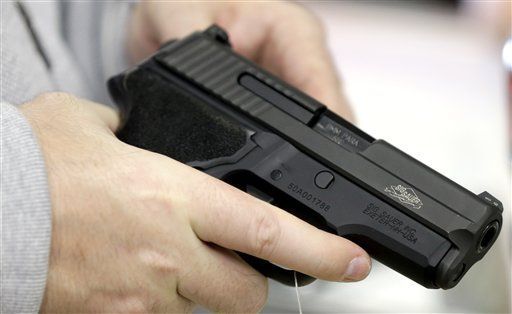 One state senator described it as a "bare-knuckle approach."
Robocalls made Sunday to nearly 23,000 Nebraskans targeted 10 members of the Legislature over an issue on which most haven't even cast a vote: a proposal to prevent cities from passing local firearm restrictions that go beyond those in state law.
And in most cases, the calls were wrapped in an issue many lawmakers consider unrelated: their votes last year to abolish the death penalty.
The calls, paid for by Save Our State Nebraska, went to residents in the 10 senators' legislative districts. In most cases, the calls accused the lawmakers of aligning themselves with Omaha Sen. Ernie Chambers, a lead opponent of the gun measure who also championed last year's death penalty repeal.
The gun bill, sponsored by state Sen. Laura Ebke of Crete, is being debated at the Capitol this week.
Sen. John McCollister of Omaha, who said he hasn't decided how he'll vote on the bill, said he got a robocall Sunday afternoon while watching the NFL playoff game between Denver and New England.
The recorded voice accused the NRA member of considering going after Second Amendment rights.
"How did that come about?" McCollister asked on the floor of the Legislature Monday. "Holy smokes.
"I'm not sure I appreciate this bare-knuckle approach during the debate. You expect it during campaigns, but not during the debate about a bill that is just beginning its process through the body."
An initial vote on Ebke's measure isn't expected until Wednesday morning, when the clock runs out on first-round debate. If the bill advances, it would require two more rounds of voting to pass.
Ebke said the proposal is intended to protect responsible gun owners from accidentally breaking the law while traveling throughout the state. Opponents, including Lincoln Mayor Chris Beutler and the Omaha police union, argue it would hamper local efforts to combat gun violence.
The NRA is sponsoring its own robocalls on the topic this month, urging voters in some districts to "politely urge" their senator to support Ebke's bill.
Sunday's calls struck a different tone.
The targeted senators were among those who supported the Legislature's repeal of the death penalty last year. Several will be up for re-election in November, when voters will also weigh in on the death penalty issue after a petition drive succeeded in placing it on the ballot.
Omaha Sen. Heath Mello's district wasn't among those targeted, but Mello took to the legislative floor Monday to criticize the tone the gun debate has taken inside and outside the Capitol.
"Reasonable people trying to solve a problem are falling victim to outside political influence and divisive rhetoric," he said.
"That incivility, that kind of desire to win at all costs, to try and use every ounce of political activity they can to make someone take a vote instead of trying to work and negotiate while protecting reasonable gun owners' rights — colleagues, I'm concerned that's the mentality that some of us have in this body right now."
Mello is working with Ebke on an amendment to preserve local ordinances like Omaha's handgun registry while allowing gun owners from elsewhere in the state to travel freely without fear of prosecution. 
Others in the Legislature, including Chambers, are pushing to have the bill recommitted to the Judiciary Committee, where several members said they had mistakenly supported advancing the bill and now want it back.
Committee Chairman Les Seiler isn't one of them.
He's received a "considerable" number of phone calls and emails from constituents since robocalls hit his district, which covers Adams County, including Hastings, and much of Hall County.
"They have a right to do it," he said of the robocalls. But any implication that he opposes Ebke's bill is wrong.
"I'd vote to advance it right now."