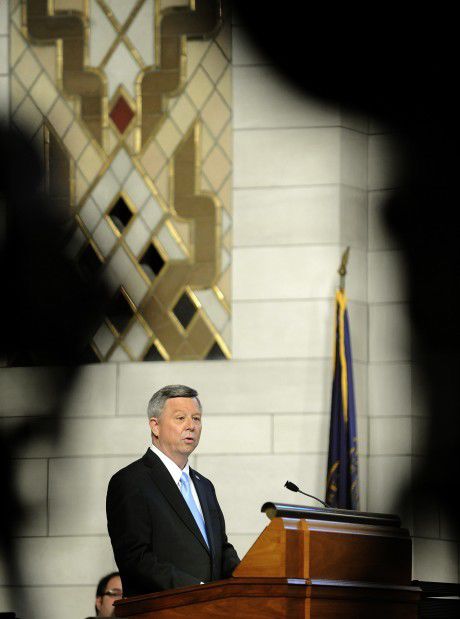 Gov. Dave Heineman proposed a bold overhaul of Nebraska's tax system Tuesday that would eliminate the state income tax, and, in exchange, get rid of sales-tax exemptions on scores of goods and services.
"The world has changed, and our current tax system needs to be modernized and transformed," he said in his annual State of the State address to lawmakers. "It's been nearly five decades since Nebraska had a serious debate about our overall tax system.
"Life has changed drastically since the 1960s. We were operating in a completely different economic environment then. The average cost of a new home was $24,000. A first-class stamp was 5 cents, and gas was 33 cents a gallon," he said.
* No individual income tax.
* No taxing of small business income.
* No taxation of Social Security income.
* No taxation of any retirement income, including military.
* No corporate income tax.
Heineman noted that Nebraska 's income tax generates nearly $2.4 billion a year and sales tax brings in $1.6 billion.
"But, did you know that the state of Nebraska provides $5 billion in sales-tax exemptions?" he asked. "Nebraska exempts more than we collect. 
"Is that fair to our small businesses and working Nebraskans?"
Heineman said he would not support eliminating the sales-tax exemption on groceries. But over the years, he said, lawmakers have approved exemptions on everything from flower deliveries to farm equipment that will be on the table.
"Imagine if we eliminated just half of the current exemptions. What would that mean for our citizens?" he said. "Nebraska wouldn't need to have an individual income tax or a corporate income tax."
Heineman said he has asked business leaders if they would give up their sales-tax exemptions if the state eliminated or reduced individual income tax and corporate income tax.
"You may be surprised, but many are willing to have that discussion," the governor said. "They want simplicity and fairness. They want a modern tax code that rewards productivity, profits and job creation rather than having their lawyers and accountants spending time mining the tax code for exemptions.
"Without the individual income tax and the corporate income tax, there would be no income tax on working Nebraskans. Social Security and military retirement income would no longer be taxed. There would be no tax on small businesses," he said. "Our tax system shouldn't favor one industry over another. Change is not easy, especially when it involves taxes, but this is the discussion that our state needs to have."
Heineman stressed that his proposal is revenue neutral and budget neutral.
"I know there are organizations that want to tax more services with the overall goal of growing government. These organizations want to spend more tax dollars on more government programs," he said. "That is not what most Nebraskans want and that is not what our plan is about.
"Our goal is a better business tax climate that will create more high-paying jobs and more rewarding careers for our sons and daughters," he said. "We need a tax climate that rewards middle class families for their hard work."
Heineman said 23 states exempt part or all of retired military pay and 43 states exempt part or all of Social Security income from taxation. Forty-two states don't have an inheritance tax.
He noted that the Tax Foundation ranks Nebraska's business tax climate 31st in the nation.
"That's mediocre at best," Heineman said. "While rankings are important, this is really about the next generation of Nebraska's leaders -- our sons and daughters, and our grandchildren.
"How many of you have sons and daughters, grandchildren, brothers and sisters and other family members who no longer live in Nebraska because they couldn't find a job here or they couldn't find the right career here in Nebraska? Every family in Nebraska knows exactly what I am talking about."
Other highlights of the governor's speech:
* SCHOOL FUNDING: State aid for K-12 education would increase from $852 million to $895 million in fiscal 2014 and to $939 million in fiscal 2015. Heineman also proposes a 5 percent increase in special education funding in each of the next two years.
* HEALTH CARE LAW: He reiterated his concern over the costs of the federal Patient Protection and Affordable Care Act. "It will cost more than $170 million in federal and state funds over the next eight years to implement just the technology and administration required by the new federal health care law. And even more significant: It will cost the state of Nebraska $72 million in new general funds in this budget for the growth of the current Medicaid program as a result of the new federal health care law. That's $72 million in new general fund spending ... that should be going to state aid to education or higher education."
* HIGHER ED: Heineman, who earlier proposed increasing funding to the state's colleges and universities, said he'll propose a similar plan for the state's six community colleges.
Nebraska sales tax exemptions
| Rank | Current exemptions | $ estimate |
| --- | --- | --- |
| 1 | Component/ingredient parts | $1,265,250,000 |
| 2 | Animals whose products constitute food or apparel for humans | $630,490,000 |
| 3 | Purchases by political subdivisions of the state | $315,480,000 |
| 4 | Water and medicine for animals used for food or apparel | $299,780,000 |
| 5 | Motor fuels | $248,040,000 |
| 6 | Grains for animals used for food or apparel | $167,040,000 |
| 7 | Purchases by churches, non-profit colleges and medical facilities | $163,790,000 |
| 8 | Food or food ingredients (groceries) | $127,810,000 |
| 9 | Energy used in industry | $124,240,000 |
| 10 | Certain medical equipment, medicine (prescriptions) | $114,350,000 |
| 11 | Energy used in agriculture | $82,810,000 |
| 12 | Agricultural chemicals | $77,620,000 |
| 13 | Manufacturing machinery | $69,840,000 |
| 14 | Room rentals by certain institutions | $63,970,000 |
| 15 | Agricultural machinery | $60,090,000 |
| 16 | Motor vehicle/boat trade-ins | $55,530,000 |
| 17 | Seeds sold to commercial producers for ag | $37,720,000 |
| 18 | Contractor as purchasing agent for public agencies | $34,760,000 |
| 19 | Railroad rolling stock; repair parts and services | $18,340,000 |
| 20 | Containers; non-returnable | $17,390,000 |
| 21 | Nebraska Lottery | $15,540,000 |
| 22 | Food stamps | $14,110,000 |
| 23 | Mineral, oil and gas severed from real property | $10,650,000 |
| 24 | Common or contract carriers; repair parts and services | $8,860,000 |
| 25 | Aviation fuel | $8,220,000 |
| 26 | Nonprofit corporations formed by exempt government entitites | $5,130,000 |
| 27 | Molds and dies | $3,980,000 |
| 28 | School lunchs | $3,540,000 |
| 29 | Nonprofit Nebraska-licensed health clinics | $2,290,000 |
| 30 | Newspapers | $2,210,000 |
| 31 | Telecommunication access charges | $2,000,000 |
| 32 | Data centers | $1,670,000 |
| 33 | Meals sold by institutation at flat rate | $1,170,000 |
| 34 | Conference bridging services | $1,080,000 |
| 35 | Prepaid calling arrangements | $840,000 |
| 36 | Meals sold by hospitals | $820,000 |
| 37 | Water for irrigation and manufacturing | $740,000 |
| 38 | Sales on Native American reservations | $620,000 |
| 39 | Commercial artificial insenation | $520,000 |
| 40 | Fine-art purchases by a museum | $440,000 |
| 41 | Laundramats | $440,000 |
| 42 | Nonprofit Nebraska-licensed mental health centers | $430,000 |
| 43 | Biochips | $360,000 |
| 44 | Admission to school events | $340,000 |
| 45 | School-supporting fundraisers | $290,000 |
| 46 | Tele-floral deliveries | $230,000 |
| 47 | Mineral oil as dust suppressent | $210,000 |
| 48 | Film rentals | $150,000 |
| 49 | Purchases by the State Fair Board | $70,000 |
| 50 | Animal grooming | $50,000 |
| 51 | Admission charged by organizations dedicated to youth development and healthy living | $50,000 |
| 52 | Food for elderly, handicapped, SSI | $40,000 |
| 53 | Syndicated programming | $40,000 |
| 54 | Sales by religious organizations | $30,000 |
| 55 | Admission to statewide sports events | $20,000 |
| 56 | Motor vehicle discounts for disabled | $10,000 |
| | All others (listed in table below) | $938,470,000 |
Other sales tax exemptions
Exemptions
Merchandise trade-ins
Political campaign fundraisers
Prepared food sold by churches
Nonvoice data services
Oxygen for use in aquaculture
Common or contract carriers; accessories
Common or contract carriers; safety equipment
Inter-company sales
Inter-company leases
Sale of business or farm machinery
Transfer of property in change of business ownership
Property shipped out of state
Fabrication labor for items shipped out of state
Property to be transported out of state
Property purchased in other states to be used in Nebraska
Aircraft delivery out of state
State reciprical agreements for industrial machinery
Property taxed in another state
Purchasing agents for public real estate constuction improvements
Purchases by the Nebraska Investment Finance Authorities and Racing Commission
Public records
Cash discounts, coupons
Seperately-stated finance charges
Casual sales
Lease-to-purchase agreements
Seperately-stated taxes
Entry fees for youth sports